Why Fans Find 1000-Lb Sisters Season 4 Underwhelming
1000-lb Sisters season 4 is underwhelming, although it's been anticipated for nearly a year. Some onscreen action seems scripted, rather than real.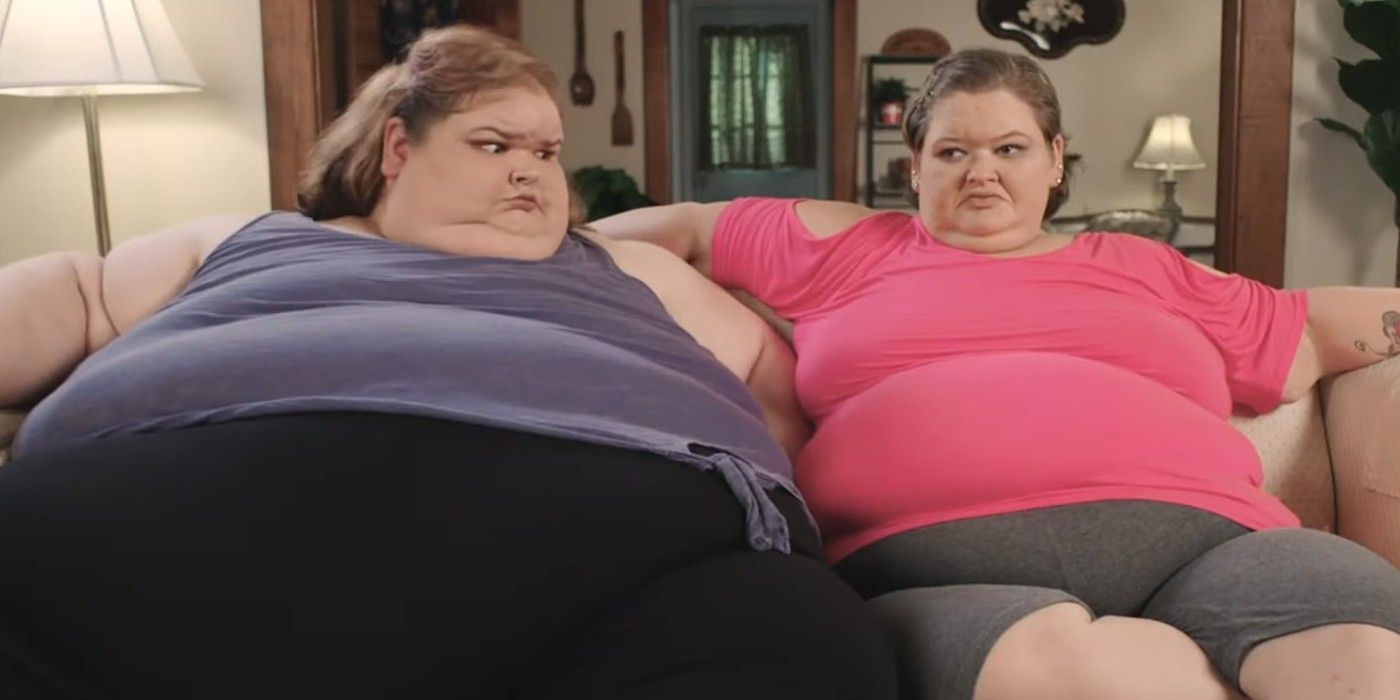 After waiting for nearly a year, some fans are underwhelmed by 1000-lb Sisters season 4, and it's time to talk about why they're unhappy with the show. As the fourth installment has unfolded, viewers have watched Tammy Slaton and Amy Slaton-Halterman enter new phases of their lives. Amy's second pregnancy is proving to be more complicated than the first. As for Tammy, being away from home (and fighting for her health) is tougher than expected.
Since the sisters are trying to improve their lives, the drama seems to have settled down a bit in season 4. Tammy, who's still living in a rehab facility in Ohio, is working hard to qualify for bariatric surgery, Meanwhile, Amy, who is at home in Kentucky, is dealing with health struggles during pregnancy. While both storylines are important, neither provides particularly exciting developments from episode to episode. Some fans of 1000-lb Sisters' Amy Slaton and Tammy even feel that, in order to spice up season 4, producers have scripted or manipulated certain scenes and events.
Related: 1000-Lb Sisters: Amy Explains The Hardest Part of Having Two Sons
Fans Think 1000-lb Sisters Season 4 Seems Fake
In a thread started by courtneyw1988, Reddit user mariat753 wrote, "at least if it's scripted make it an interesting script." One of the main gripes about 1000-lb Sisters season 4 is that most viewers who follow the show online are already aware of many of the major plot points of the season. With the long break between seasons 3 and 4, some fans took to social media to follow Tammy and Amy, to get updates on their lives.
As Redditor haggynaggytwit explained, "I do think that part of the reason I am having a hard time getting into it is that because of social media/Reddit, I already know about major events that have happened in the sisters' lives." Though the 1000-lb Sisters season 4 filming timeline is clearly behind current time, the lack of drama and suspense is causing fans to feel less interested in the stories being told. There is less incentive to watch when what will play out onscreen is already common knowledge.
How Can 1000-lb Sisters Season 4 Win Back Viewers
While fans are still tuning in to see what's happening with Amy, Tammy, and the rest of the Slaton family, it's clear that things are changing on 1000-lb Sisters. This means that it could be time to revamp the show a bit, especially with Tammy marrying Caleb Willingham, and Amy settling down with her two sons. It's possible that changes to the show would create more interest among viewers. For example, focusing more on Tammy and Amy's brother Chris Combs might please fans. Also, by airing the show closer to the timing of actual events, and presenting new stories and less-familiar family members, plotlines might seem more authentic.1000-lb Sisters could come back even stronger in season 5.
While 1000-lb Sisters fans do complain about storylines, and wonder if the show's scenes are staged, many are still watching the show from week to week, to keep an eye on what's happening with the Slaton sisters. Tammy's weight loss journey is still evolving, so the anticipation surrounding the TLC star is at an all-time high. Seeing Tammy finally get potentially life-saving surgery may be well worth the wait.
More: How Tammy Slaton Went From Villain To Hero During 1000-Lb Sisters Season 4
Source: courtneyw1988/Reddit