What Happened To The Other Way Season 1 Cast
As the extensive 90 Day Fiancé universe continues to grow in 2023 with 90 Day Fiancé: The Other Way season 4, it's time to talk about the original season 1, which kick-started the successful series. The cross-border spin-off focuses on Americans packing their bags and moving to new countries, to experience the cultures, languages, and traditions of their partners.
90 Day Fiancé: The Other Way season 1, which premiered in 2019, featured many famous (and notorious) couples, some of which have featured in other spin-offs. It introduced five new couples, and one pair of alums, Paul Staehle and Karine Martins. The controversial twosome had a lot of drama still pending, which aired in 90 Day Fiancé: Happily Ever After? season 5. Meanwhile, Deavan Clegg and Jihoon Lee were undoubtedly a recipe for disaster. Tiffany Franco and Ronald Smith are known for their multiple breakups. Corey Rathgeber and Evelin Villegas have cheated on each other and then gotten back together. Laura and Aladin Jallali's May/December relationship barely lasted a year. Of all the installment's duos, Sumit Singh and Jenny Slatten were the most endearing.
Related: 90 Day Fiancé The Other Way: Why Jen & Rishi Are The New Jenny & Sumit
90 Day Fiancé's Corey Rathgeber & Evelin Villegas
Corey, 31, met Evelin, 26, while on a trip to Ecuador. During 90 Day Fiancé: The Other Way season 1, Corey moved to Ecuador to get married, after four months of dating. While Evelin was still uncertain about the relationship, they got engaged. Corey and Evelin returned in TOW season 3, to reveal that they broke up before getting stuck together in Engabao during the pandemic. Corey had even found a girlfriend called Jenny.
Despite the fling, 90 Day Fiancé stars Evelin and Corey decided to marry. However, they were fooling everyone all along, because they were actually married "on paper" a year before their "official" wedding in the finale. The two are still together in 2023, in Ecuador, where they run a beach bar called Cocteles Del Paraiso.
90 Day Fiancé's Ronald Smith & Tiffany Franco
Tiffany, 27, had met Ronald, 29, while enjoying a trip to South Africa with a friend. Ronald proposed without telling Tiffany about his gambling past and criminal record. Single mom Tiffany still married Ronald, and they soon welcomed a daughter. Within the ten months that Tiffany and Ronald waited for his visa, they had multiple fights over his inability to provide. Tiffany underwent weight loss surgery, and lost over 80 pounds.
Amid one of their many breakups, Ronald found a new girlfriend called Lauren Fraser, and although Tiffany went on 90 Day: The Single Life, she eventually got back together with Ronald. However, while she was in South Africa, Tiffany found out that Ronald never broke up with Lauren. Tiffany decided to date Dan MacFarland, a man she met online, and she has been with him for four months. She's claimed that she's filing for divorce from Ronald, who's officially together with his British girlfriend.
Related: 90 Day Fiancé: The Other Way: What Job Kris Foster Does For A Living
90 Day Fiancé's Paul Staehle & Karine Martins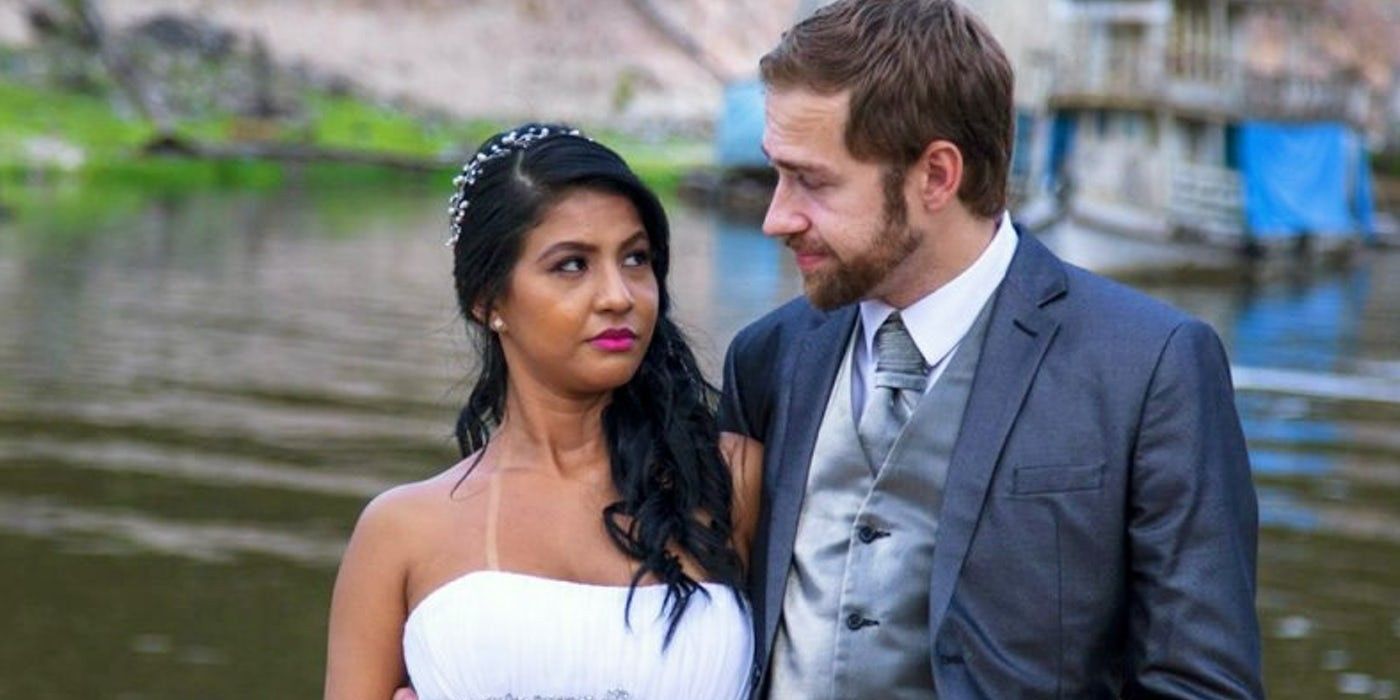 Paul and Karine, who debuted on 90 Day Fiancé: Before the 90 Days season 1, were starting a new life after getting married and welcoming a son in Brazil. Eventually, Paul and Karine returned to the U.S., and Karine gave birth to their second son. Paul alleged that Karine cheated on him, also claiming that he wasn't the father of the kids, Pierre and Ethan. Meanwhile, Karine claimed that Paul had abused her, later retracting that allegation. Paul and Karine got restraining orders against each other, and a video of Karine hitting Paul in front of a son leaked in 2021. By 2022, the two were no longer together, and engaged in a custody battle for the kids, who are currently in foster care.
90 Day Fiancé's Aladin Jallali & Laura Jallali
The 51-year-old Canadian woman Laura and 29-year-old Aladin had met eight months before she flew to Qatar to see him in person. After that, they got engaged within eight days. Their 20-year age difference and cultural differences eventually caused the 90 Day Fiancé couple Laura and Aladin to divorce less than a year after they wed in the finale. In September 2021, Aladin announced his marriage to his new wife, Maria Talebi. While Aladin prefers to keep his life private, Laura is wanting to explore the world of dating, although she'd earlier claimed that she had a much younger American boyfriend, who is a doctor.
90 Day Fiancé's Jihoon Lee & Deavan Clegg
Single mom Deavan, 22, met Jihoon, 29, on a dating app, and on their first night together in the U.S., Utah woman Deavan became pregnant. Deavan and Jihoon fought over relocating, money, savings, and their language barrier. After their return in The Other Way, season 2, they separated, Deavan rushed back to America with their two kids. Her new boyfriend was with her. Deavan made abuse allegations against Jihoon, claiming that he did something vile to her daughter. She planned to spill the truth in a documentary that is yet to be released.
In May 2022, Deavan revealed that she was divorced from Jihoon, and was expecting her third baby, now with her BF, Topher Park. Deavan also revealed that her son with Jihoon, Taeyang (she has sole custody), is with her. He was diagnosed with b-cell acute lymphoblastic leukemia. Deavan welcomed baby #3, a boy named Everett, in October, while claiming that her storyline with Jihoon on 90 Day Fiancé was 96% scripted.
Related: 90 Day Fiancé: Where Do Daniele Gates & Yohan Geronimo Live Now (SPOILERS)
90 Day Fiancé's Sumit Singh & Jenny Slatten
The 30-year-old Indian man Sumit had catfished Jenny, 60, by pretending to be a doctor called Michael Jones on Facebook. Jenny still fell for Sumit, and moved to India from California to get married to him. However, she realized that he already had a wife. While Sumit struggled to divorce his first wife, Jenny had to deal with his family accepting her as their daughter-in-law. The couple's latest appearance in 90 Day Fiancé: Happily Ever After? season 7, a year after they married in August 2021, showed Jenny being invited into the family by Sumit's dad. However, his mom is still against Jenny and Sumit's relationship. The 90 Day Fiancé couple Jenny and Sumit continue to stay in India, because he has no intention of moving to the U.S. yet.