What Happened To Lupe Samano From My 600-Lb Life Season 4 After The Show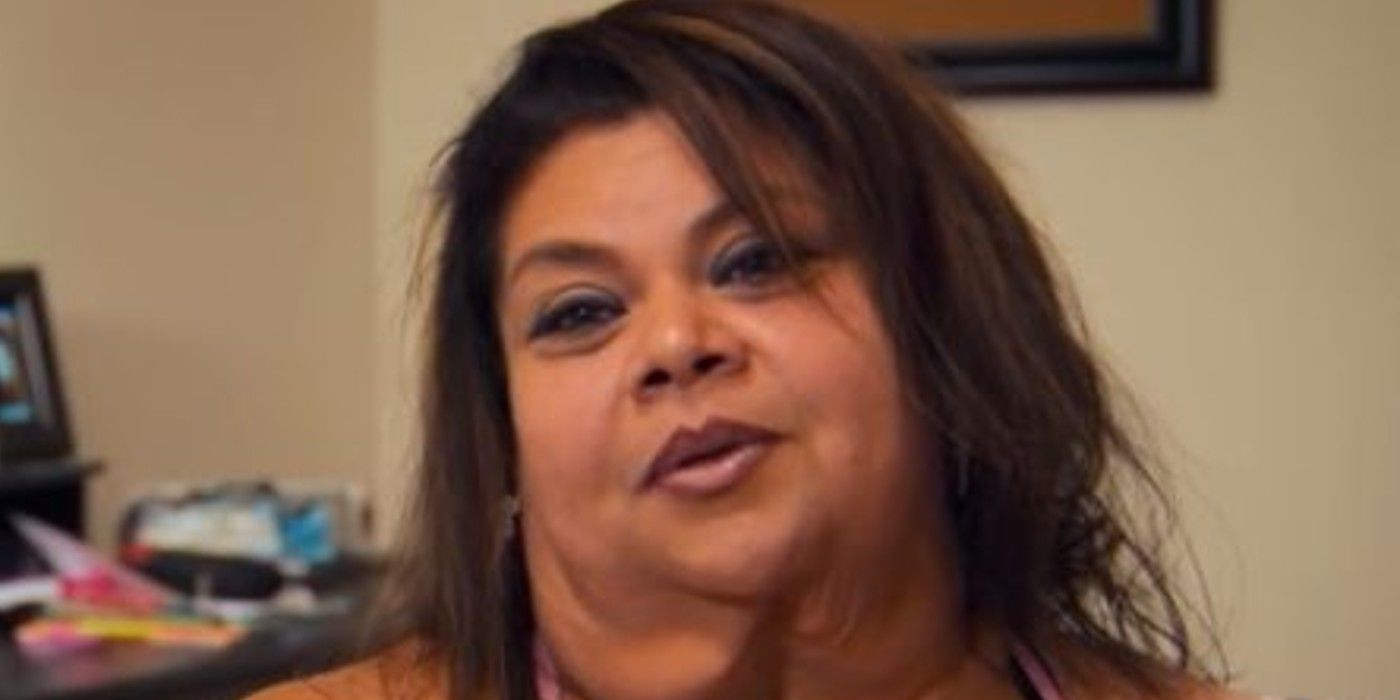 My 600-Lb. Life season 4 star Lupe Samano had a very successful and inspiring journey during the show, but what about her life since she completed filming? Lupe was 39-years-old and 642 pounds at the beginning of her episode. She eventually reached 500 pounds and slipped into a diabetic coma. At the time of her episode, Lupe had been confined to her bed for over a decade. She sought help from renowned bariatric surgeon Dr. Younan Nowzardan, who is known as Dr. Now, because she wanted to save her life. Her husband, Gilbert Donovan, had become more like a caretaker for her than a husband, which tested their relationship.
The car ride to Houston to see the doctor put so much strain on Lupe's heart that she had to be admitted to the hospital immediately when she arrived. My 600-Lb. Life surgeon Dr. Now discovered her heart was in failure, and she could've died if the car ride was just a few hours longer. Lupe eventually recovered and was able to lose enough weight to qualify for surgery. Although she lost 300 pounds, she was still afraid to walk. The episode ended with Dr. Now telling her that she had to get out of the bed and Lupe vowing to stick to her weight loss plan and exercises.
Related: What Happened To Donald Shelton From My 600-Lb Life After The Show
My 600-Lb Life's Lupe Samano Has Lost More Weight
Lupe appeared in two My 600-Lb. Life: Where Are They Now? episodes, which aired in 2017 and 2018. She worked hard to lose even more weight so that she could get hip replacement surgery. She had skin removal surgery, which also helped her to drop some pounds. Lupe lost over 400 pounds and got down to nearly 200 pounds. Her Facebook profile, which was last updated in 2019, revealed she was able to keep that weight off. However, Lupe has not updated her page since then. It's unclear if she had her hip surgery, although she had written in 2019 that she was looking for the right surgeon for her.
In a March 2019 Facebook post, Lupe revealed she was only 21 pounds away from her goal weight of 180 pounds. The My 600-Lb. Life season 4 star stated that God would never leave her side, and she was going to "finish this journey with a big smile on my face..tears in my eyes, and lots of gratitude in my heart…cause with my weight loss I feel so much more alive…so much more energy…confidence…" Lupe also said shopping for regular size clothes felt so good. She went from size 8X to size 14-16, and said it's "the most amazing feeling…never ever did I think I'd be wearing this size."
My 600-Lb Life's Lupe Samano Leaves Her Husband
Lupe was very hurt when she discovered that Gilbert was seeking intimacy from women he met on the Internet. However, she tried hard to make the marriage work. At first, they seemed to be doing well in her My 600-Lb Life: Where Are They Now? episode. They had even become intimate again. However, Gilbert began to drink, which upset Lupe.
After her skin removal surgery, Gilbert pressured her to be intimate with him right away, causing her sutures to rupture and become infected. Dr. Now rushed her into surgery. Lupe also claimed that Gilbert had become physically abusive to her. Additionally, she found out that he was still talking to other women. She left him when she had finally had enough. Lupe eventually decided to have an extended visit with her family in her home state of California.
Related: What Happened To Latonya Pottain After My 600-Lb Life Season 11
Gilbert Is Dating Another My 600-Lb Life Star
In 2019, Gilbert began dating My 600-Lb. Life season 6 star Karina Garcia. He had been her personal trainer, and they eventually began dating. This news shocked My 600-Lb. Life fans at the time. Currently, Karina's Facebook page states that she is in a relationship with Gilbert, so it may be assumed that they are still together in 2023. Her profile picture is of her and Gilbert, with a frame that reads "I'm Blessed!"
My 600-Lb Life's Lupe Samano Finds New Love
When Lupe went to California, she reconnected with an old friend, Andrew Renteria. They began dating and fell in love. They wanted to get married and have a child together. Andrew eventually moved back to Texas with Lupe so that she could continue her weight loss program with Dr. Now. He accompanied her to all of her appointments and was a supportive and loving partner to her. On My 600-Lb Life: Where Are They Now?, Lupe stated that she was going to file for divorce from Gilbert.
My 600-Lb Life's Lupe Samano's Boyfriend Passes Away
Lupe's boyfriend, Andrew, died unexpectedly in 2019 after suffering from kidney problems. In a January 2019 Facebook post, Lupe paid tribute him, sharing a picture of them together. She wrote, "memories of me and my love, Andrew Renteria…RIP baby you are forever in my heart and never forgotten…you truly showed me wut a queen should be treated like…TE QUIERO MUCH MI AMOR…BESOS." Andrew's death is especially heartbreaking because Lupe finally had found someone who respected and loved her the way she deserved.
Although Lupe's public social media has not been updated in a few years, the My 600-Lb. Life star seemed determined to continue to get healthy with diet and exercise. Despite many challenges stemming from her health and her personal life, she learned coping mechanisms that helped her to deal with her food addiction. My 600-Lb. Life should do another follow-up episode with Lupe because she was one of the most successful people the show has ever seen. Although her story was heart-wrenching at times, she became an inspiration for so many by not giving up and achieving her goals. Hopefully, Lupe has continued to stay healthy.
More: What Happened To Erica Wall After My 600-Lb Life Season 5
My 600-Lb Life airs Wednesdays at 8 p.m. ET on TLC.
Source: My 600 Pound Life Lupita/Facebook, My 600 Pound Life Lupita/Facebook, Karina Garcia/Facebook, tlc uk/YouTube, TLC/YouTube