VPR's Katie & Stassi Blast Raquel's 'Desperado' Pic With Tom Schwartz
Stassi Schroeder joins Katie Maloney in making a mockery of Raquel Leviss' Instagram photo with Tom Schwartz amid their Vanderpump Rules feud.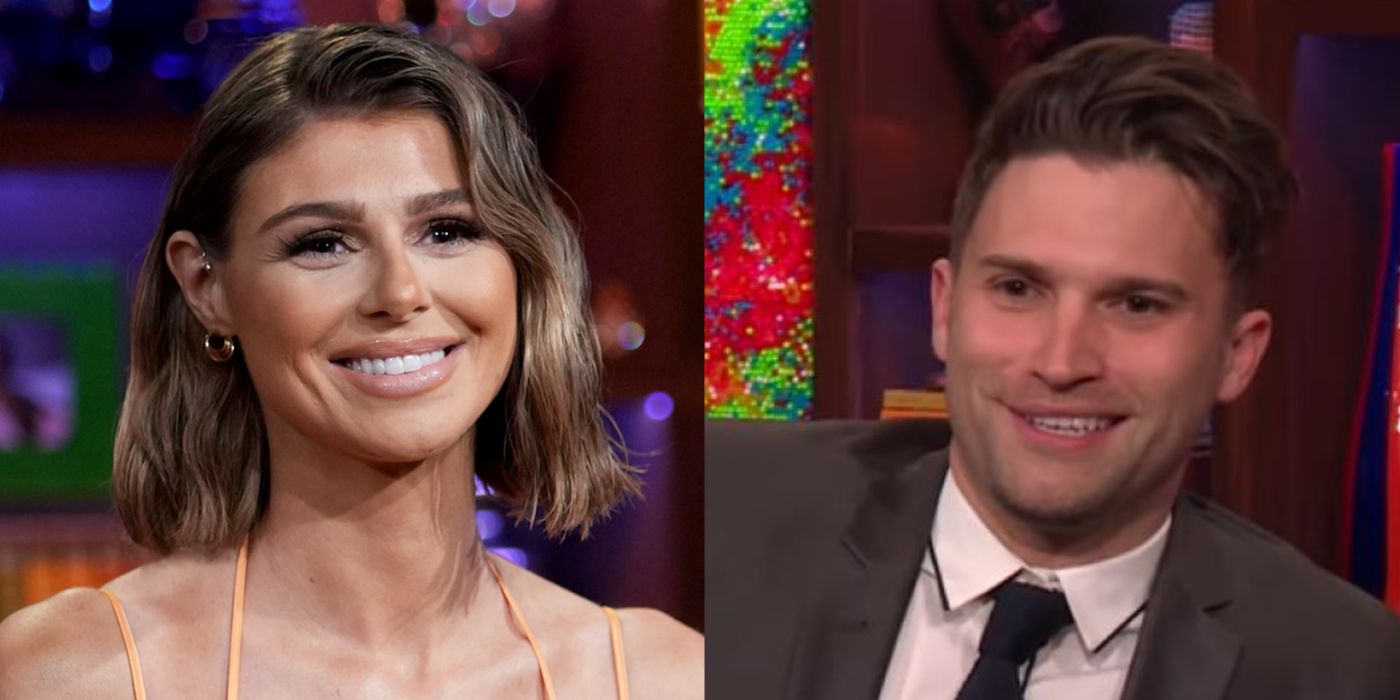 Katie Maloney and Stassi Schroeder called out Raquel Leviss' "desperado" Instagram post with Tom Schwartz amid their feud in Vanderpump Rules season 10. Stassi hasn't appeared on the Bravo show since getting fired ahead of Vanderpump Rules season 9, but she still maintains close friendships with members of the cast. Katie and Stassi have been best friends since Vanderpump Rules season 1, so it's not a surprise the axed alum is siding with Katie in her ongoing quarrel with Raquel. Katie and Raquel have been at odds since Raquel made out with Tom at Scheana Shay's wedding. As the drama keeps brewing, it looks like the alums are getting involved.
Raquel brought the heat on herself recently after posting a photo with Tom. "Just cause," Raquel captioned the post, in what appeared to be a subtle nod to the criticism she knew she would receive over the post. Katie is not one to bite her tongue and left a shady comment on Raquel's post. "You really thought you did something here but these comments ATE LOLOL," Katie quipped.
Stassi also joined her friend in shading Raquel and Tom's photo. "I know no one asked for my opinion, but it's moments like this I really miss giving it," Stassi wrote in a comment captured by @pumprules. Stassi added a laughing emoji and tagged Katie in her comment.
Related: Why Vanderpump Rules' Tom Schwartz Called Himself 'Undatable'
Katie & Stassi Criticized For Displaying 'Mean Girl Behavior'
The shady Instagram comments received mixed reactions from Vanderpump Rules fans, who either sided with Katie and Stassi or defended Raquel's actions. "Why is Raquel copping all the heat for being a single girl hooking up with Tom," one fan asked after noting the lack of friendship between Raquel and Katie. Another fan accused Katie and Stassi of displaying "mean girl behavior," a label the friends have received in past seasons. But there were others who felt like Raquel posting a photo with Tom in the wake of his divorce from Katie made her look "needy and thoughtless." They wondered why Raquel decided to post the photo.
Katie and Tom are fresh off the heels of finalizing their divorce after 12 years together and six years of marriage. Viewers have gotten an inside look into the rise and fall of their relationship since Vanderpump Rules' inception. Tom and Raquel are both coming out of big breakups from long-term relationships. Raquel and James Kennedy called off their engagement at the end of Vanderpump Rules season 9. James wasted no time moving on with his current girlfriend Ally Lewber, while Raquel has been sharing her dating adventures in Vanderpump Rules season 10. Raquel hasn't denied how heartbroken she is over her breakup with James and how hard it is to watch him move on so soon after their split.
Raquel rebounded with a few SURvers, including Tom, Peter Madrigal, and soon-to-be-revealed dates with Garcelle Beauvais' son Oliver Saunders. Vanderpump Rules is heating up thanks in large part to all the breakups within the cast. The ladies are back to feuding, and even though Stassi is long gone, she's tossing her hat into the ring to defend Katie. If the drama the show was known to bring was missing, it's back in full force in Vanderpump Rules season 10. Raquel has played nice for years, but it looks like that's now changing.
Vanderpump Rules airs Wednesdays at 9 p.m. EST on Bravo.
More: Vanderpump Rules: Why James & Raquel Didn't Sleep Together For Years
Sources: Raquel Leviss/Instagram, @pumprules/Instagram