Tarantino Details How DiCaprio Improvised His Epic Meltdown In OUATIH
Once Upon A Time In Hollywood features an epic meltdown scene for Leonardo DiCaprio, and writer/ director Quentin Tarantino now details how the actor improvised his way through it. Released in 2019, Tarantino's latest movie chronicles the career of struggling actor Rick Dalton (DiCaprio) and his best friend/ stuntman, Cliff Booth (Brad Pitt), whose stories happen to intersect with that of Hollywood starlet Sharon Tate (Margot Robbie) in the late 1960s. Once Upon A Time In Hollywood was warmly received by both audiences and critics, with particular praise levied at the leading performances from DiCaprio and Pitt.
In a recent interview on the 2 Bears, 1 Cave podcast, as featured on the YMH Studios YouTube channel, Tarantino reveals that DiCaprio's hilarious meltdown on Dalton's fictional Western set in Once Upon A Time In Hollywood was conceived from the start to be heavily improvised. The director explains that DiCaprio was even a little nervous to do the scene, but that he helped the actor by giving him dialogue prompts and ideas from behind the camera between takes. Check out Tarantino's full comment below:
"What happened there was, I knew I wanted to have that scene but I didn't want to write it out. I didn't want it to have to be dialogue he remembered. So I got Leo and I was saying, 'So look, here's what I want to do: I want you to come in having f—ed up on set not knowing your lines and I want you to come in the trailer and have a whole mad anger at yourself, detest fest, a complete temper tantrum against yourself. Just a gigantic pity party where you just lose your s–t, but against yourself, nobody else. And I want it to have the randomness of an improv, it just comes out of you.'

"Now, what I did do though, is I gave him different subjects he could rant about. 'Here's a subject, here's a subject, here's something you could say.' And he goes, 'Great.' He was a little nervous. It was actually very cute that he was nervous that day because it's on him and he knows that. So we're shooting this scene and I'm right by the camera and we just do a few different takes and it was great. And then, from time to time, if I thought he ran out of something I could throw something his way."
Related: Will Tarantino Release Another OUATIH Extended Cut? What We Know
Why Quentin Tarantino & Leonardo DiCaprio Are A Perfect Duo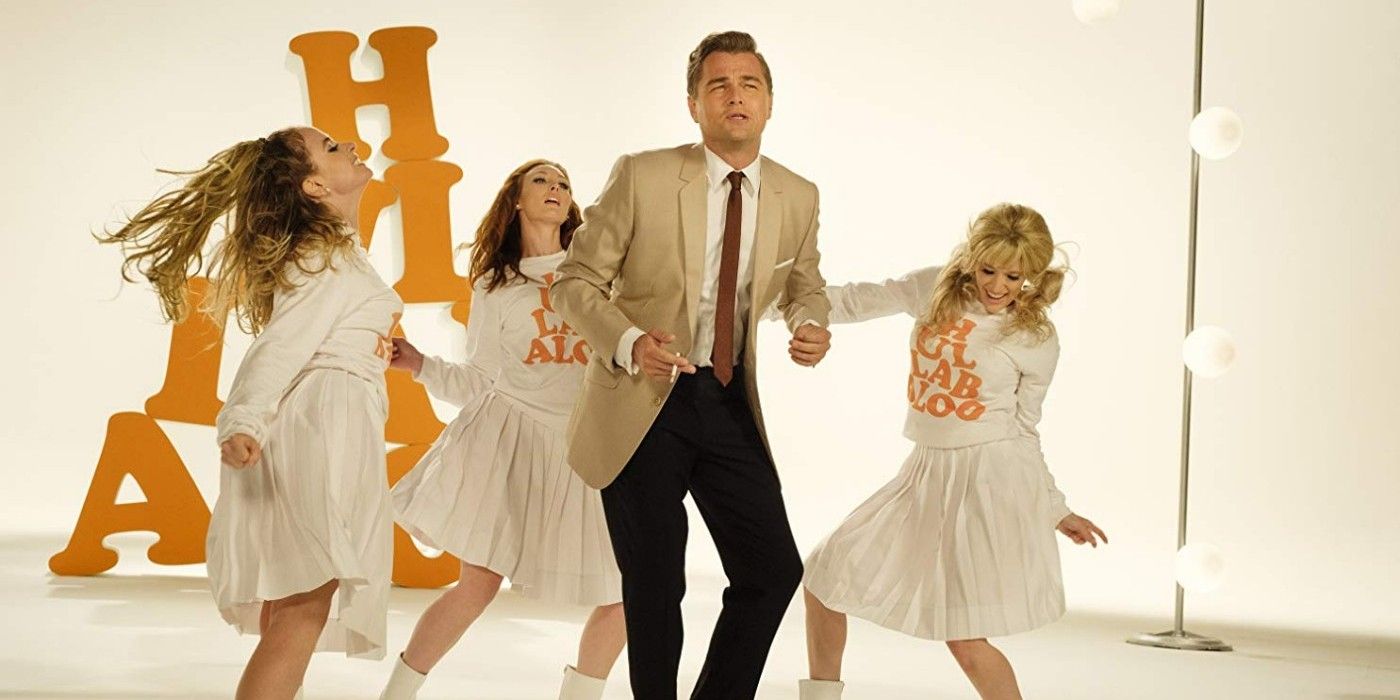 Once Upon A Time In Hollywood isn't the first time DiCaprio and Tarantino have collaborated, with the duo having previously worked together on 2012's Django Unchained. While DiCaprio plays a vastly different role in the latter film, both movies are fine examples of just how powerful the actor and director can be when working together. As the writer and director of films like Pulp Fiction, Reservoir Dogs, Kill Bill, and Inglourious Basterds, Tarantino is widely considered one of the best filmmakers of all time. Similarly, having starred in the likes of Titanic, The Departed, The Revenant, and The Wolf of Wall Street, DiCaprio is often cited as being one of the best actors of his generation, making the pairing a match made in heaven.
In addition to his dialogue style and unique voice as a director, many of Tarantino's characters are very colorful and larger than life. Often, these characters will have one or two very big scenes that really make them memorable or draw praise for the actor portraying them, such as Samuel L. Jackson's "Say What Again" scene from Pulp Fiction or really any of Christoph Waltz's Hans Landa scenes from Inglourious Basterds. As an actor, DiCaprio seems to be more interested in taking big swings with his roles at this point in his career, meaning a somewhat manic and self-abusive character like Rick in Once Upon A Time In Hollywood is really a perfect fit.
Tarantino has said that he only plans on making 10 movies in total, meaning whatever film he makes next could be his last. Although Tarantino and DiCaprio have only collaborated on two projects so far, both have been highly memorable, critically-acclaimed films, making the prospect of another team-up an enticing one. In contrast to Django Unchained, however, Once Upon A Time In Hollywood's Rick allowed DiCaprio to show off a lighter, more comedic performance, something that could potentially be further explored in Tarantino's final movie.
More: Every Actor Who Must Return For Quentin Tarantino's 10th & Last Movie
Source: YMH Studios