After becoming the first Pakistani animated film to have made it to the Annecy International Animation Film Festival, Arafat Mazhar's Swipe has won the Special Jury Award at the 4th ANIMAFILM International Animation Festival.
The filmmaker has shared the news from both his public and Swipe Instagram accounts. "We haven't been able to announce this properly yet because we've been busy with some other cool things but this happened," read his confirmation of a report regarding the same. The "other cool thing," as mentioned by the filmmaker is his short Shehr-e-Tabassum being procured for streaming on Dust.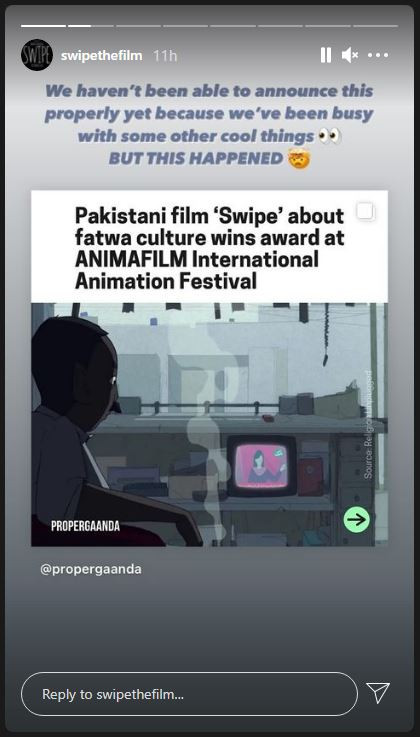 Mazhar's Swipe presents a fictionalised, digitalised alternative reality of Pakistan, where unlike swiping left or right to find your perfect match; people of all age groups, including children, are addicted to swiping on iFatwa. The app crowdsources religious death sentences by allowing its users to decide the fate of the accused, who have been brought for trial in the court of public opinion.
According to the film's official synopsis, Swipe is a hand-painted animated short film about Pakistan made by a team of 20 Pakistani animators, musicians, storytellers, and actors over the course of one year. It has been written, drawn, animated, composed [and] acted under the banner of Puffball Studios.
"Swipe is our attempt at confronting a growing crisis resulting from a culmination of the nexus of technology, extremism and fascism. At the heart of this story, is a confrontation with increasingly hostile, alienating, divisive circumstances and a plea for greater empathy, before it's too late," adds the official description.
The short film has been directed and produced by Mazhar and co-produced by Rasti Farooq.
Have something to add to the story? Share it in the comments below.
.
https%3A%2F%2Ftribune.com.pk%2Fstory%2F2319356%2Fpakistani-short-swipe-wins-special-jury-award-at-animafilm-festival
#Swipe #wins #Special #Jury #Award #ANIMAFILM #festival