Pirates Of The Caribbean Star Reacts To Improbable Norrington Spinoff
Pirates Of The Caribbean star Jack Davenport discusses the probability of returning for a potential spinoff as Commodore James Norrington.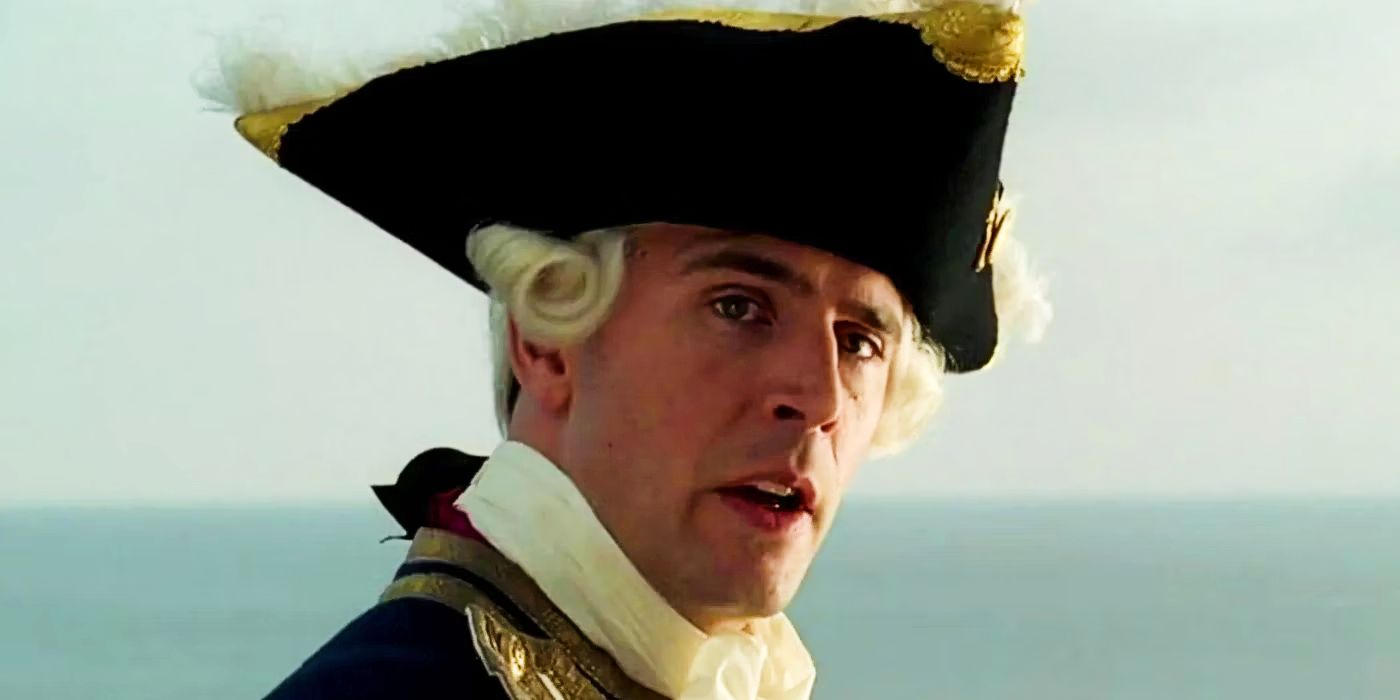 Pirates of the Caribbean star Jack Davenport weighs in on the probability of receiving his own franchise spinoff. Having recently appeared in the Fox crime drama Accused, Davenport is perhaps best known for his role as Commodore James Norrington in 2003's Pirates of the Caribbean: Curse of the Black Pearl and its next two sequels. After rescuing Keira Knightley's Elizabeth Swann during 2007's Pirates of the Caribbean: At World's End, Davenport's character was slain by Bootstrap Bill Turner (Stellan Skarsgård) and would not return for any of the subsequent films in the franchise.
Despite Norrington's death, however, Davenport was recently asked about his willingness to return to the franchise and helm a potential spinoff. Speaking with Entertainment Weekly at SCAD TVfest, the English actor suggests he would be more than willing to return to the role, but feels a "snowball in hell" had a better chance than such a project ever coming together. Nonetheless, he gives a shout-out to franchise producer Jerry Bruckheimer and says he'll happily return if asked. Check out his actual comments below:
A snowball in hell has a stronger chance of survival than the Commodore Norrington reboot, but sure. Jerry, if you're watching, which I know you're not, I'm there. Yes, you can put me back in brigade, I'll do it.
Related: Will Turner & Davy Jones Have More In Common Than You Think In POTC
What's Happening With The Pirates Of The Caribbean Franchise?
Raking in $4.5 billion in worldwide box office, Pirates of the Caribbean has the honor of being one of Disney's most lucrative IPs, as well as one of the most profitable film series of all time. Originally based on the theme park attraction of the same name, Disney was quick to follow up on the success of the first film by releasing Pirates of the Caribbean: Dead Man's Chest and Pirates of the Caribbean: At World's End back-to-back. Despite these first three films effectively serving as a complete trilogy, the studio would eventually return to the franchise twice more with 2011's Pirates of the Caribbean: On Stranger Tides and 2017's Pirates of the Caribbean: Dead Men Tell No Tales.
Since then, however, a series of recent events have cast a shadow of doubt over the franchise's future. While plans for a potential sixth film had been hinted since before the release of 2017's franchise entry, these were seemingly squashed when Disney parted ways with franchise star Johnny Depp off the back of his defamation trial against ex-wife Amber Heard. According to Bruckheimer, however, plans for another sequel are still progressing with "a younger cast," though it is unclear whether Depp's Captain Jack Sparrow will be involved.
In addition to a continuation of the main series, an additional spinoff starring Margot Robbie was also announced back in 2020. However, in November last year, she claimed the project was no longer moving forward. This announcement may have been a little premature, though, with Bruckheimer later clarifying the project was still very much alive, but that Pirates of the Caribbean 6 would be happening first. However it plays out, audiences can still probably expect to return to the high seas at some point, with another Pirates of the Caribbean film bound to happen eventually.
More: Margot Robbie Could Have Replaced Jack Sparrow & Fixed A POTC Problem
Source: EW