Picard Season 3 Poster Reunites The TNG Cast
Returning Star Trek: The Next Generation cast members assemble for their final voyage in the new TV show poster for Star Trek: Picard season 3.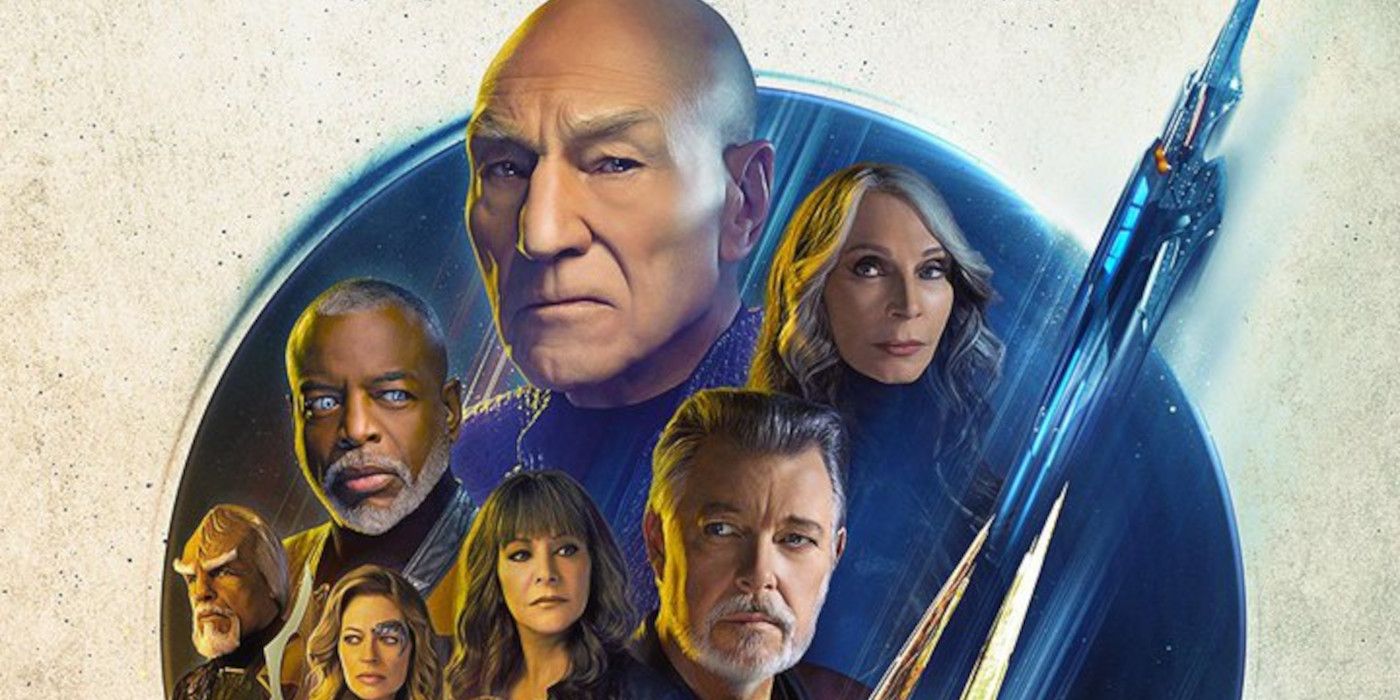 The Star Trek: TNG cast assembles for one more mission in a new poster for Star Trek: Picard season 3. Patrick Stewart's Paramount+ return as legendary Enterprise captain Jean-Luc Picard marked the beginning of the TNG era's long-awaited small-screen revival. Now that revival is at last coming to full flower, as Picard season 3 teams up TNG main cast members Stewart, Jonathan Frakes, Michael Dorn, Gates McFadden, Marina Sirtis, Brent Spiner and LeVar Burton for the first time since the maligned 2002 feature film Star Trek: Nemesis.
As was teased in a recent first-look clip from Picard season 3, a mysterious distress signal is the catalyst for this new Star Trek adventure. As it turns out, the distress call comes from none other than Beverly Crusher, whom Picard hasn't seen in years. With Crusher in danger, Picard must reunite with his old crew, along with Seven Of Nine and Raffi, and once again embark on a dangerous mission into space. With Picard season 3 getting set to hit Paramount+, Star Trek just shared a new poster touting the big TNG reunion party about to happen. Check out the poster in the space below:
Related: Picard Season 3's Biggest Challenge Is Star Trek: Nemesis
Is This Truly The Last Voyage For the Star Trek: The Next Generation Cast?
Picard season 3 will indeed be the final voyage for the Paramount+ show, but does it also mark the last time the Next Generation cast will ever assemble in any form? There is actually a sense that this is the final go around for Stewart and his TNG cast-mates, who are hoping for a better sendoff than the one they received in 2002's Nemesis. But there are also hints to be found that at least a few TNG cast members could make return appearances in future Star Trek shows.
One intriguing possibility for a future Star Trek show is a Georgi La Forge spinoff that would see Burton returning alongside his own daughter Mica Burton and Ashlei Sharpe Chestnut, who play La Forge's daughters in Picard season 3. Such a spinoff would indeed represent the handing of the torch to the literal next generation of Star Trek characters. The door also seems open on the return of Frakes as Will Riker, given Frakes' ongoing role as a creative voice within the Star Trek universe via his episode directing. Then of course there's Dorn, who always seems game to return as Worf, and has indeed pitched Worf spinoff ideas in the past.
Beyond questions about whether the TNG cast will assemble on the small screen again after Picard season 3, there's the question of another TNG movie ever happening. Right now the possibility of a long-delayed Star Trek: Nemesis sequel seems remote. But that hasn't stopped Picard season 3 cast members Stewart, Frakes, Sirtis and McFadden from campaigning to star in one last Trek movie. Frakes even went so far as to point out that there's a "hole" in Paramount's schedule since Star Trek 4 was put on hold. But if Star Trek is to get back to the big screen, it seems unlikely that this will happen with the aging TNG cast. Fans of The Next Generation will just be happy for Star Trek: Picard season 3 to give the cast a compelling final mission together and a satisfying farewell.
More: Picard Season 3 Won't Make The Same Mistake As Enterprise's Finale
Source: Star Trek/Twitter