Medusa Identity Prediction & Clues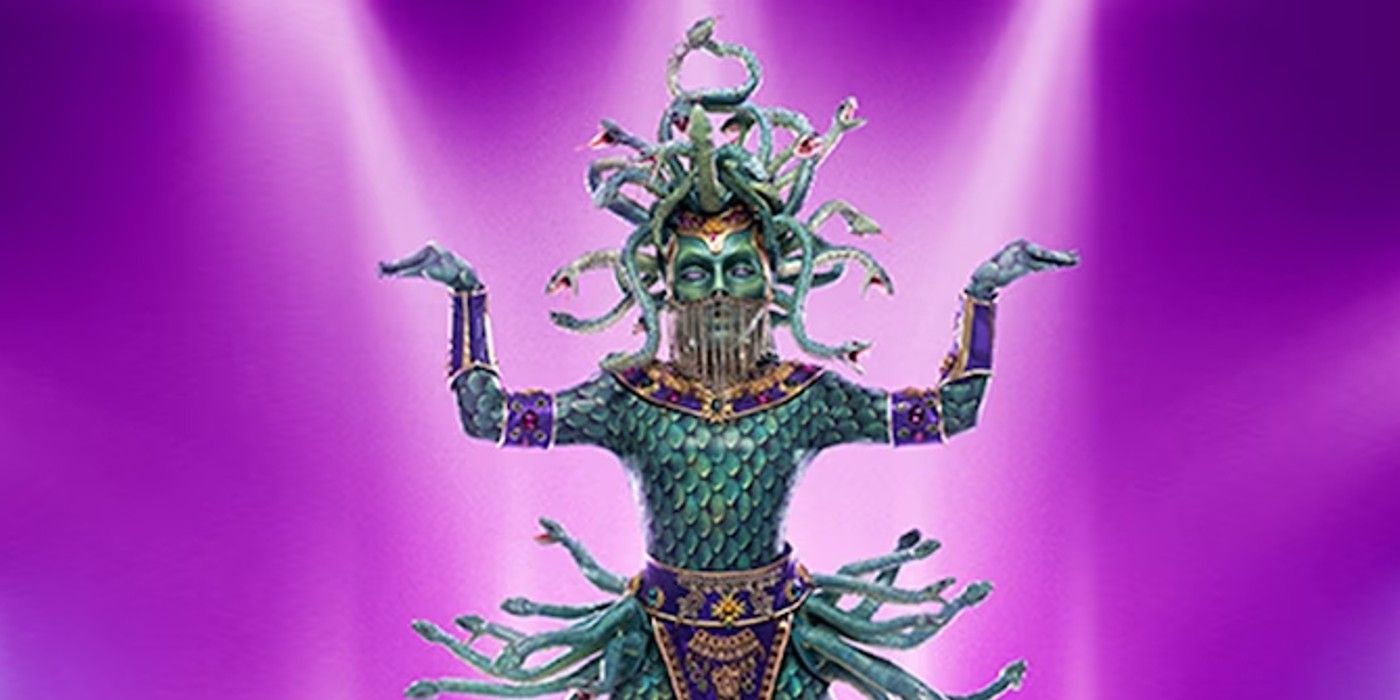 The Masked Singer season 9 contesant Medusa was saved by the panel, and there are many clues that can help solve her identity. On premiere night, she emerged victorious against beloved actor Dick Van Dyke (Gnome), and country music superstar, Sara Evans (Mustang). Medusa wowed everyone with her mystical rendition of "Happier than Ever" by Billie Eilish. She then went head-to-head with Sara in the Battle Royale, during which they sang "Diamonds" by Rihanna. The following week, Medusa sang "Dancing Queen" on ABBA Night. She defeated Howie Mandel (Rock Lobster) and Debbie Gibson (Night Owl).
In The Masked Singer season 9 Battle Royale, Medusa and Debbie sang "The Winner Takes It All." During The Masked Singer New York Night, Medusa sang Frank Sinatra's "(Theme From) New York, New York." After Polar Bear was revealed to be legendary DJ and rapper Grandmaster Flash, Medusa and California Roll competed in the Battle Royale. They sang "Uptown Girl" by Billy Joel. The panel chose California Roll to go on to the next round, but the panel saved Medusa when Nicole rang the Ding Dong Keep It On Bell. Host Nick Cannon revealed that Medusa will have to battle her way back into the competition against the other future saves.
Related: Most Talented Masked Singer Contestants From 2022
The Masked Singer's Medusa's Week 1 Clues
On the Masked Singer premiere, several clues were given for Medusa's true identity. Her clue package revealed that she, "grew up far from the spotlight, a dancer in the dark, and I never quite fit in. I mean, look at me!" Greek statues appeared in this part of the clip. However, The Masked Singer contestant didn't worry about fitting in, as she knew early on that she was born to stand out. She, "did her own thing," and ignored anyone who wanted her, "to conform."
Medusa said, "Embracing my oddities, snakes and all, has taken me far. From the Super Bowl to this very stage – that's right, technically I've been here before." Medusa added that this time, she is here to perform. She said that The Masked Singer felt like, "the perfect stage" for her because, "look around … it doesn't get much weirder than this."
Throughout The Masked Singer clue package, hints appeared, including a balance scale, a large knight and bishop from a chessboard, a true love heart tattoo, Buckingham Palace, and planets and asteroids. Medusa's Swag Bag clue was a DVD for a film called Medusa: Snakes on the Astral Plane. It said, "$340 million" on it. Medusa remarked, "Sometimes success comes in the grayest of places." The panelists had some interesting initial guesses for Medusa. Jenny McCarthy Wahlberg thought that she might be singer Ellie Goulding, while Nicole Scherzinger predicted that she might be the singer, Lorde. Ken Jeong wondered if Medusa was the Duchess of Sussex (and former actress), Meghan Markle.
The Masked Singer's Medusa's Week 2 Clues
During The Masked Singer week 2, Medusa's clue package offered a bit more information. She said that it was incredible to be the first winner of Masked Singer season 9. Medusa confessed that hearing Nicole's praise made her, "actually tear up," and hearing that was like winning to her. She went on to say that she was, "glad my fun personality shined through this unique mask. Because while I may look like I could turn someone to stone in this thing, I'm actually a bit of a softy underneath."
Related: The Masked Singer: How Nick & Aaron Carter Made Up Before Aaron Passed Away
Repeated Masked Singer clues included the chess pieces, Buckingham Palace, and a true love heart tattoo. There was also a picture of colorful palm trees. Medusa then gave a clue from the "clueseum," which was a picture of Coldplay's Chris Martin. She said, "Did you get it? Or are you getting colder?" Nicole thought she might be singer Tove Lo or Lorde. Robin Thicke's guess was Apple Martin (Chris' daughter), while Ken thought she was Dakota Johnson, Chris' girlfriend.
The Masked Singer's Medusa's Week 3 Clues
During New York Night, Medusa said that she is still recovering from the shock of beating a music legend last week. She confessed that she would by lying if she said she wasn't nervous, but she had a secret weapon: her dad's favorite karaoke song. The portrait of Chris was shown again when she stated that. Medusa said, "I grew up singing with him, so it's the perfect choice to take me to the quarter-finals." She went on to say that she had a treat, and showed Duff Goldman's The Masked Singer season 7 McTerrier mask. She concluded by saying, "Now who's a good clue? Who's a good boy?," as she petted the mask, and it barked.
After the performance, one last clue was given: a lighted wire sculpture of a bridge. Medusa said, "Sometimes you have to build a bridge to get over it. Hopefully, it will put you in the right state of mind." Nicole stuck with her guess of Lorde, but also wondered if she could be singer Florence Welch. She also guessed maybe she was a Scottish singer because of McTerrier, and said singer Shirley Manson. Ken was booed for guessing singer Susan Boyle. Robin thought Medusa might be singer Ke$ha, while Jenny guessed Halsey.
The Masked Singer's Medusa's Identity Guesses
Although The Masked Singer panelists offered several guesses for Medusa's identity, based on the clues, there are two possibilities that they did not consider. Bishop Briggs is a British singer-songwriter who is best known for her single, "River." Jewel had sung that song during The Masked Singer season 6, when she was the Queen of Hearts, so that could be why Medusa said she had technically been there before. In addition, Bishop's song "Never Tear Us Apart" was on the soundtrack of Fifty Shades Freed, which could be why, "grayest" was mentioned. The bishop chess piece could be a nod to her first name, while the heart tattoo could be a reference to her song, "Tattooed on My Heart." In addition, one of her songs was played during an Acura Super Bowl commercial. Chris Martin played at the Super Bowl half-time show.
Related: Why Wilson Phillips Joined The Masked Singer Season 8 As The Lambs
Another possibility for The Masked Singer contestant Medusa's identity is singer and actress Stacy Ferguson, AKA Fergie, who was the lead singer of The Black Eyed Peas. The Buckingham Palace clue could be a reference to Duchess of York Sarah Ferguson, who is also nicknamed Fergie. Fergie also has a hit album called The Dutchess. In The Masked Singer season 1, Rumer Willis performed Fergie's song "A Little Party Never Killed Nobody" as Lion. Fergie headlined the Super Bowl halftime show in 2011 with The Black Eyed Peas. Fergie also has a song called "Astral Plane" with Sadrian.
Whomever The Masked Singer's Medusa turns out to be, she is a fantastic performer who is bringing something unique and groundbreaking to the show. Nicole marveled that she didn't think she had ever been so speechless in nine seasons. Whether Medusa is Bishop, Fergie, or someone else, she has set the bar high for The Masked Singer season 9.
More: Most Shocking Masked Singer Reveals In 2022
The Masked Singer airs Wednesdays at 8 p.m. ET on FOX.
Sources: The Masked Singer/YouTube, The Masked Singer/YouTube, The Masked Singer/YouTube, The Masked Singer/YouTube