M3GAN Voice Actor Reveals Killer Doll's Hilarious Effect On Her Life
The voice actor behind M3GAN reveals the terrifying killer doll's hilarious effect on her life, including how friends reacted to the viral trailer.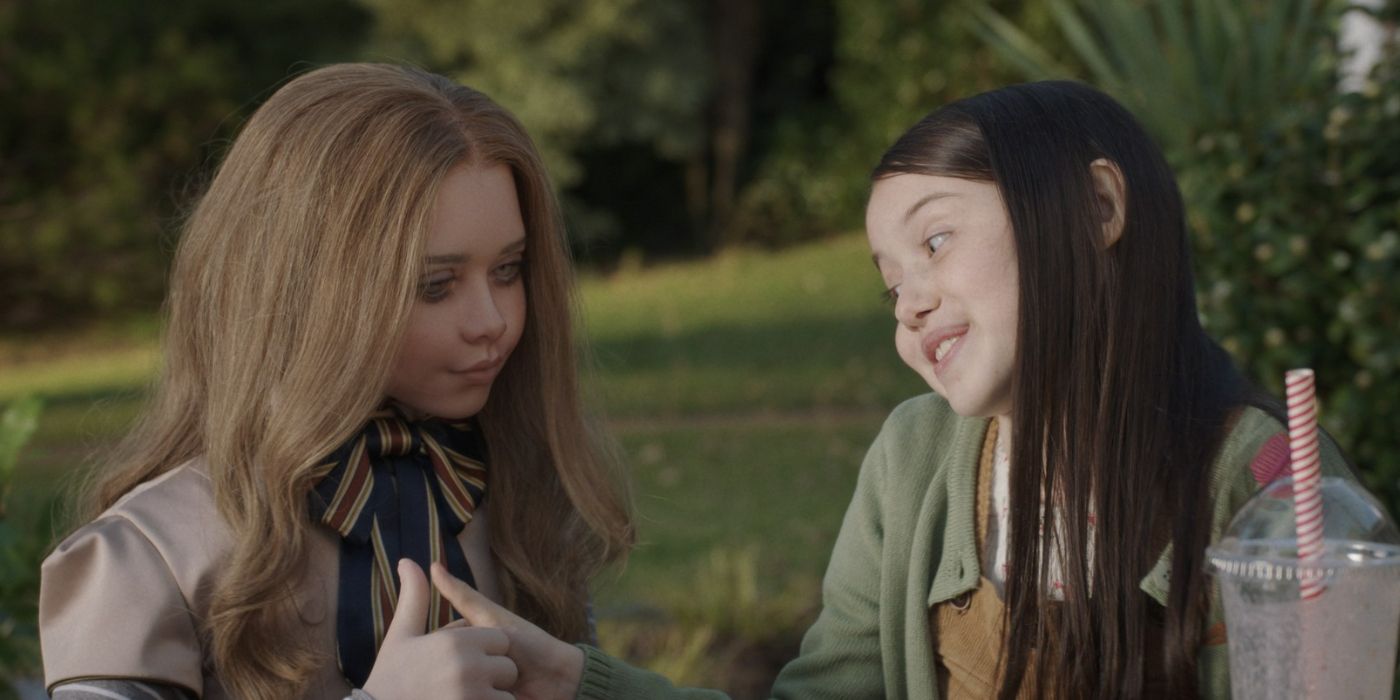 Warning: The article contains some spoilers for M3GAN. M3GAN's voice actor reveals the killer doll's hilarious effect on her life. The comedy-horror follows Gemma, a young scientist who takes in her orphaned niece Cady and gifts her an AI doll for companionship. However, in a turn of events, M3GAN reveals herself to be an obsessive and terrifying protector of Cady, hurting anyone who gets in her way. M3GAN comes from the same filmmakers behind Insidious and The Conjuring, with James Wan serving as producer and Gerard Johnstone as director. Now in theaters, the film has made waves at the box office with a strong Thursday opening alongside critical acclaim for its campiness and creepy killer doll concept.
Speaking to NYLON, the voice actor behind M3GAN, Jenna Davis, reveals just how much the killer doll has affected her life. Davis, who recorded her lines before seeing the android on-screen, shares if she ever accidentally slips into the AI's voice, which catchphrases she and her family can't stop saying, and how her friends reacted to the movie. Read Davis' take on M3GAN below:
"She has this thing where she says, "It's insane, right?" I don't know why, but my mom and I have been saying that all the time. And then we look at each other and we're like, "Wait, that's M3GAN." When the trailer came out, I asked my friends if it sounded like me, and they're like, "Yeah it does." Some were even like, "I'm not going to be friends with you after this because I'm going to be scared." Obviously I'm not a terrifying, horrifying nightmare girl who's going to slaughter, but there are certain lines that are always going to stick with me. Even in the early audition process, some of the lines in the movie I don't think I could ever forget. They're imprinted in my brain."
Related: Is M3GAN Supposed To Be So Funny?!
How M3GAN Differs From Other Doll Horror Movies
Davis developed the perfect voice to capture M3GAN's innocent, yet horrifying and eerie nature, which allowed the campy horror to showcase the android's self-awareness and obsession with her bonding with Cady. Though M3GAN was only rated PG-13, the mellow violence and limited goriness didn't affect the overall presentation of M3GAN, which still manifested the typical tropes of a killer doll. Her intimidating dance in a hallway and her catchphrase, "It's insane, right?," has become synonymous with her, solidifying herself as one of the more memorable killer dolls on the levels of Chucky and Annabelle.
The horror genre is no stranger to killer dolls, including 1988's Child's Play which follows the red-haired menace Chucky. Annabelle from The Conjuring universe is another notorious killer doll possessed by a spirit. While Child's Play has a campy tone like M3GAN, Annabelle presented a darker and more sinister portrayal of the creepy and cold-blooded titular entity. M3GAN is also unique from Chucky and Annabelle as M3GAN's artificial intelligence optimizes its programming to learn new things quickly and conform to commands at the expense of the android becoming sentient. While M3GAN heightens its campiness, it is more nuanced than most killer doll movies since it discusses hard-hitting topics about death, acceptance, and parent-child bonding.
While M3GAN hit theaters this weekend, speculation regarding a sequel started long before its release. Despite no confirmation of an M3GAN sequel, producer Wan revealed that they are generating ideas for the next story. As it concludes with a tease for the android's return, M3GAN 2 could be on its way. If Chucky and Annabelle are any indicators, M3GAN is far from being put away. Child's Play spawned an entire franchise, including six sequels and a television show, while Annabelle had a prequel and a sequel. With a booming box office in its first weekend and reviews praising the film, it seems M3GAN will be back, but not everyone might welcome her back with open arms.
More: M3GAN Cast & Character Guide
Source: NYLON