Lex Luthor Is Assembling a New Superman Revenge Squad
Warning: contains spoilers for Superman: Son of Kal-El #18!Recently, across the Superman family of titles, Lex Luthor has slowly been amassing a new Superman Revenge Squad. In Superman: Son of Kal-El #18, Jon Kent and his father meet Red Sin, a mysterious villain with a deep hatred for Superman and all he stands for. Red Sin also has a connection to Lex Luthor, and he manipulates that for his own end in this issue. Luthor now has Metallo in his pocket once again, and with Red Sin, sets the stage for a new incarnation of the Superman Revenge Squad. The issue is on sale now in print and digital.
In this issue, readers are introduced to Red Sin, a young man with red sun technology, which can severely weaken Superman. After attacking the Man of Steel, Red Sin sets his sights on Jon, but the young Superman is able to overpower him. Later, at Stryker's Island, Jon goes to visit Red Sin. Readers learn that Red Sin's parents worked in research and development for LexCorp; his parents, like their employer, believed Superman to be an alien threat, and they worked to create the red sun tech now bonded to their son. After Jon leaves, Red is visited by a hologram of Lex Luthor, who butters Red Sin up, telling him how impressed he was that Red Sin was able to finish his parents' work. Luthor tells Red Sin he is putting together a plan to rob Superman and his family of "their humanity." Luthor then mentions a mysterious Project: Blackout, which will deliver the fatal blow to the Man of Steel. He wants Red Sin's help–and he happily agrees. The issue is written by Tom Taylor, illustrated by Cian Tormey and Ruairí Coleman, inked by Tormey, Coleman and Hanna, colored by Romulo Fajardo Jr and lettered by Dave Sharpe.
Related: DC Officially Settles Its Most Intelligent Character in One Sentence
Meanwhile, in the pages of Action Comics, Luthor is manipulating Metallo to his own ends, although he is taking a much more harsh approach than with Red Sin, using the villain's family as leverage against him. While Luthor did not mention exactly what Project: Blackout is, it could be a new incarnation of the Superman Revenge Squad. This team, mostly active during comics' Silver Age, was composed of various Superman villains, who came together, as the name implies, to get revenge on the Man of Steel.
Luthor's New Team Will Get Revenge on Superman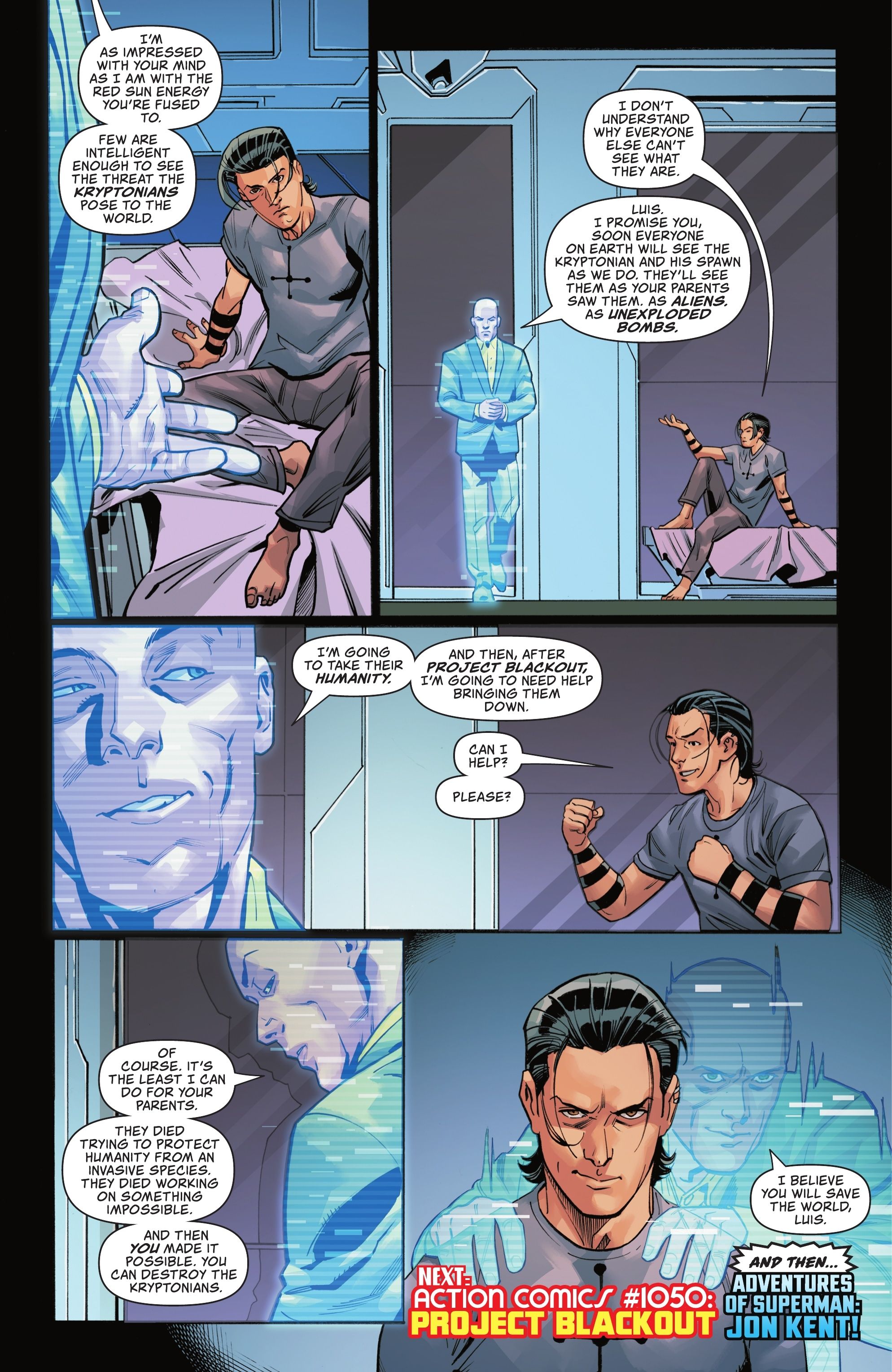 And now, the Superman creative team could possibly be bringing this concept into the modern age. So far, readers have witnessed Luthor bringing both Metallo and Red Sin under his thumb. Both of these villains have serious grudges against Superman, making them easy prey for Luthor's evil manipulations. Like them, Luthor hates Superman, but he alone has the resources and power needed to control the others. Luthor could weaponize Metallo and Red Sin's hatred for Superman, creating a united front that would give the Man of Steel and his allies a hard time. Tragically, the final component of Luthor's Project: Blackout is Manchester Black, one of Superman's newest allies. After years of mutual animosity between the two, Superman and Manchester have learned to work together, as seen in Superman and the Authority. Luthor captures Black at the end of the issue, and implies Black will somehow be crucial to Project: Blackout.
Lex Luthor's hatred for Superman knows no bounds. Luthor sees him as an upstart and a threat to humanity–and he will do anything to stop the Man of Steel. Lex Luthor has something up his sleeve, something that spells doom for Kal-El and his allies: a new incarnation of the Superman Revenge Squad.
Next: Batman '89 and Superman '78 Take Place in the Same Universe, DC Confirms
Superman: Son of Kal-El #18 is on sale now from DC Comics!