How to Get Vanadinite in Final Fantasy XIV
Vanadinite is a resource that Final Fantasy XIV Disciples of the Hand will need to forge an ingot used in many recipes for endgame gear.
If Warriors of Light are looking to craft some of the best high-end tools, weapons, and armor sets in Final Fantasy XIV: Endwalker, they will need a valuable resource known as Vanadinite. This dark red mineral is said to be "rich in vanadium and exclusively produced in Thavnair," meaning that it is not harvested from the open-world zones of Ilsabard but instead created in a mineral plant. Accordingly, Disciples of the Hand will need this synthetic crystal to forge Ilmenite Ingots, a metal used in crafting equipment from the Indagator's Crafter Tools Set, the Rinascita Armor and Accessory Sets, and the Rinascita Weapon Set.
As noted above, Vanadinite cannot be mined from a mineral node in Final Fantasy XIV; instead, the only way for players to procure this resource is by purchasing it from Cihanti. Cihanti is an Au Ra Merchant who operates the Tomestone Exchange in Radz-at-Han.
She sells Vanadinite for Allagan Tomestones of Astronomy ×20 each; the offer can be found in the "Allagan Tomestone of Astronomy (Other)" section of her wares. Keep in mind that her stock of goods only becomes accessible after Warriors of Light have completed the entire base expansion of Endwalker.
Related: How to Get More Fire Crystals in FFXIV (& What They're For)
Procuring Vanadinite in FFXIV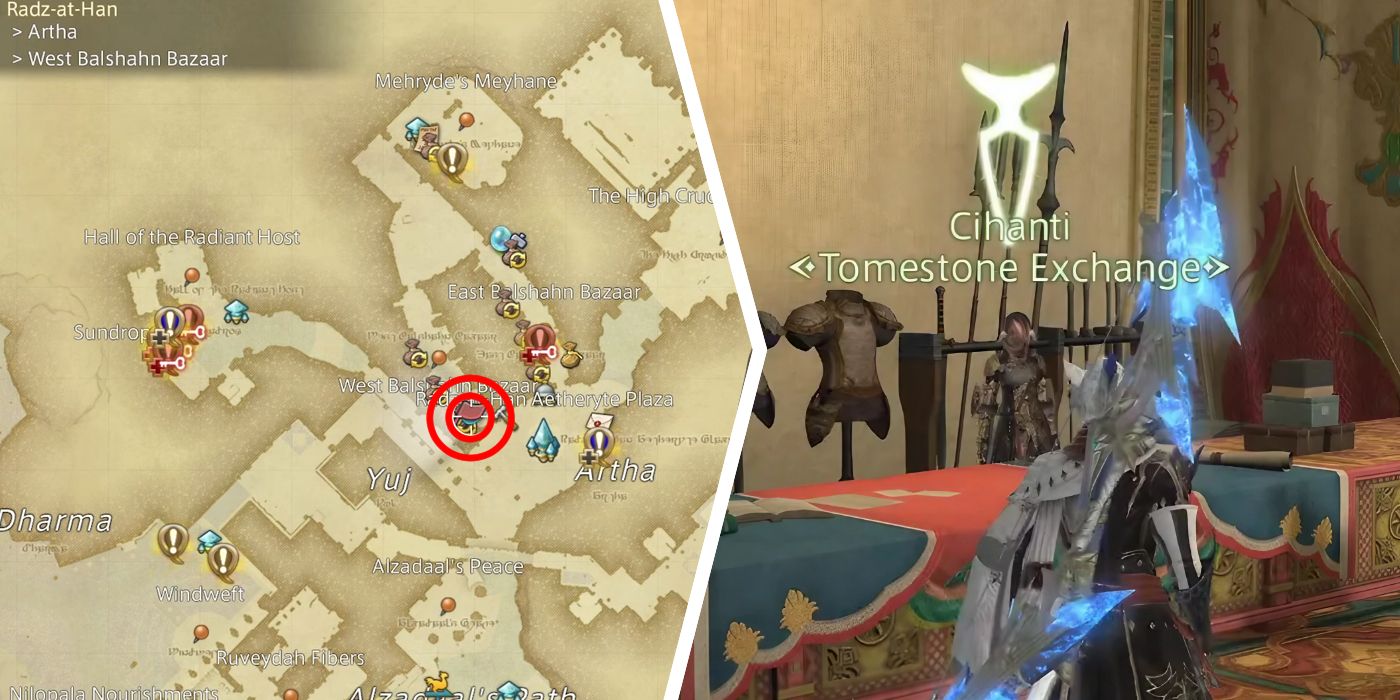 For those who need directions to Cihanti's stall, YouTuber PanyapiN Gaming has shown via gameplay that the Tomestone Exchange in Radz-at-Han is located within the West Balshahn Bazaar of Artha at the coordinates (X: 10.8 Y: 10.4). For reference, she stands within the same stall as Khaldeen, the NPC Vendor who performs Augmentations for Radiant's Gear and Lunar Envoy's Gear. The Vanadinite that Cihanti sells can also be traded amongst players, meaning that users might also be able to find deals on their server's Market Board in exchange for Gil in FFXIV. For instance, on Server: Exodus, 6,060 Gil is the average price of a single cluster of Vanadinite. Nevertheless, sales will vary depending on region and server.
Every Ilmenite Ingot requires two Vanadinite to craft in FFXIV. Therefore, if players do not wish to spend an average of 12,000 Gil per ingot, they will need to procure a sufficient number of Allagan Tomestones of Astronomy to do business with Cihanti. According to the comments in a Reddit post by u/Deathbywii, many users agree that one of the best and fastest methods for farming Astronomy Tomestones is Hunt Trains. These player-formed parties hunt down Hunt Targets as an organized group. Accordingly, players are encouraged to find and join Hunt Trains in their server to quickly farm FFXIV Tomestones for Vanadinite.
More: FFXIV: Island Sanctuary Animal Spawn Guide (Times, Locations, & Materials)
Source: YouTube/PanyapiN Gaming | FFXIVMB | Reddit/r/ffxiv
Original Release Date:

2013-08-27

Developer:

Square Enix

Franchise:

Final Fantasy

Genre:

Fantasy, MMORPG

Platform:

PlayStation 3, PlayStation 4, PlayStation 5, Microsoft Windows, macOS

Publisher:

Square Enix

ESRB:

T

Multiplayer:

Online Co-Op, Online Multiplayer

Summary:

Final Fantasy 14 (Final Fantasy XIV) is the fourteenth entry in the Final Fantasy franchise. It is an MMORPG that initially launched in 2010 before it was completely rebuilt from the ground up for a 2013 release as Final Fantasy XIV: A Realm Reborn. After the events of the 2010 iteration's conclusion, where the primal dragon Bahamut brings calamity to the land of Eorza, the player survives and is sent into the future by five years in a world that has begun to rebuild, but now thrust into the middle of a war from the Garlean Empire. As a consistently expanding world with an ever-scaling storyline, Final Fantasy XIV's narrative grows with each expansion, with the core experience still surrounding working with other players and NPCs as they level and customize their characters, engage in real-time events, and coordinate teams to enter massive dungeons to face raid bosses. The game is available to play with people of several nations and has a massive translatable vocabulary for players to be able to work with one another despite language barriers. The most recent expansion pack, Endwalker, was released in December of 2021 and follows the trend of each title releasing roughly every two years. Final Fantasy XIV is available as a free-to-play title up to level 60, where the game then transitions to a subscription model. The game is playable on Microsoft Windows, macOS, PlayStation 4, and PlayStation 5, as the PlayStation 3 version was shuttered in 2017.

Expansion Packs :

Heavensward (June 2015), Stormblood (June 2017), Shadowbringers (July 2019), Endwalker (December 2021)