How Nick & Aaron Carter Made Up Before Aaron Passed Away
The Masked Singer's Nick Carter feuded with his brother Aaron for years. Before Aaron's tragic passing in 2022, the brothers seemed to make amends.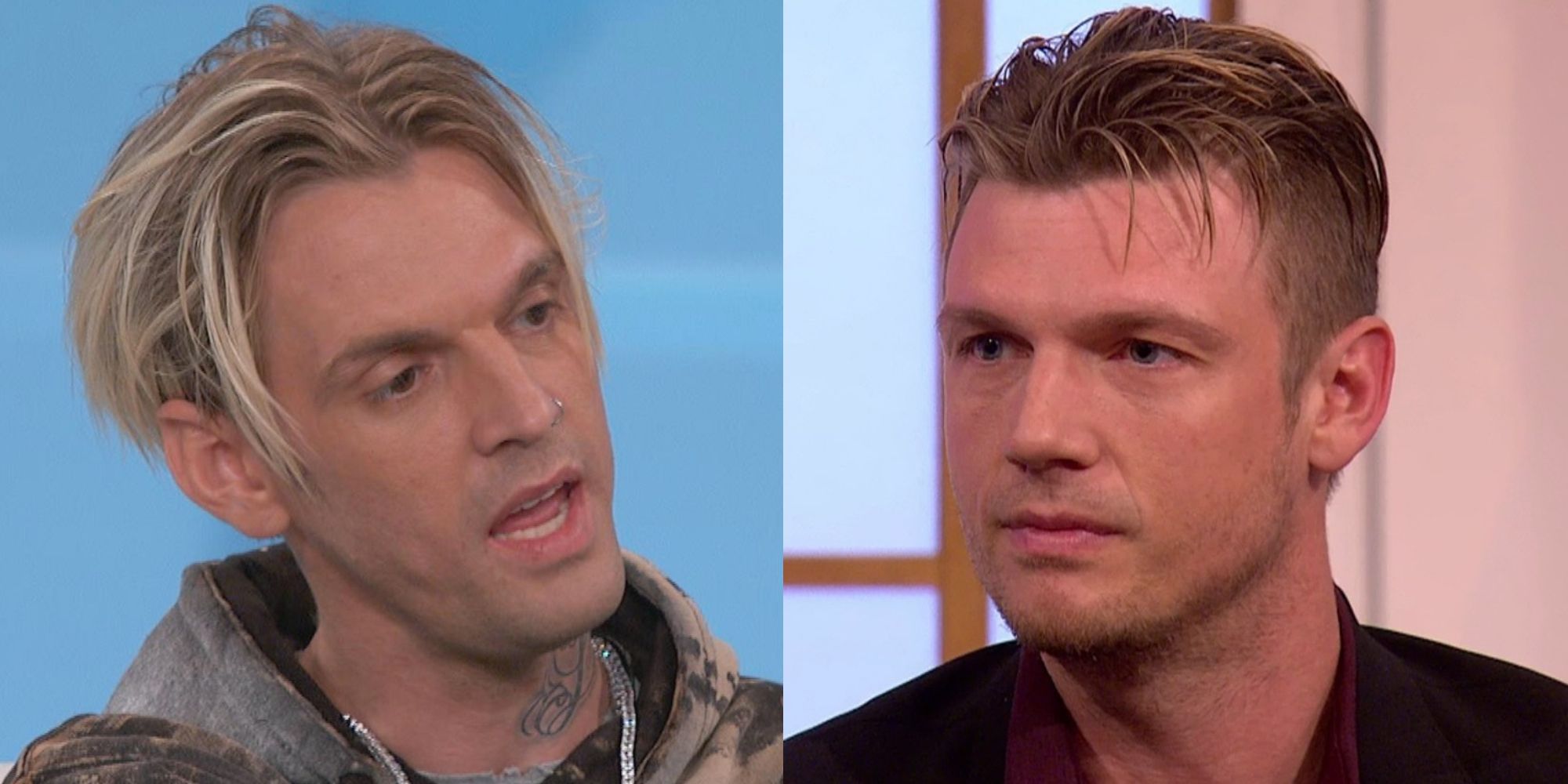 Nick Carter, who was the Crocodile on The Masked Singer season 4, had a tumultuous relationship with his younger brother Aaron Carter. Both of the brothers knew a thing or two about being in the spotlight. Nick is best known for being one-fifth of The Backstreet Boys. The late Aaron was also a singer, most notably known for his rendition of "I Want Candy" in the early 2000s. The two publicly feuded for a few years. In 2019, Aaron started calling out his older brother multiple times on social media, causing Nick to strike back and escalate the conflict.
Tragically, Aaron passed away in November 2022 at the age of 34. The cause of death, according to the Carter family, was an accidental overdose. At Instagram, The Masked Singer's Nick Carter shared an emotional post following the sudden death of Aaron. The image added showed Nick and Aaron as young children, and the caption acknowledged the ups and downs of their relationship, while touching on the unconditional love between the two of them. There were many condolences in the comments, as well as memories of Aaron, and hopes that the family would find comfort in the aftermath of his passing.
Related: DWTS Aaron Carter Allegedly Never Wrote A Will Before His Death
Aaron & Nick Carter Had A Complicated History
Prior to Aaron's heartbreaking passing, he and his brother Nick brought up various allegations against each other. In September 2019, the troubled former child star Aaron accused Nick of breaking his nose during 13-year-old Aaron's acceptance speech at the Nickelodeon Kids Choice Awards. That same month, he re-shared a video from their family's E! reality show, House of Carters, where Nick was shown getting physical with his brother during an altercation. Just a few days later, Aaron accused Nick of neglecting their now-deceased sister Leslie when she was in need of rehab. Aaron went on to allege that Nick and Leslie assaulted him, as reported by Evening Standard.
Nick & Aaron Carter Made Amends Before Aaron's Passing
Aaron went on to bring up a 2004 report indicating that Nick had allegedly hit his then-girlfriend, Paris Hilton. On September 17, 2019, Nick and his twin sister Angel Carter shared a tweet claiming that they filed a restraining order against Aaron. This followed a streak of concerning behavior from Aaron. For example, Angel alleged that she had a conversation with Aaron, during which he said he thought about killing Nick's pregnant wife Lauren Kitt, and their unborn child. Then, the Carter family members got particularly anxious, after learning that Aaron had purchased a handgun and rifle, and 300 rounds of hollow-tip bullets.
Despite the allegations thrown between the two brothers, Nick has recently revealed that he and Aaron made amends before his passing. The testament made in Nick's Instagram tribute, about how his love for Aaron never faded, is very touching, and adds closure to a long series of unfortunate conflicts between the family members. It was also revealed, prior to his death, that Aaron lived with disassociative identity disorder, schizophrenia, and anxiety. It's good that The Masked Singer's Nick was able to find peace with Aaron, before his brother's tragic passing.
More: Why The Gnome's Reveal On The Masked Singer Was The Greatest Of All Time
Sources: Evening Standard, Nick Carter/Instagram