How America's First Impression Rose Ruined Brianna's Bachelor Experience
The Bachelor's America's First Impression Rose was given to Brianna Thorbourne, but it ended up ruining her experience with Zach Shallcross.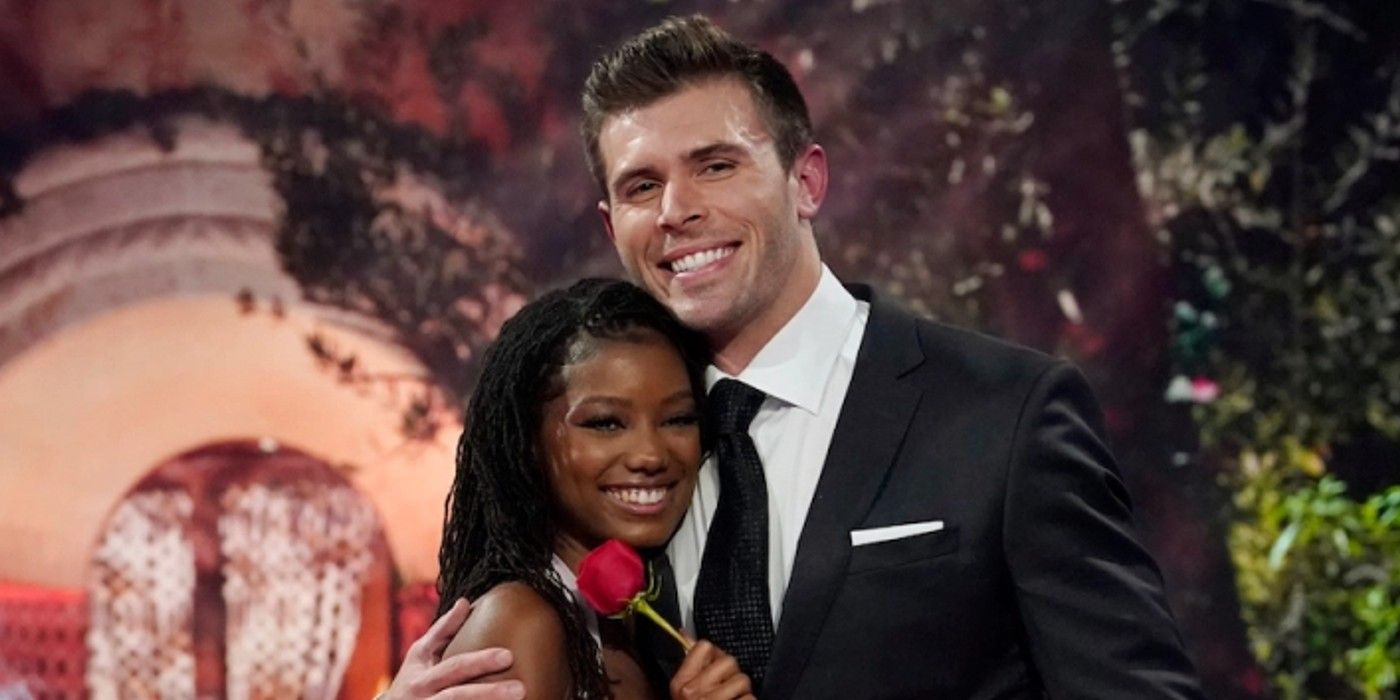 When The Bachelor season 27 contestant Brianna Thorbourne received America's First Impression Rose, everyone thought that she had an advantage with leading man, Zach Shallcross. However, the rose ended up being a thorn in her side, which ruined her experience. On The Bachelorette season 19 finale, America had the opportunity to vote for one of five of Zach's potential love interests, to win the coveted prize. Brianna earned the most votes, receiving the rose instead of Bailey Brown, Brooklyn Willie, Cat Wong, and Christina Mandrell. This gave her safety during the first rose ceremony, which seemed to be a great thing.
However, on The Bachelor season 27 premiere, Brianna quickly realized that America's First Impression Rose would be more of a curse than a blessing. She had an intimidating experience after meeting Zach outside the mansion. as she was the last to arrive. She had to face a room full of 29 women, many of whom felt jealous. They seemed threatened by her, and Brianna also felt insecure about her connection with Zach. She quickly realized that she would only be safe that night because America chose her. Throughout the next few weeks, Brianna's conversations with Zach felt awkward and forced because she was constantly looking for validation from him. For many reasons, America's First Impression Rose ruined Brianna's Bachelor experience.
Related: What Was Cut From Zach's Dates On The Bachelor Season 27 Episode 2
Brianna Thorbourne Was At Odds With The Women
On The Bachelor night one, Brianna was targeted by the other women. On the Bachelor Happy Hour podcast, Brianna revealed that some of the women didn't think that she should have any time with Zach on night one, since she was already safe with a rose. Some women went so far as to try to physically block her from talking to him. She didn't get a chance to speak to him until 4:30 a.m. Despite this, Brianna said that there were so many women who were sweet, such as Zach's first impression rose recipient, Greer Blitzer, and Davia Bunch, who even told her that they voted for her.
Brianna and Christina Mandrell also got off on the wrong foot. Christina was one of the women whom Brianna had bested during the vote for America's First Impression Rose. Although Christina complimented Brianna's dress, she jokingly told her that she hated her for looking so good. Brianna became upset by this because she was already feeling self-conscious about having the rose. A few days later, Brianna confronted Christina about it, and, although Christina did not remember the exchange, she apologized to her.
When Brianna attempted to tell Zach about the incident, he told her that he did not like drama. He said that if it was already settled, then he did not need to know the name of the woman involved. Zach also expressed to Brianna that he thought that their conversations felt very serious and strict. Brianna was hurt by this as well, which affected her experience on The Bachelor.
Brianna Thorbourne Felt Insecure About Zach Shallcross
Because Brianna's rose came from America and not Zach, she wondered if he even wanted to keep her around. At the first rose ceremony, her safety came from the viewer vote, not him. When she told him that it would mean a lot to her to receive the group date rose, he gave it to someone else instead. Brianna finally received her first rose at the second rose ceremony, but she still felt insecure about her connection with Zach. America's First Impression Rose put so much pressure and stress on Brianna that she could never fully relax, or feel confident about her relationship with Zach.
Related: Everything We Know About The Bachelor's Colton Underwood
Brianna Thorbourne Self-Eliminated From The Bachelor
The combination of the feeling that The Bachelor was not a safe space for her after her confrontation with Christina, and her lack of a real spark with Zach, led Brianna to self-eliminate. Both of these problems stemmed from America's First Impression Rose. After the initial happiness about winning the rose from viewers, Brianna's experience soured. The Bachelor is not a show that usually involves viewer votes, and it should never do so again. By trying to force a connection between Brianna and Zach, America's First Impression Rose backfired.
More: How The Bachelor Season 27 Is Giving Fans What They've Asked For
The Bachelor airs Mondays at 8 p.m. ET on ABC.
Sources: Bachelor Happy Hour, Brianna Thorbourne/Instagram, Brianna Thorbourne/Instagram, Brianna Thorbourne/Instagram