HEXWARE Is an Intriguing Pinocchio Tale for a Witchy AI Age (Review)
An AI tale with a pagan twist, Hexware #1 is already asking the big questions: who deserves a soul, and to what lengths will one go to feel "real"?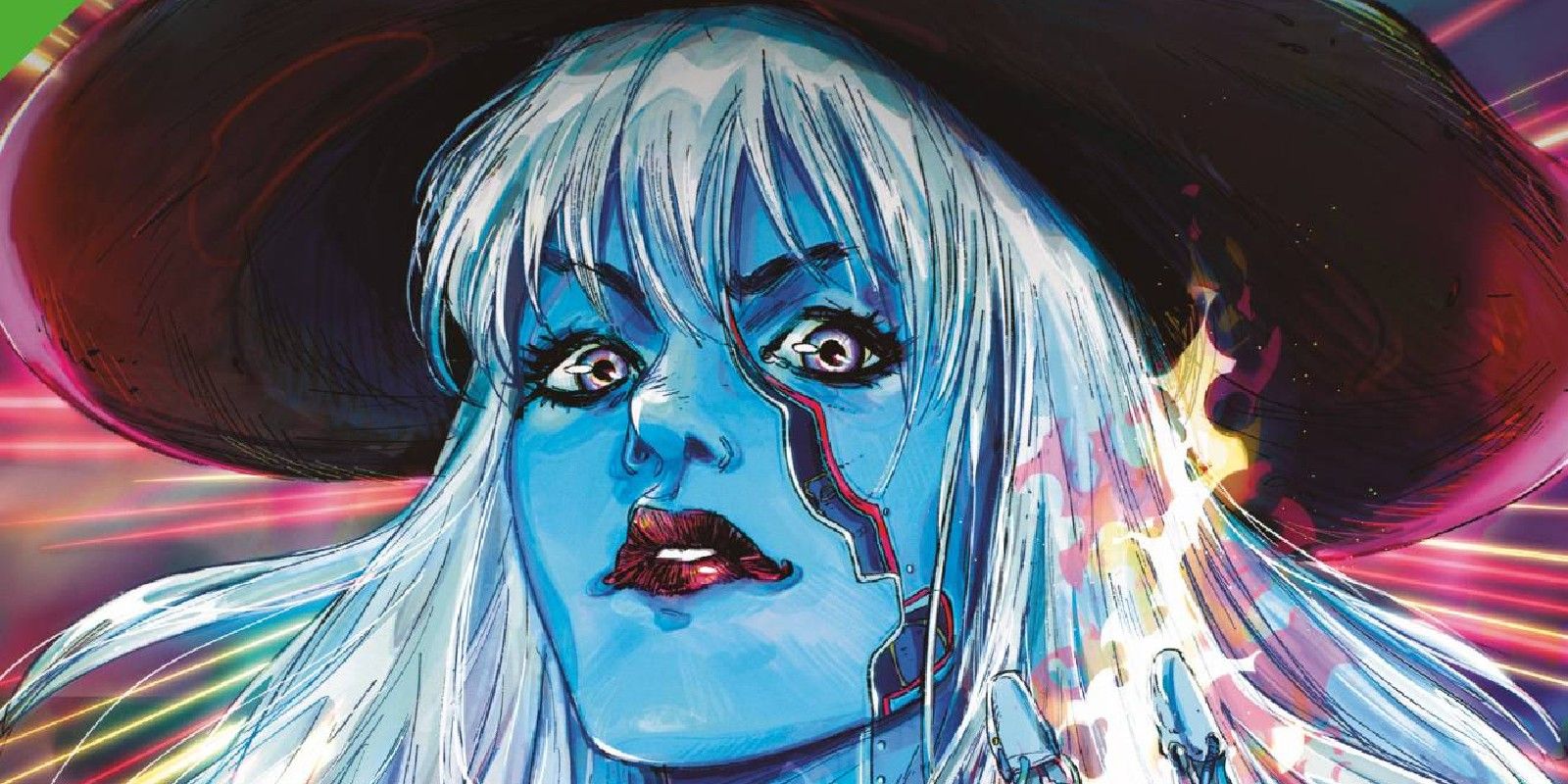 Warning: SPOILERS for Hexware #1Hexware #1 is the latest science fiction offering from Image Comics, but this time with a fantasy-oriented twist. Like many AI tales, this first issue is already asking the big questions: who deserves a soul, and to what lengths will one go to feel "real"?
Hexware joins a long line of AI-centered stories that consider just what would happen if artificial intelligence truly began to gain—or, in this case, desire—sentience. Described by Image as "dark mashup of witchcraft and sci-fi" Hexware promises to add an almost-pagan element to this classic AI tale, as the story follows a rich family's "Which-Where" android as she attempts to purchase a new soul from a sketchy source: the devil. In this futuristic world of amplified class inequality, the "lonely populace is drawn to neo-spiritualism and hedge magic." Including, apparently, the ruling corporate class's androids.
Related: Image Announces The Ultimate '90s Tribute Comic, Local Man
The first issue of Hexware, by Tim Seeley, Zulema Scotto Lavina, Valentina Cuomo, and Maurizio Clausi, uses a "then and now" structure to introduce the reader to the main character: a "Which-Where" android who appears to be trying to become more human. The "now" segments of the issue explore the android's attempts to experience the street-level world, seemingly on her own, using her emotions and senses rather than facts and data. The "then" storyline shows the reader just how the "Which-Where" got to this point: a politically-motivated bombing killed the android's rich family's daughter, Jesi. When the grief-ridden parents attempt to shut her down, the android resists, instead seeking out pagan texts in order to earn herself a soul. She ends up communicating with a devil, who tells the Which-Where he will sell her a soul—if she runs some terrifying, bounty hunter-like errands on his behalf. The issue ends with the implication that it's the dead daughter's soul that the android has claimed.
Hexware Successfully Combines AI Philosophy with Pagan Aesthetics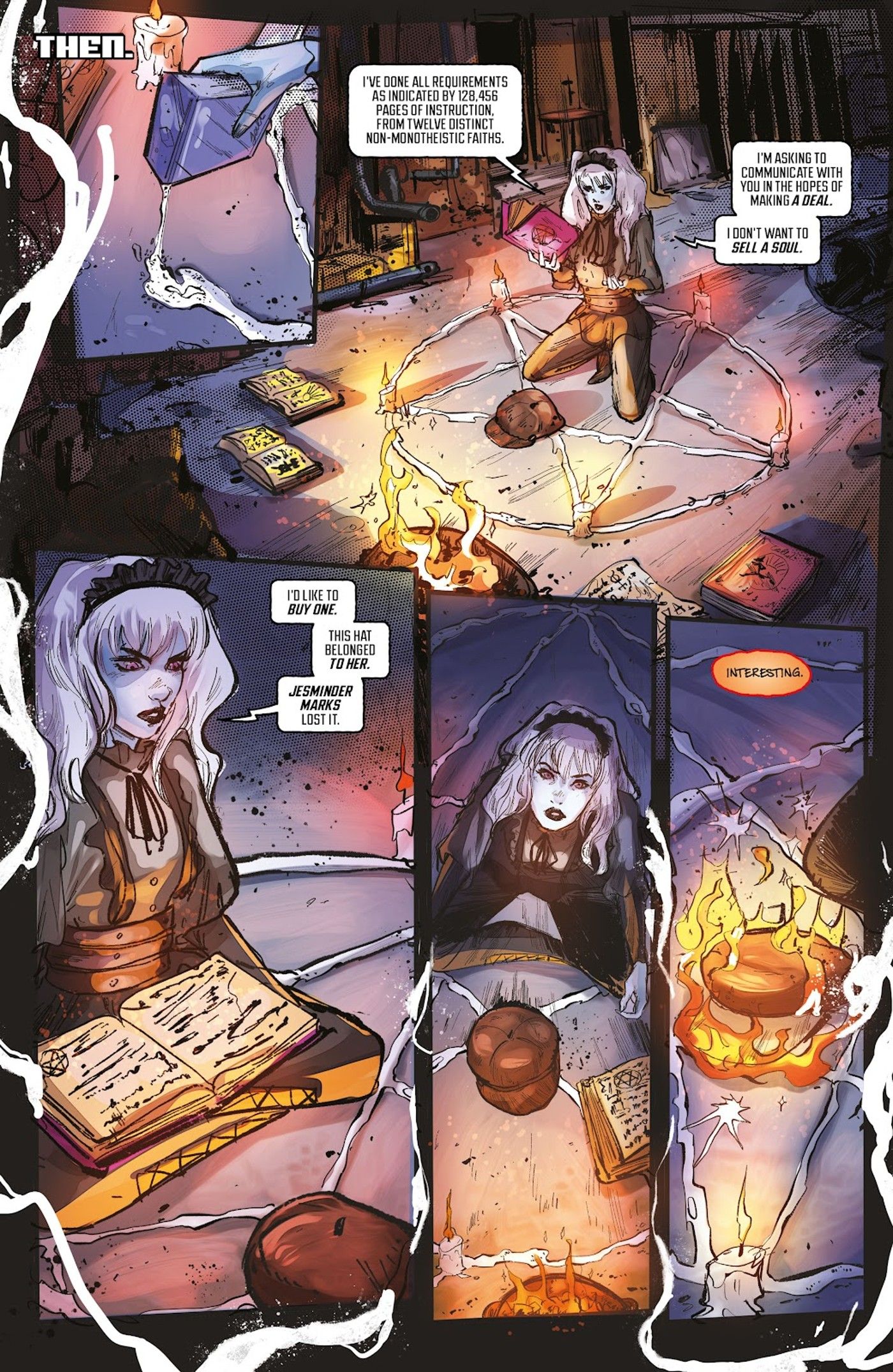 This new series takes the classic Pinocchio tale—will the android become a "real girl"?—and adds a super fun twist in the form of these blended genre elements. Despite the sometimes-confusing pacing as the story jumps back and forth in time, the charming witchy-ness of this first issue keeps the reader engaged and delighted, especially as that pagan iconography is applied in a futuristic setting. It will never not be fun to see an android wearing a classic witch hat. Scotto Lavina's art stands out in that regard, full of momentum and pathos—as well as gruesome demons. The action sequences at the end of this first issue are the real highlight, and hopefully the action will only pick up as the series continues.
Hexware is perfect for fans of sci-fi, fantasy, and even tales of power and class disparity. The book balances a good handful of genres and thematic elements, and so far the juggling is spectacular (as well as the art). If the team behind Hexware can keep all of those balls in the air, this new Pinocchio tale from Image Comics could be a philosophically poignant and utterly charming hit.
Next: RADIANT PINK Expands The Acclaimed Massive-Verse in New Exclusive Preview
Check out Hexware #1, available now from Image Comics!