Fowler & Konkle Deliver Good Performances In Indie Dramedy
The film's events feel natural. Combined with a hilarious cast who are on the same page, The Drop delivers an entertaining enough viewing experience.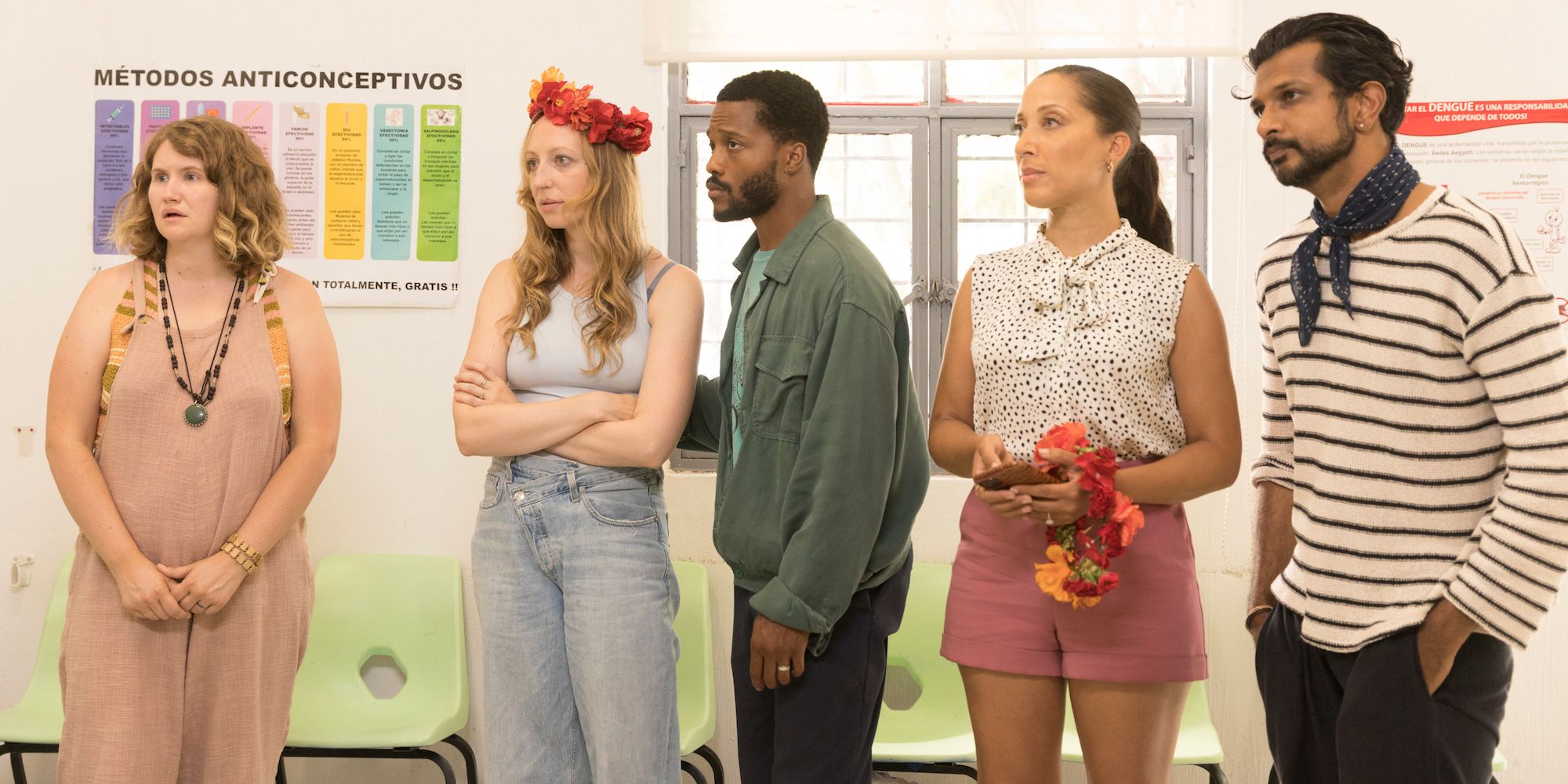 Writer-director Sarah Adina Smith's (Birds of Paradise) dramedy, The Drop, is a fascinating look into the genre and what audiences want. Co-written and co-starring Joshua Leonard (Fully Realized Humans), the script is wanting at times, but it has a few ideas and themes it sticks to throughout. The performances are good all around and Jermaine Fowler (Sorry to Bother You) is doing his best non-comedic work to date. Pen15 alum Anna Konkle has a tricky role to play and does so with an ease that is promising for her future in movies. The Drop has the right dose of drama and comedy.
Mani (Fowler) and Lex (Konkle) are about to embark on a voyage to Mia's (Aparna Nancherla) wedding, Lex's friend and ex-lover. Along the way, the married couple reunites with a host of old acquaintances played by Gillian Bell (Workaholics) and Utkarsh Ambudkar (Never Have I Ever), among others. Upon arrival, Lex meets Mia's baby and immediately drops the child on its head. The wedding party is beside themselves, and it's unclear if they are shunning Lex or if Lex is in self-exile. With Mani's help, they eventually get over it and attempt to enjoy the festivities. However, as Mani begins to think about how he is always saving Lex, he starts to doubt her abilities as a partner, and as a potential mother.
Related: Screen Rant's Winter 2023 Movies Preview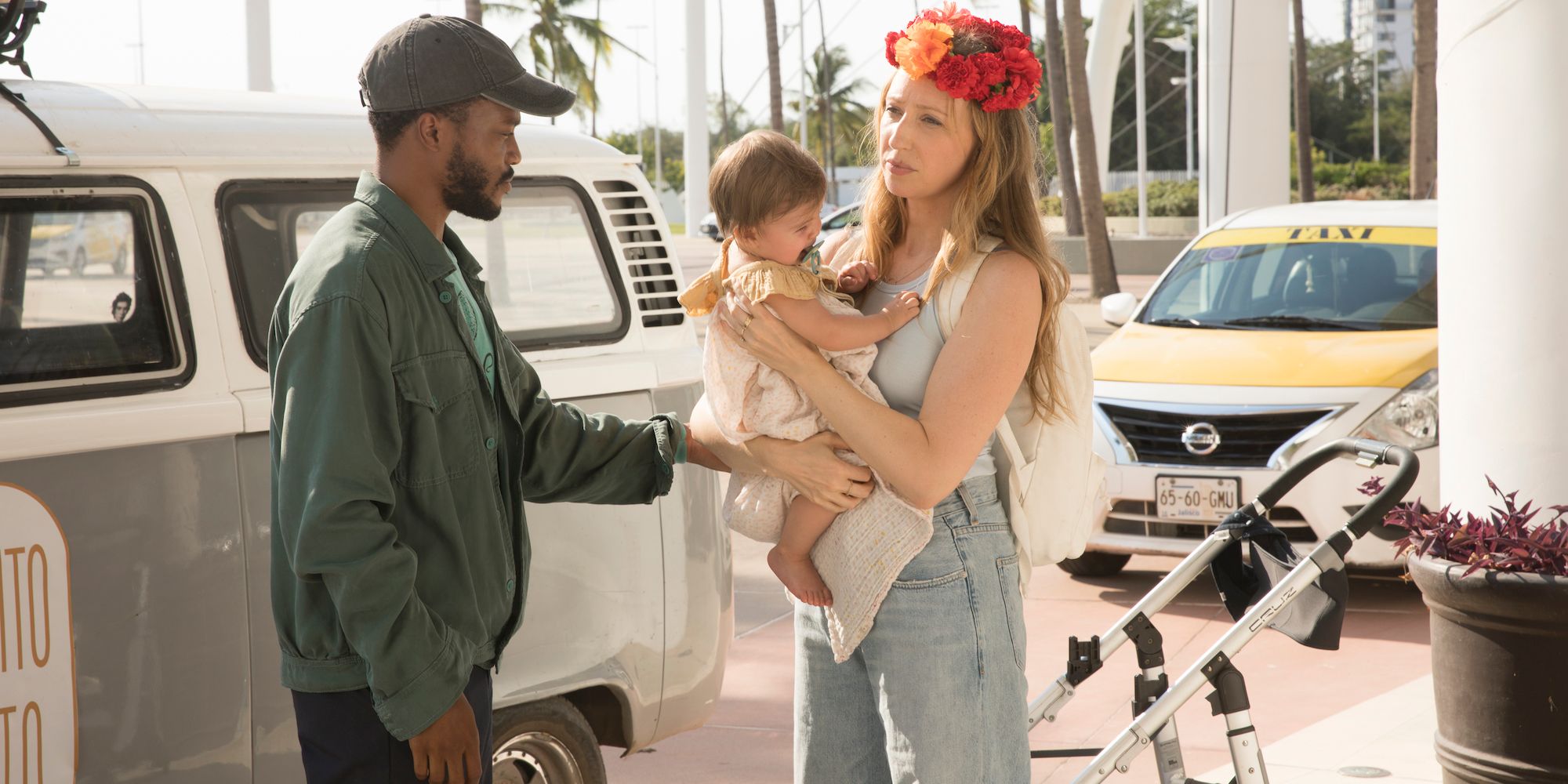 The Drop's first act and title sequence are hallmarks that this film is about to overachieve, and that is true to some extent. As the movie-watching experience continues to evolve, it is paramount that audiences' attention is grabbed from the jump. WhileThe Drop is a Hulu streaming release that does not have the luxury of being in a theater, the opening is strong enough that viewers will be locked in if they are willing to give the film a chance. Though The Drop takes a while to show viewers precisely what kind of movie it is, it has the courtesy of being engaging while audiences figure it out for themselves.
Aspects of The Drop's script are a shining example of what range creators can explore in dramedies. Comedies and dramas are too often combined in service of a serious movie being made funny in order to get the greenlight from studios. The Drop is not that, and the tone is handled ever so gently throughout the film so that it doesn't lean one way or the other. The Drop's final act is all drama, but as it is constructed, it makes perfect sense for where the story is ultimately going.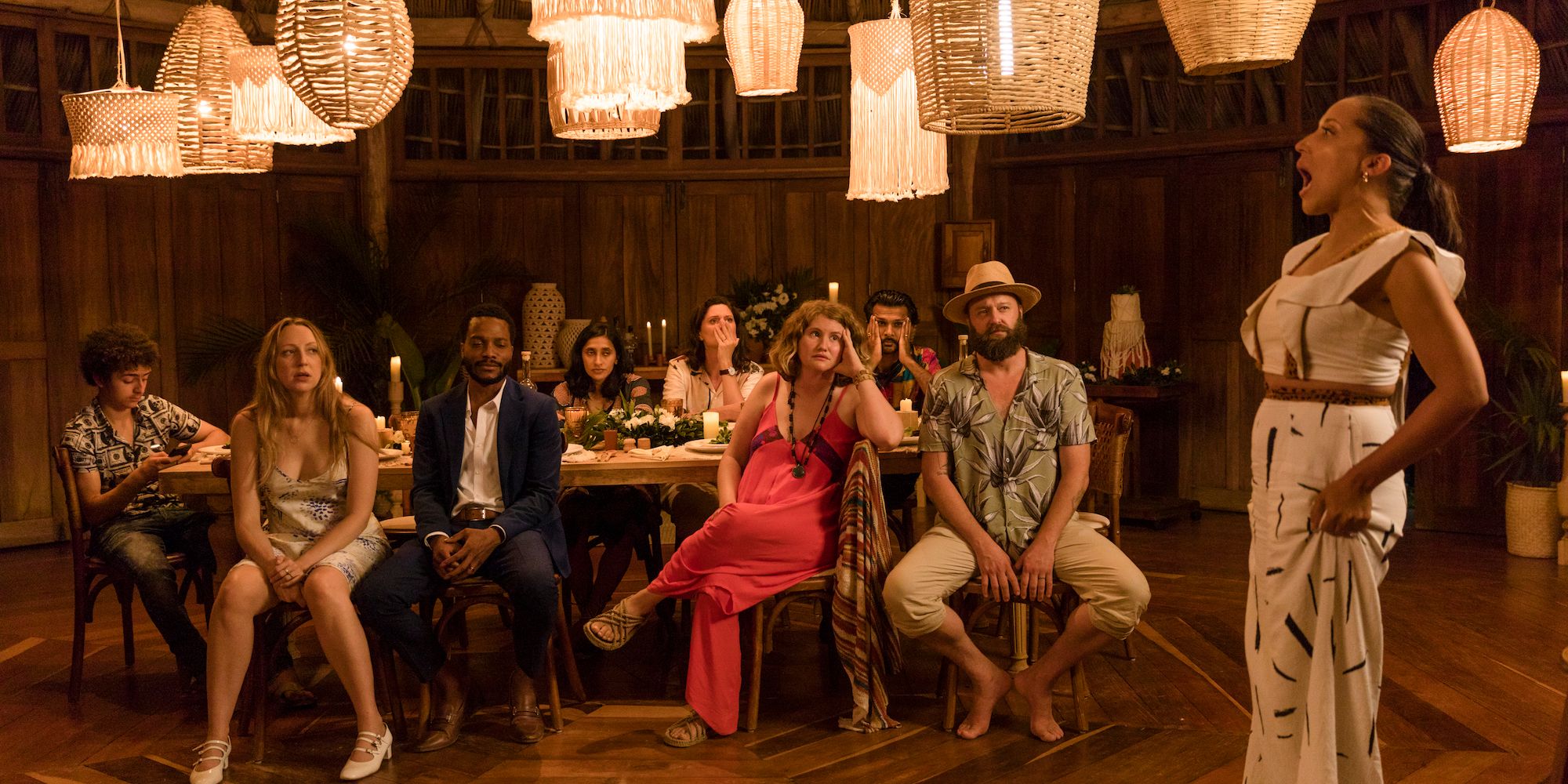 Camera quality or film stock could have elevated this already solid-looking picture. The reality is that we have been trained to think all indie films should have the same texture and lighting that is associated with A24 films. And while A24 movies are usually better than The Drop, Smith's feature could have benefited from just a slight bump in indie effervescence. One impressive aspect of the film is that there's no need to trade good cinematography for a laugh.
One shot, in particular, envisions a kung fu master training in gorgeous sunlight. As the camera slowly tracks in, we see it is Fowler losing his marbles doing faux tai-chi. It is little flourishes such as this one that separates The Drop from other movies streaming comedies. That said, the entire film is not always up to par with that particular scene and to no fault of its own. However, one can't help but feel the ceiling for The Drop was higher than what was inevitably filmed.
Dramedy is a popular but difficult genre to nail these days — it requires balance. It's as though every comedian has a dramedy on TV and every comedy on the big screen stars Dwayne Johnson. The Drop, however, dispenses with the pretense and is just a solid movie that goes back and forth between emotions. There are serious moments played for laughs and there are 10-minute stretches with no laughs whatsoever. The directing and script weave between the two genres effortlessly. The film's events feel natural, so the audience doesn't have to dig deep to understand and relate to the characters. Combined with a hilarious cast who are all on the same page, The Drop delivers an entertaining enough viewing experience.
More: Best Movies Of 2022
The Drop is streaming on Hulu January 13. The film is 92 minutes long and is not rated.