Every George Clooney & Coen Brothers Movie, Ranked
The Coen brothers are celebrated for their quirky, ambiguous, and thought-provoking movies, and they are at their most creative when working with George Clooney. Joel and Ethan Coen have been making movies since 1984, and though their output together has slowed down, they have built a Rolodex of regular A-list collaborators. One of those collaborators is movie star George Clooney, who first worked with the filmmaking brothers on the over-the-top musical comedy O Brother, Where Art Thou? That movie was a modest success at the box office and a critical hit, and since then, the filmmakers and actor have worked on four more outrageous movies together.
Clooney is best known as the charming, stable, and reliable protagonist, whether it's in something as ridiculous as the Clooney-hated Batman and Robin or as thrilling as Ocean's Eleven. The actor has built his career on his charisma, but that's what makes his collaborations with the Coen brothers so fascinating. The filmmakers often cast Clooney as the bumbling idiot, and even when he plays characters of authority in their movies, they still make the dumbest decisions. One way or another, their collaborations are almost always successes, whether critically, financially, or both. Here are all five of the movies involving the Coen brothers and George Clooney, ranked.
RELATED: Shaun Of The Dead's Surprising Coen Brothers Connection Explained
5
Suburbicon (2017)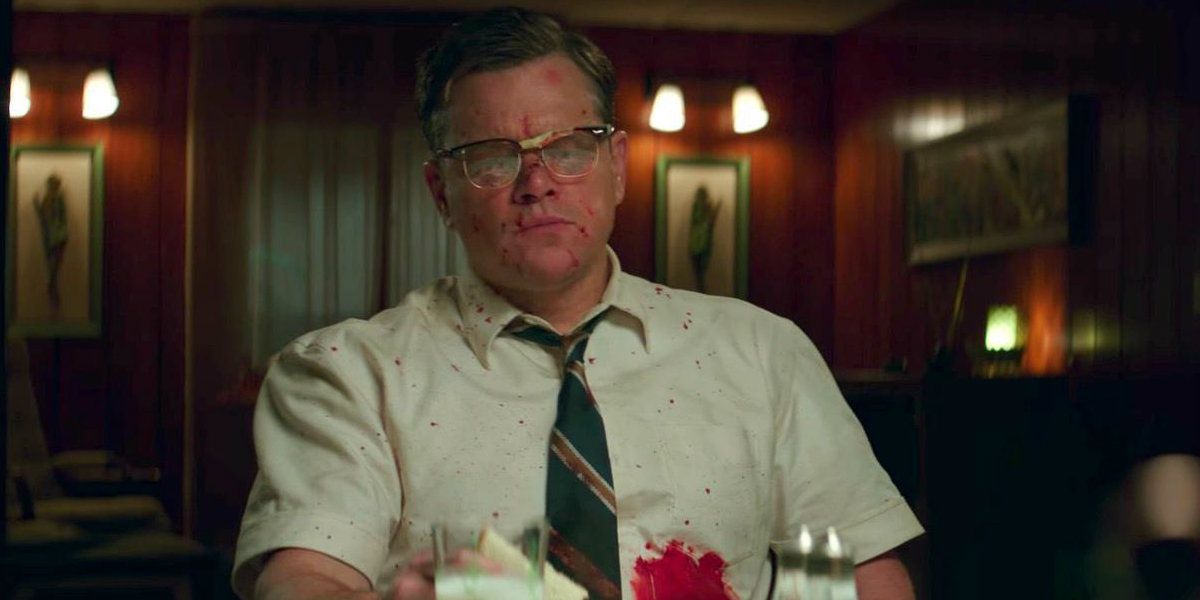 Suburbicon might not be directed by the Coen brothers, and it might not star George Clooney either, but it's still a collaboration between the three big names. The dark home-invasion comedy was directed by Clooney, and the screenplay was co-written by Joel Coen and Ethan Coen. However, despite the high-profile names attached to the project, and despite Clooney having long been established as a great filmmaker, it's Clooney's worst movie as a director.
Starring Matt Damon, Julianne Moore, Oscar Isaac, and award-winning child actor Noah Jupe, the 1950s-set social satire just doesn't live up to its potential, plus it lacks the Coens' distinctive writing flare. Suburbicon ultimately falls flat, which led to its low score of 28% on Rotten Tomatoes.
4
Intolerable Cruelty (2003)
Intolerable Cruelty is a run-of-the-mill romantic comedy and is barely recognizable as a Coen brothers movie. According to Decider, they worked on the screenplay as writers-for-hire and had no intention of directing it. But while it clearly isn't a passion project, it's still a cliched-but-fun early-2000s rom-com. Displaying the actor's usual charm in the role of a divorce attorney, it's peak Clooney, but what makes it even better is the chemistry between him and his co-star, Catherine Zeta-Jones.
While it might not have been a huge critical darling like most of the Coens' work, it's one of their highest-grossing movies, as Intolerable Cruelty made $120 million worldwide. It's hardly surprising that it was a hit for the Coens over their other films that have become cult classics. While movies like The Big Lebowski and Barton Fink are historically and culturally significant, their ambiguous and surreal sequences keep them from being huge hits. On the other hand, while it isn't that deep, Intolerable Cruelty is an audience-pleaser with two of Hollywood's most likable actors at the time.
RELATED: The Tragedy Of Macbeth Proves The Big Difference Between The Coen Brothers
3
Hail, Caesar! (2016)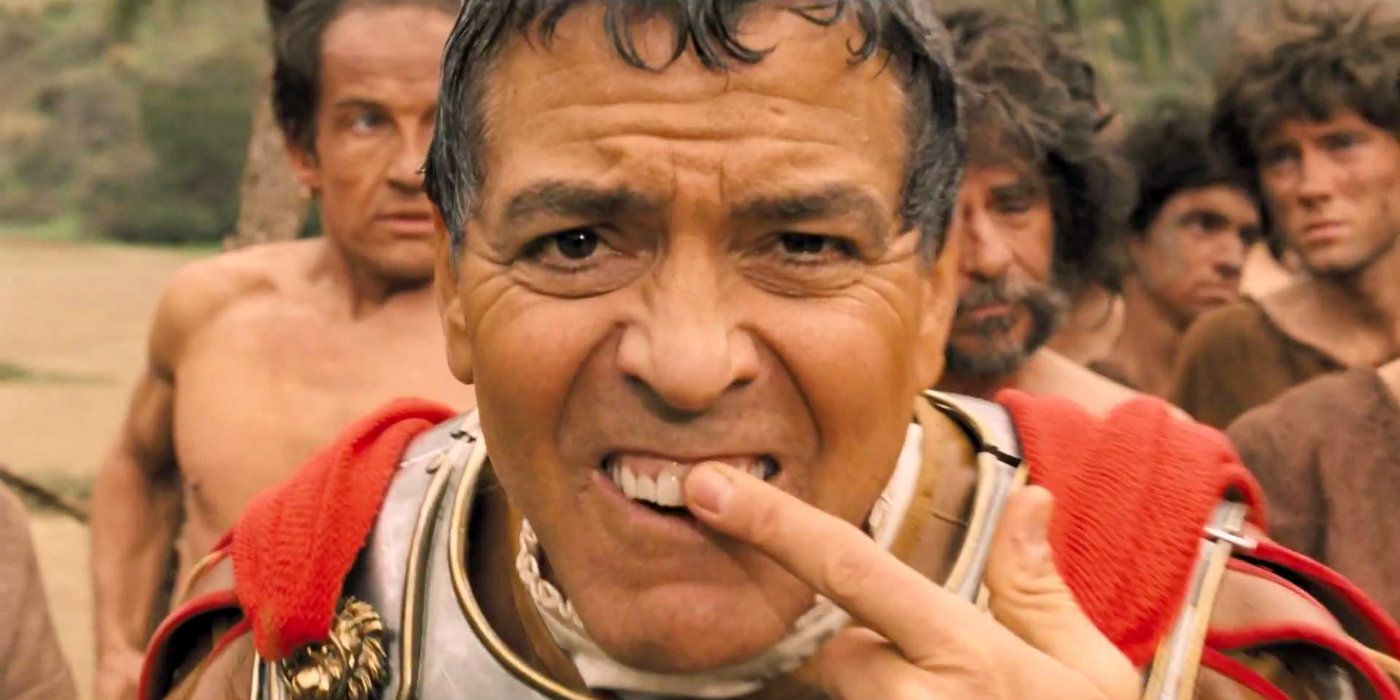 Hail, Caesar! follows a 1950s studio fixer searching for actor Baird Whitlock (Clooney), who went missing, and it marks the last of many things for the Coen brothers. It was their last theatrically released movie together, and their last linear narrative movie, as The Ballad of Buster Scruggs was a Netflix-released anthology film. Unfortunately, it might be their very last, as they're seemingly done making movies together (via IndieWire). The result of their last movie proper is mixed, as the trailer is better than the movie, or it at least made viewers believe the film was going to be a lot better than it was.
While it's far from the Coens' most positively received movie, there's still plenty to enjoy, as it's such a colorful, vibrant, and musical look at the Golden Age of Hollywood. It has great costume and set design, and it has an all-star cast playing typically quirky Coen brothers characters. But its standout performance is from Clooney, as he goes against type as a goofy imbecile. While Baird is a beloved Hollywood actor, in reality, he's a bumbling idiot who can't think for himself. Clooney does a shockingly entertaining job given that it's nigh impossible to believe he isn't the charming rogue he's generally known as.
2
Burn After Reading (2008)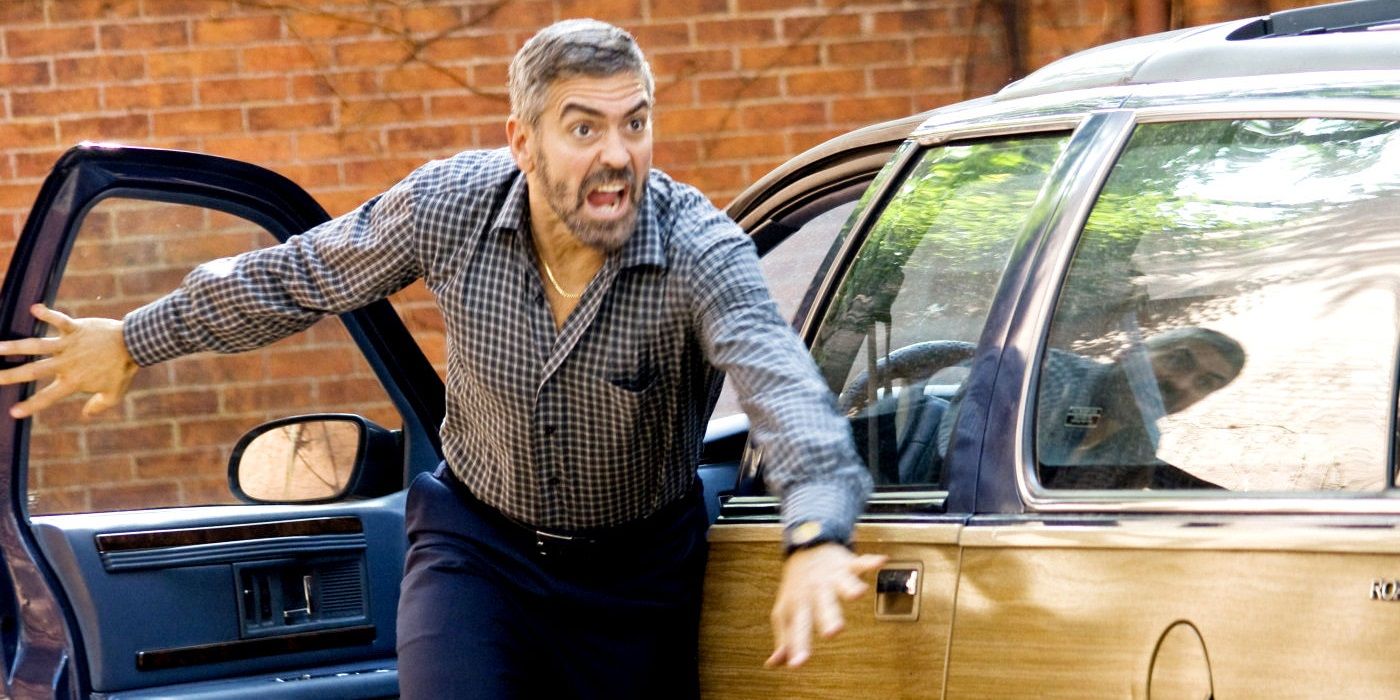 Like many of the Coens' movies, Burn After Reading has zero character development, but that isn't the criticism it sounds like. The crime caper is a perfect example of what the filmmakers do best, as it's full of characters not learning from their mistakes, leading to them ruining their lives or ending up dead. The Coens' have a mischievous sense of humor, and it's as if they try to make George Clooney look bad with each one of their collaborations, as Burn After Reading once again sees the actor playing a moron. Clooney plays a character of authority, Harry Pfaffer, a U.S. Marshal, but he still makes the dumbest instinctual decisions.
Burn After Reading follows Harry as he gets caught up in a government conspiracy when a CIA analyst's memoir falls into the wrong hands. The film reunites Clooney and Brad Pitt, and though they're only in one scene together, it results in the most surprisingly brutal movie death. Burn After Reading is one of the Coens' best black comedies, and Clooney is great as the constantly on edge and paranoid U.S. Marshal. Even the character's name is a joke, as Harry's surname is a play on the slang term "faffer," which refers to somebody who is fussy and indecisive.
RELATED: Every Unmade Coen Brothers Movie (& Why They Didn't Happen)
1
O Brother, Where Art Thou? (2000)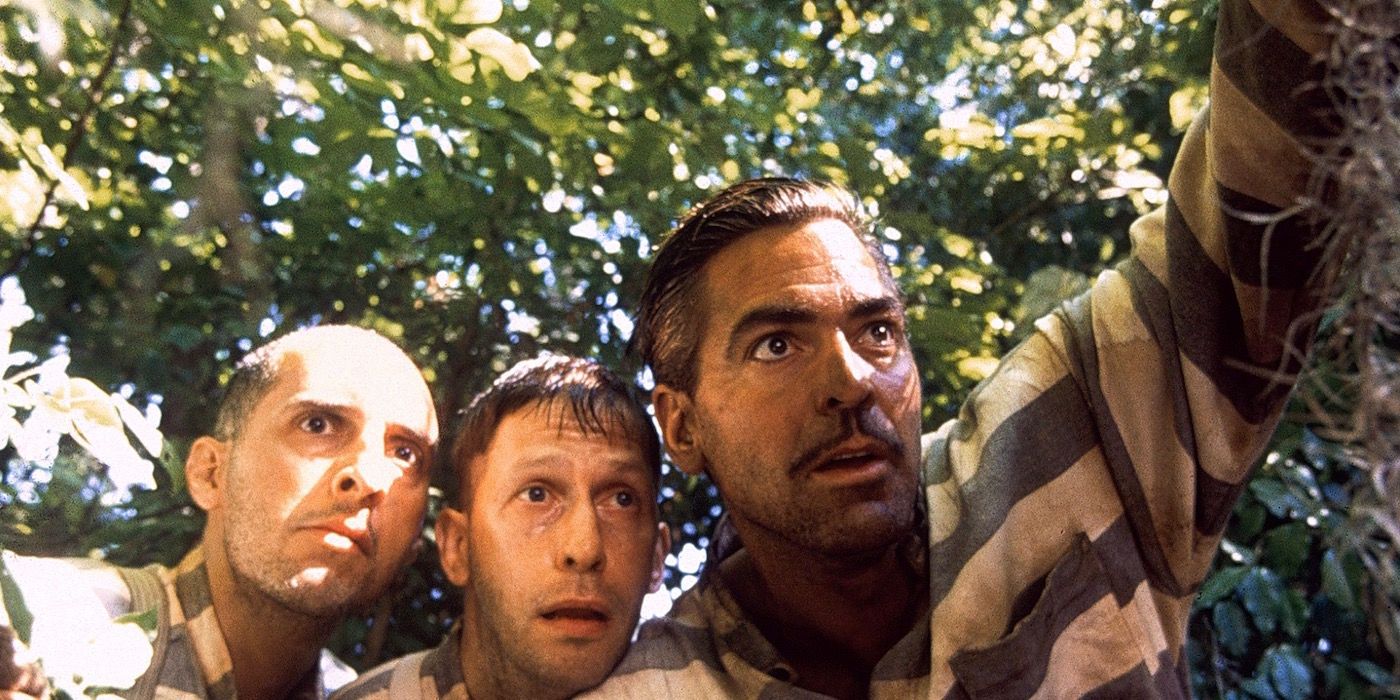 O Brother, Where Art Thou? was the first collaboration between the Coen brothers and George Clooney, and it started one of the greatest director-actor relationships of the 21st century, but it was an interesting choice for Clooney at the time. Following several high-concept event movies, most of which saw Clooney as a stylish hero and a leader, playing Ulysses Everett McGill in this movie was a bold move. The character is certainly a leader, but he's far from stylish. Nevertheless, O Brother, Where Art Thou? is a great musical, and it proved how daring the Hollywood actor really was, as it showed his range more than any previous movie, too.
George Clooney wasn't successful in all elements of O Brother, Where Are Thou?, as he bombed the singing audition and had to have a professional dub his musical moments in the movie (via Looper). However, Clooney excels in other areas, as it's the very first time he played a character who wasn't a ladies' man, and his chemistry with John Turturro in the satirical dramedy is what makes the film so rewatchable. This was an important movie for the Coen brothers too, as it opened up their musical floodgates. They have since made more musical-leaning movies, most notably the extraordinary Inside Llewyn Davis.