Every Black Cat Costume Collides In Stunning New Marvel Art
In epic new Marvel Comics art from Russell Dauterman, every costume the antihero Black Cat has ever worn collides in a stunning variant cover.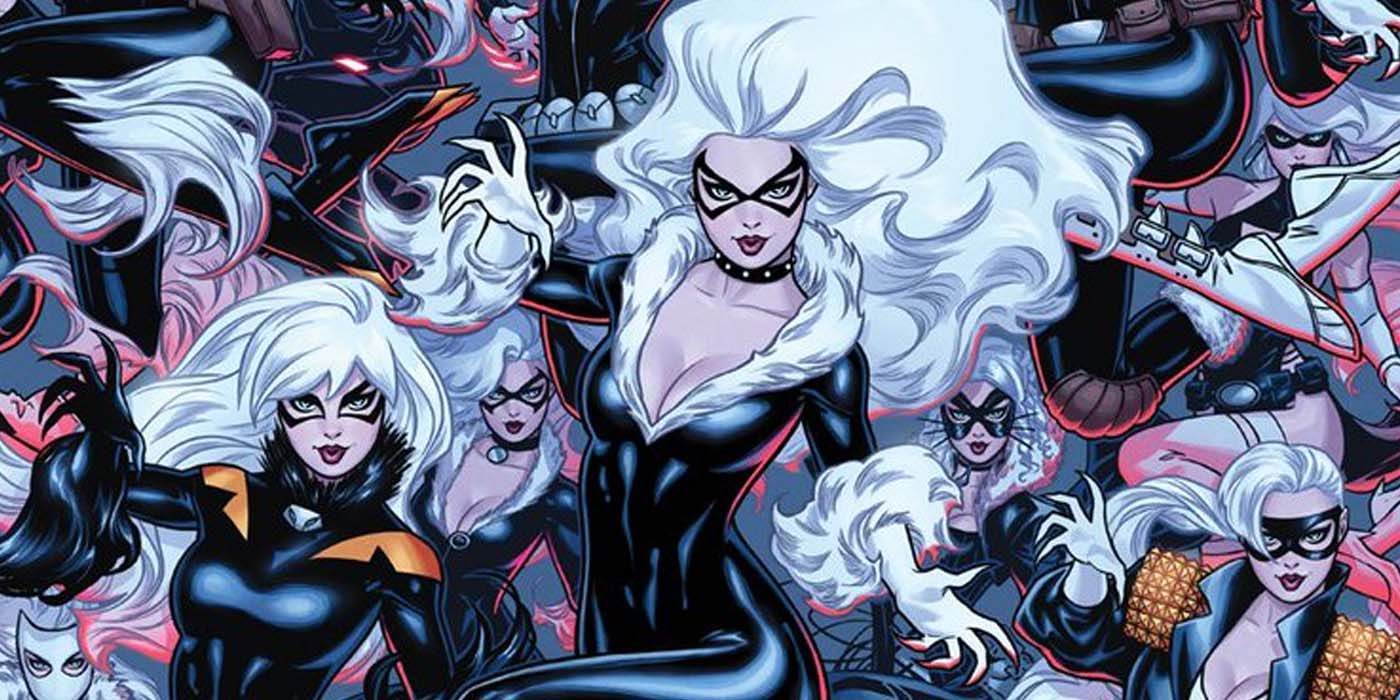 In a stunning new variant cover featuring the many costumes Black Cat has worn in her Marvel Comics history, Felica Hardy's greatest looks collide in an epic fashion. In the new cover from artist Russell Dauterman, every look the antihero has sported is showcased in a variant that shows Black Cat's evolution over the years. The image perfectly illustrates how the Spider-Man adversary's appearance has changed.
On his Twitter account, artist Russell Dauterman shared his new cover for Mary Jane & Black Cat #4, which features the different looks Felicia Hardy has worn in her time as a hero and a villain. From her classic costume, which she's suited up in during her adventures in the pages of Spider-Man, to her Iron Cat costume recently seen in her recent Marvel Comics miniseries, the image ends up being all-encompassing when it comes to Black Cat's history.
Related: Black Cat Becomes Marvel's Ultimate Thief by Stealing Doctor Doom's Mask
Black Cat Has Become A Fan-Favorite Hero In The Marvel Universe
Black Cat continues to capture readers' attention more than 40 years after her debut in The Amazing Spider-Man #194 by Marv Wolfman and Dave Cockrum. Black Cat, whose real name is Felicia Hardy, is among the greatest thieves in the Marvel Universe, whose heists have put her in continued conflict with Spider-Man. Black Cat has been romantically involved with the web-slinger as Spider-Man has become infatuated with her beauty and bad-girl persona. Although, over time, Black Cat has shifted from one of his villains to one of his closest allies.
The Russell Dauterman variant cover showcases some of Black Cat's most iconic costumes, including her Ultimate Marvel look, her all-white White Widow ensemble, and even Felicia Hardy's Spider-Verse variant, the Night-Spider. Dauterman did his research, as the cover art features one of the more critically maligned and lesser-known versions of the hero, as Black Cat's Mangaverse variant can be seen among the many different takes of the character. Like his previous pieces, Dauterman has left no stone unturned in his incredible variant covers featuring multiple costumes from a specific hero.
For fans of both Black Cat and Russell Dauterman's incredible "every costume ever" variants, the cover art on the issue is a must-pick-up, as it amazingly showcases the character's storied history in a single image. Readers can pick up the Black Cat-starring variant cover when Mary Jane & Black Cat #4 from Marvel Comics arrives in comic book stores in March 2023.
Next: Spider-Man's New Black Cat Reveals A Spider-Sense Weakness
Source: Russell Dauterman – Twitter