Elvis Ending Explained (In Detail)
Director Baz Luhrmann's Elvis movie ending explained the life of the late rock and roll legend, ending with a subtle finale to encapsulate The King's journey as a music icon, rather than a warts-and-all deconstruction of his final days, prompting eight Academy Award nominations for the 2023 Oscars. The Elvis Presley movie follows the singer from his childhood to his early success to his clashes with remaining true to his identity to his failures to his comebacks and, finally, to where Elvis at the end of his life remained, which is both tragic and revealing about the man that would become known as "The King of Rock and Roll."
While his drug addiction isn't shied away from in the Baz Luhrmann movie, the other aspects of his complex life, including infidelity, health deterioration, and strange quirks, fixations, and oddities were mostly hinted at or subdued. The focus of Elvis latches onto a man who sought to escape himself (even as he found himself), while trying to be the hero of his own story and facing the possibility that he may not be. However, Baz Luhrmann's biopic Elvis notably doesn't show the very end of Elvis Presley's life. Here's the Austin Butler Elvis movie ending explained.
Related: Elvis: The Controversy Behind Colonel Tom Parker Explained
Elvis Fires Colonel Parker Onstage: Did It Really Happen That Way?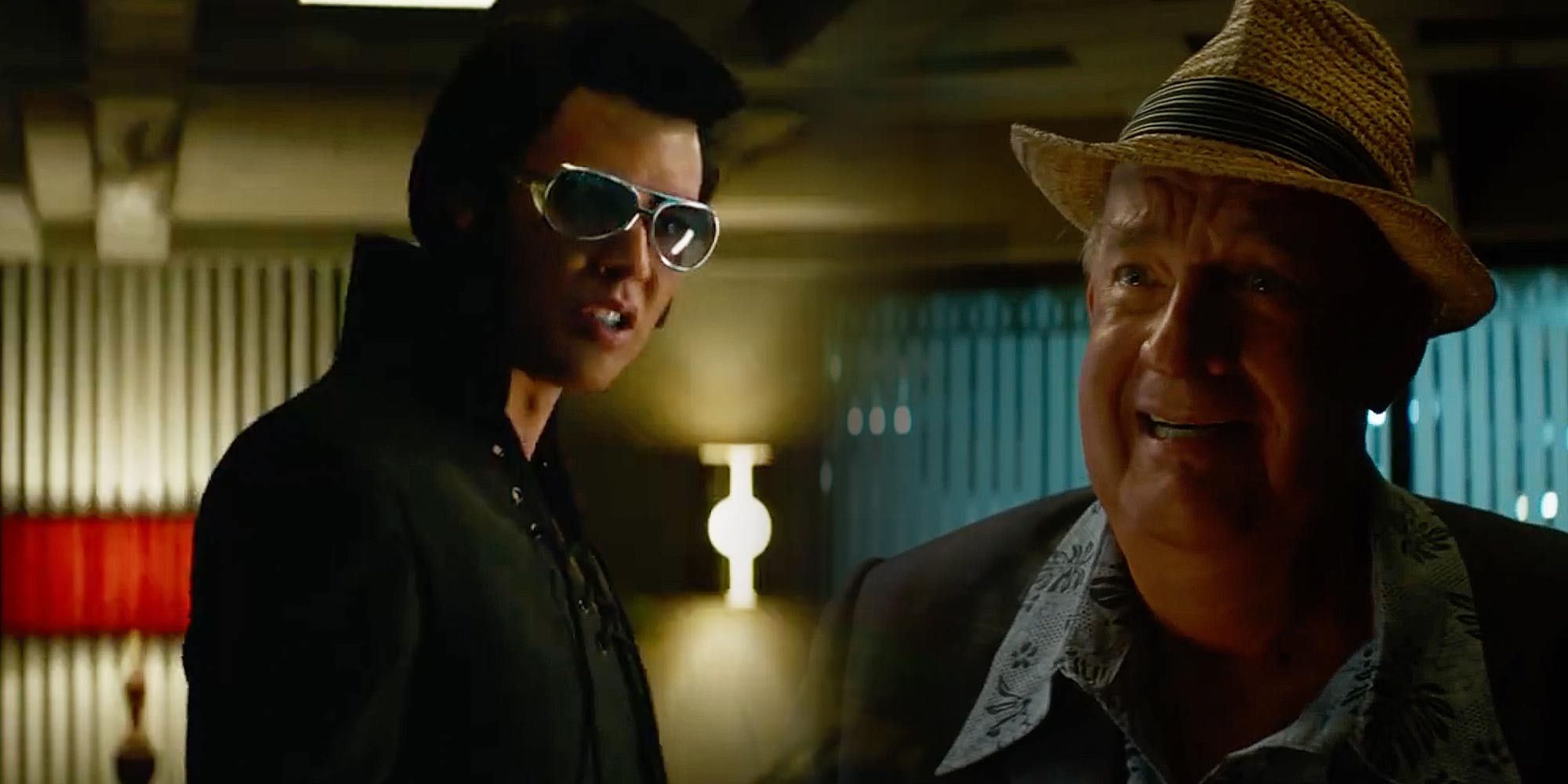 Elvis at the end of the movie is performing at The International in Las Vegas when he had just been informed that Colonel Tom Parker had been lying to him about his identity for decades. Parker was actually an illegal Dutch immigrant named Andreas Cornelis Dries van Kuijk who was so afraid of being found out (and deported) that he kept it a secret, which affected Elvis Presley's movie/music career. Since Parker couldn't get a passport, he vehemently fought against Elvis leaving the country to tour, something the artist was very keen to do (and never did).
Austin Butler's Elvis movie ending explained that Elvis calls out Parker at the end of his show in front of the entire audience, spilling the information that he was an illegal and announcing that he's fired just before the curtain closes. The two clash backstage and Elvis reiterates that their business partnership is done, prompting Parker to draw up a list of debts Elvis owes him for his services in order to end their partnership. The reality of this scene was slightly different, but it served to dramatically compound the events.
The true story behind this Elvis incident happened in 1973 with Elvis ranting onstage against the hotel (by then bought out by the Hilton), because they had fired a kitchen staffer he was fond of. In both the film and in real life, Elvis and The Colonel agreed to continue their partnership. Hanks' Parker tells Butler's Elvis that they are "the same" being "two odd, lonely children, reaching for eternity," showing the way The Colonel could manipulate Elvis by feeding off the singer's fear that he would be forgotten. The Colonel positioned himself as the only one who could understand Elvis' plight, as the Elvis movie ending explained.
Elvis and Priscilla: The End Of Their Marriage And What It Meant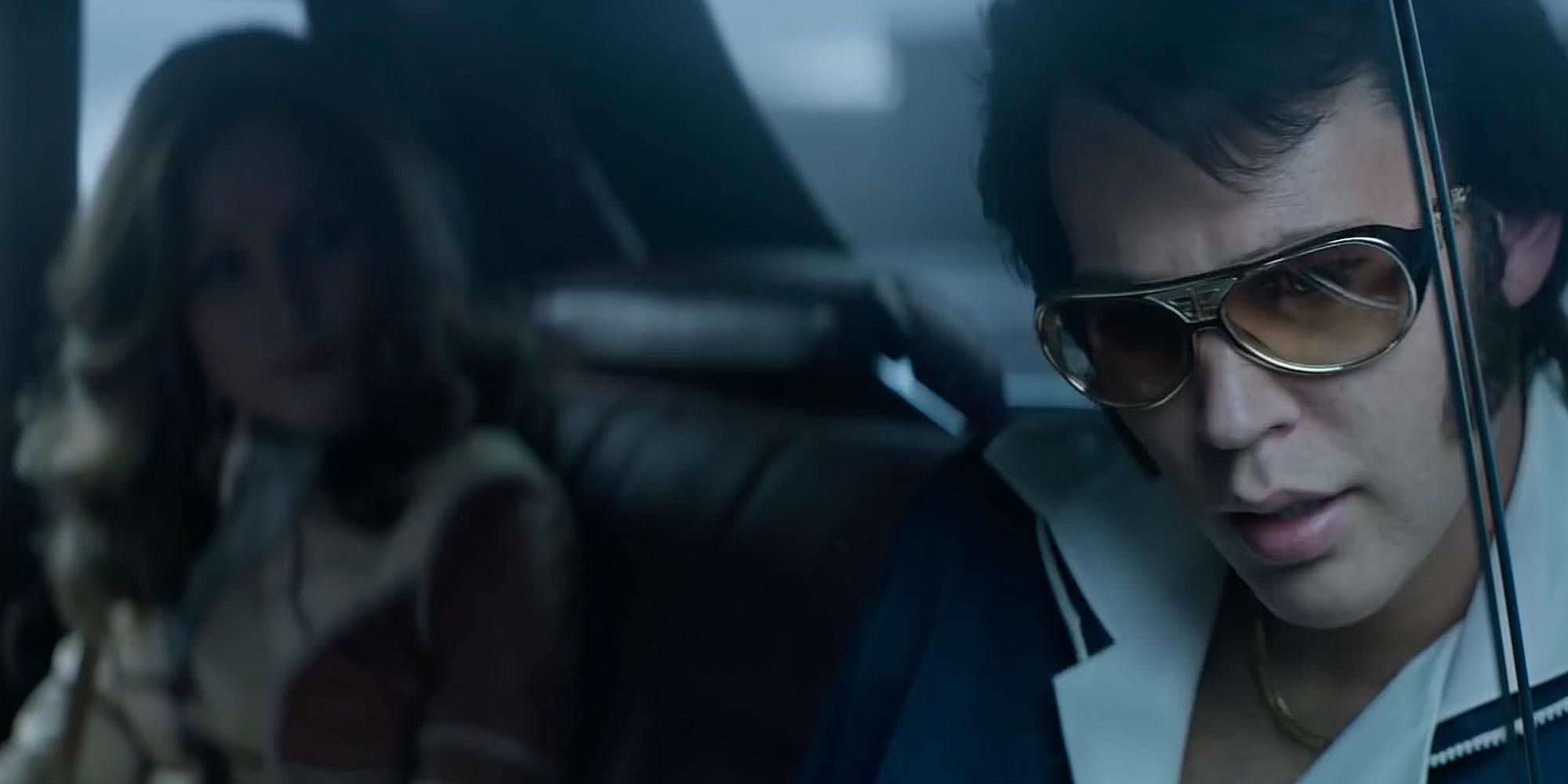 The singer Elvis and his wife Priscilla agree to divorce in the film, which is condensed down to a single scene at Graceland where Priscilla leaves him, taking their daughter Lisa Marie with her. Upset about his distance, lack of affection, and descent into drugs, Priscilla leaves him alone in the mansion – all of which is portrayed as a devastating blow to Elvis Presley. In real life, there was infidelity on both sides, a miscarriage, and a controlling nature from Elvis that didn't bode well for Priscilla.
Related: Why Elvis' Reviews Are So Positive
Later in the film, as Elvis continued touring and seeing his health decline, the relationship between him and Priscilla was shown to be more amicable and affectionate than when they were married. This is something that Priscilla has mentioned in the years following his death, as their bond took on a new shape after the divorce, and she became a confidant of sorts for the singer that Austin Butler portrayed. In the last scene between Priscilla and Elvis, they are on the tarmac at the airport where they both take a seat in the back of his limo to talk, even holding hands as they do.
Elvis Presley looks weary and is morose as he speaks, stating that he's about to turn 40 soon, confessing his fear of reaching that point as he says, "Nobody's going to remember me." Priscilla recognizes his pain and begs him to get help, but he scoffs the suggestion away. As Priscilla and Lisa Marie leave to board a plane, Elvis looks to Priscilla and mouths the words, "I will always love you." In reality, Elvis confessed his fears of being forgotten to a back-up singer, which Priscilla later learned about. However, in the Elvis Presley movie, the Baz Luhrmann Elvis movie ending explained that Elvis would, in fact, always love Priscilla.
Elvis Performs Unchained Melody: Why The Film Ends With This Performance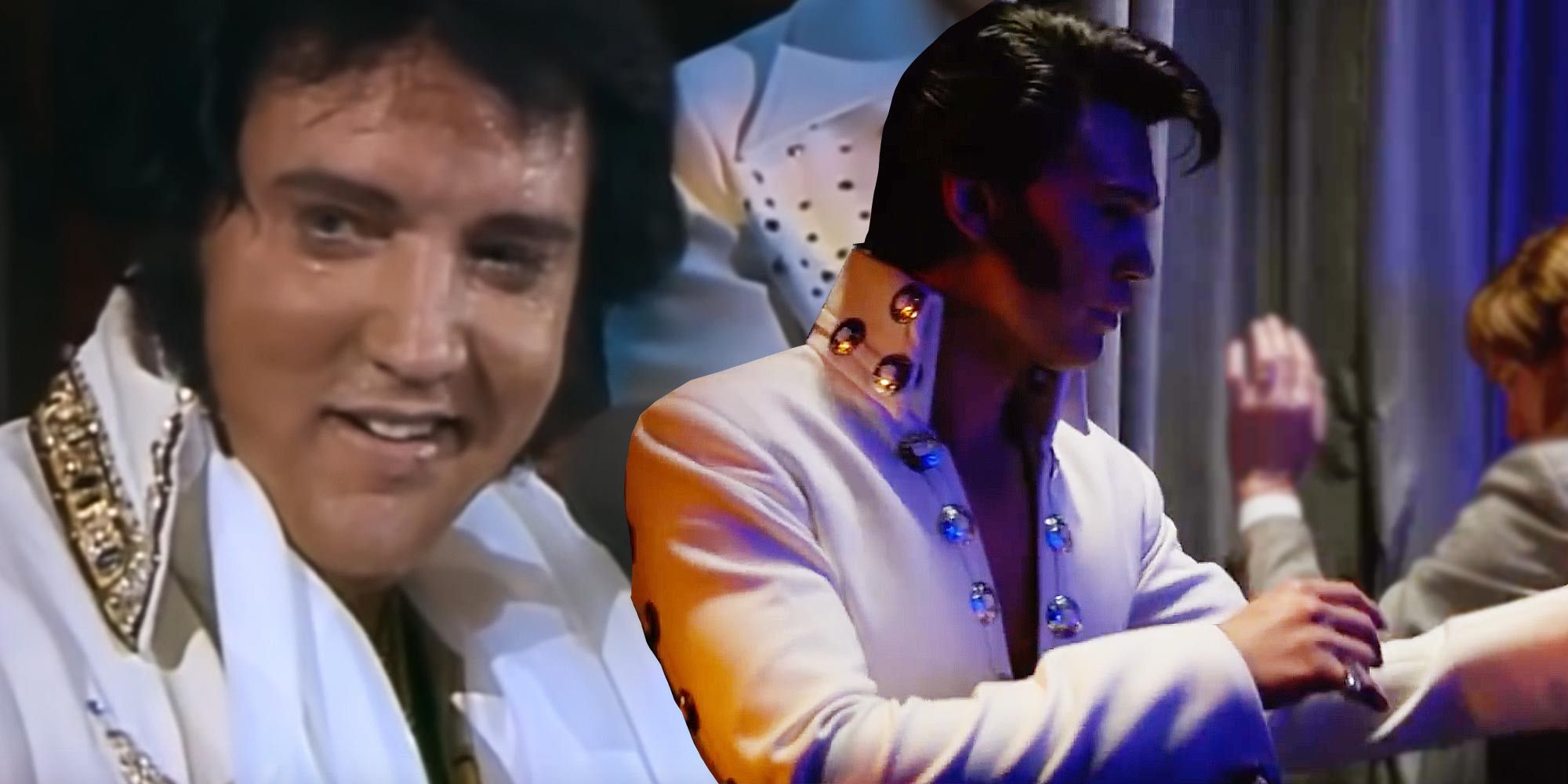 The last scene in Elvis features a recreation of an actual performance by The King, which took place just six weeks before his death at a concert in Rapid City, South Dakota on June 21, 1977. The performance shown in the film is Elvis singing the song "Unchained Melody" written by Hy Zaret, which is considered by many to be the last great moment of the singer's career. Elvis took to the stage and belted out the tune as if he were singing his heart out for dear life. The Austin Butler Elvis movie ending explained that even on the verge of death, B.B. King's friend Elvis could sing beyond measure.
Rather than end the Elvis movie on a dour note, showing the singer in excessive decline or dying in the bathroom at Graceland, it instead focuses on why Elvis is remembered, which isn't for how he died, but how he lived. For a singer who feared being forgotten and never reaching eternity, the performance of "Unchained Melody" served as a reminder of his lasting power and sustainability, which has Butler recreating the moment in near identical fashion to the way it went down (it's the only scene in the film where the actor is wearing prosthetics to show Elvis's heavier appearance at the time).
Related: The 2023 Best Picture Oscar Nominations Set New Sequel Record
The song, the moment, and Austin Butler's performance itself are the perfect embodiment of why Elvis is so revered, as the Baz Lurhmann Elvis movie ending explained, encapsulating his journey from healthy, vibrant hit-maker to a debilitated, struggling artist who reminded audiences why he would never be forgotten, even as the end drew near. The song plays the film out, just as Colonel Parker succumbs to death and his voice is silenced in the hospital, while Elvis' voice is still heard powerfully, reverberating beyond death.
The Whole Elvis Movie Glossed Over His Health Problems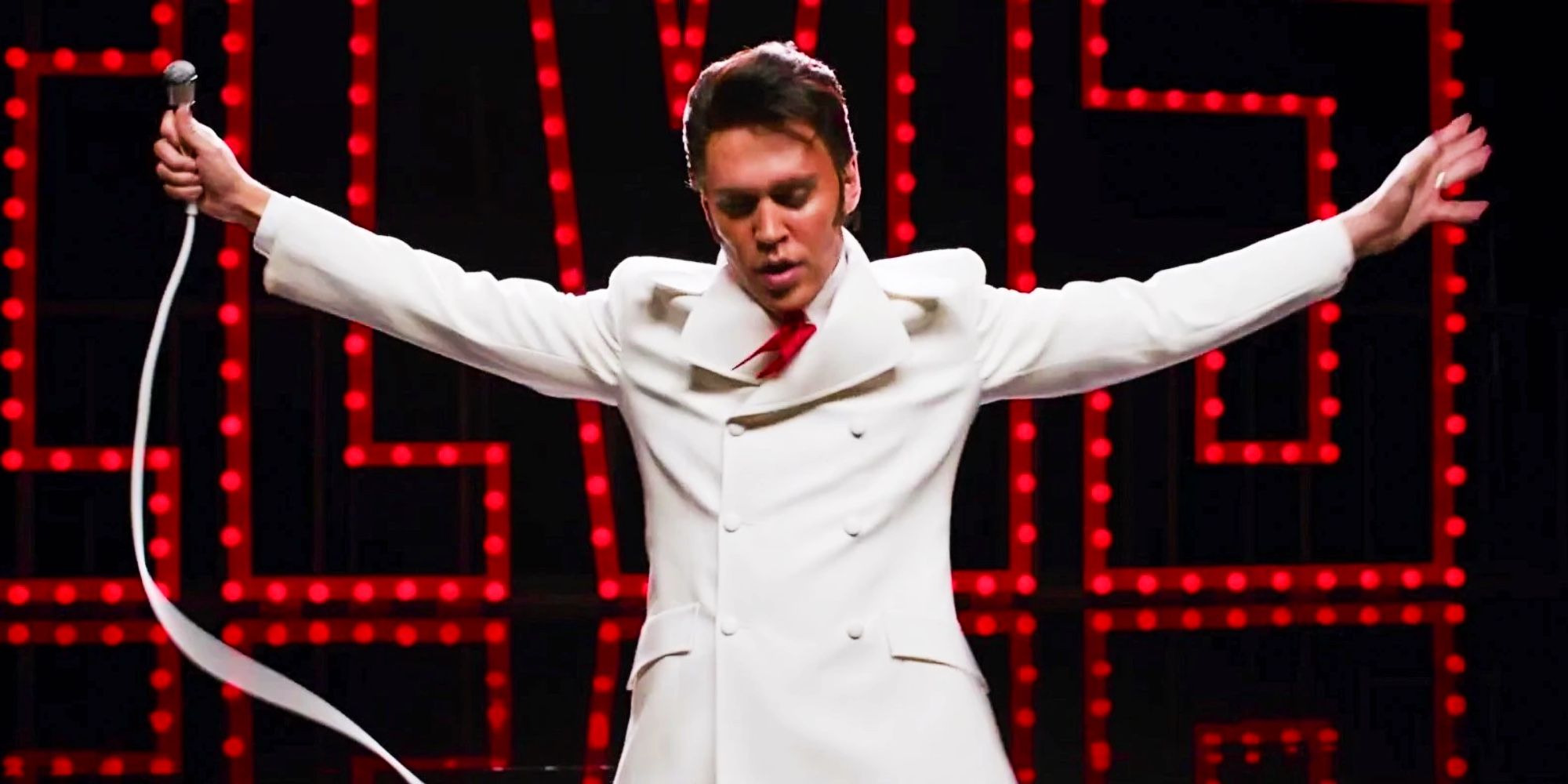 Elvis at the end of his life had more issues than the biopic cared to admit. Many other musician biopics, such as Bohemian Rhapsody, fail to cover the latter half of these prolific figures' lives, mostly focusing on their rise to fame and notoriety. That being said, Elvis struggled with a fair number of health issues that Elvis didn't address, leading up to his tragic passing. His story is not dissimilar to other artists who have been forced to perform despite ongoing issues with drug abuse and mental health, such as Amy Winehouse.
While Elvis did suffer from a pill addiction, as the Austin Butler Elvis movie ending explained, he had chronic pain and health problems that may have fueled it. Forrest Tennant, author of The Strange Medical Saga of Elvis Presley, believed that the singer was actually suffering from Ehlers-Danlos syndrome, a connective tissue disorder responsible for chronic pain and other health issues. Many falsely believe that Elvis' death was due to a drug overdose.
However, the King of Rock and Roll actually had a heart attack, which was aided by prescription drugs, an enlarged heart, type II diabetes, and a grossly unhealthy diet. Couple that with the fact that he probably had EDS, and it's a recipe for disaster. His personal physician, George Nichopoulos, was taken to trial for overprescribing the singer, but he was acquitted. However, he did have his medical license revoked in 1995. The gravity of his struggles were significantly glossed over, so much so that their omission feels like a counterintuitive oversight in this otherwise-praiseworthy honoring of The King's legacy.
Related: Elvis: Why Baz Luhrmann Uses So Much Modern Music
Austin Butler's Performance As Elvis Was Rewarded
The 2023 Oscar nominations saw Elvis triumphant, and Austin Butler's breakout performance and Baz Luhrmann's overall rendition of the singer's life have scooped up eight separate Oscar nominations. Notably, actor Austin Butler himself was nominated for a Best Actor award for his iteration of the King of Rock n Roll. This is a first for the young actor, as Elvis can widely be considered as his breakout role. In addition, Elvis was nominated for Best Picture, thanks to Baz Luhrmann's efforts to accurately (and stylishly) portray the prolific singer's life. Elvis was also nominated for six other awards, including Best Cinematography, Best Production Design, Best Costume Design, Best Makeup and Hairstyling, Best Film Editing, and Best Sound.
Next: Elvis Cast Guide: What The Characters Look Like In Real Life