Beyond Interpretation: How a new crop of American films embody our paranoid times
Throughout history cinema has addressed society's most pressing issues, Hollywood being among the most dedicated industries in offering audiences some kind of reflection of, or upon, the real world. But Hollywood's vast scale holds innumerable layers, and the accuracy of its reflection is always up for debate. That necessarily makes the task of assessing where American cinema finds itself today difficult. An increasingly fraught political landscape is a constant reminder that progress is never a given — take the ongoing pandemic, cost-of-living crisis, and shocking overturn of Roe v. Wade in early 2022 as pertinent examples. How does cinema respond?
Beyond Interpretation, a new film season screening at London's Institute of Contemporary Arts from 12 -19 January, hopes to act as a countermeasure to Hollywood's output, drawing parallels between themes of paranoia, conspiracy and instability, and the precarious economic conditions that dictate film productions at the industry's margins. As the curator of the season, I hope it acts as a tentative temperature check of American cinema far removed from Hollywood.
The programme — consisting of five UK premieres — addresses questions of performance, such as in Paul Felten and Joe DeNardo's debut feature, Slow Machine. The film follows an out-of-work actress, Stephanie, as she gets caught in a NYC counterterrorism agent's sphere of influence. Shot on grainy 16mm, there are shades of Klute and In The Cut interspersed between the film's more visible creative debts to Jacques Rivette. Driving it in all directions, however, is Stephanie's insatiable, destructive desire to perform.
So, too, is The Plagiarists, directed by Peter Parlow, interested in performance. But in this self-reflexive, ironic look at a creative couple in crisis, performance is not as explicit as an actor's social improvisations. Here, the very nature of self-representation and creative originality are up for debate — often bringing to mind Shirley Clarke's 1962 masterpiece, The Connection — asking us whether the greatest trick being performed is actually behind the camera.
When I asked Felten if Slow Machine's paranoid, conspiratorial mood emerged in conjunction with the precarious nature of its low-budget, independent production, his response, unlike his film, was unambiguous: "This is a movie about feeling precarious as an artist, as somebody who's trying to make films in a context that feels very aggressively threatening to the kind of work that one wants to do."
Jonathan Davies' debut feature, Topology of Sirens, is less explicitly a middle finger to the establishment. The film, about a woman trying to decipher noises on cassette tapes, doesn't share Slow Machine's titillating conspiracy, but is just as keyed into the importance of one's awareness of the world. The protagonist, Cas, describes her quest for answers as "new school detective work," evoking the investigatory milieu of Hollywood noir in a sunny, contemporary setting, while its narrative calls to mind Antonioni's Blow-Up. Amidst the film's references, however, is space for it to conjure a pace and atmosphere all its own.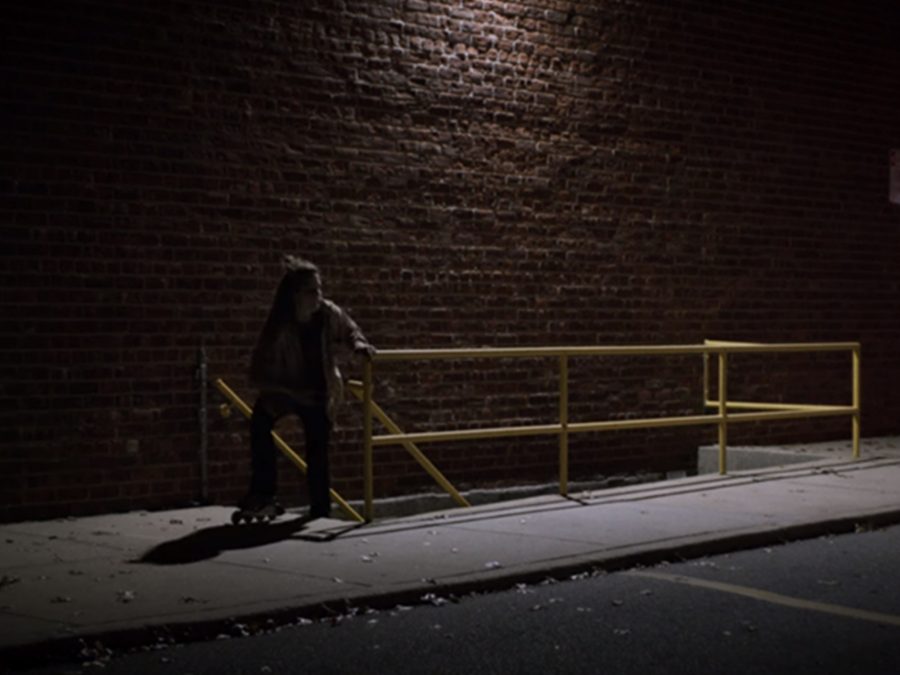 "Is it deliberate?" Davies ponders when I ask him if his labour-sharing production collective with Carson Lund, David Croley Broyles, and Tyler Taormina, Omnes Films, is a response to the challenges of the industry. "It's not like we go out to make a movie with the idea of like 'Hey, we're gonna stick it to the industry'. It's more, one: a necessity, but two, the kind of material we're interested in lends itself to that [labour-sharing structure]."
Taormina's own second feature, Happer's Comet, also finds a happy home in Beyond Interpretation. It shares the collective spirit of Topology of Sirens, and indeed all the films in Beyond Interpretation. But as it was made at the height of pandemic restrictions, Happer's Comet's collectivity is unique, cultivated amongst Taormina's family and community instead of a film crew. Happer's Comet's loose narrative documents one night in a seemingly typical American suburb, during which its inhabitants, all desperately isolated, begin to surreptitiously leave their homes on roller skates. All the while, a menacing presence stalks their every move.
A menacing presence stalks more than just the periphery of Amy Seimetz's second feature, She Dies Tomorrow. In fact, the oppressive fear that Amy (Kate Lyn Sheil) will die tomorrow drives the film from its centre. As Lillian Crawford observed in her review, She Dies Tomorrow is a visual departure from Seimetz's first film, Sun Don't Shine, in many ways, and, "owes more to the psychedelic horrors of Gaspar Noé or Jonathan Glazer." But its indebtedness to pioneering independent films by female directors, such as Barbara Loden's Wanda and Kelly Reichardt's River of Grass, remains as vital here as in her revelatory debut.
The films in Beyond Interpretation share more than just a preoccupation with paranoia and conspiracy. As the curator of the programme, my goals of bringing new films to the UK that represent a kind of resistance to Hollywood are straightforward. But I hope that, as the title suggests, one's interpretation of the season's themes can transcend my own. Because this title is not just about the confusion of the world, or the paranoia that often follows; and it is not meant to signal our defeat at the hands of their ambiguity. It is about the pleasure of immersing ourselves in cinema that resists concrete interpretation altogether — an increasingly rare invitation these days.
Beyond Interpretation runs from January 12 – January 19 at the Institute of Contemporary Arts.
The post Beyond Interpretation: How a new crop of American films embody our paranoid times appeared first on Little White Lies.