Bakri & Azabal Are Fantastic In Nuanced, Touching Drama
Beautifully crafted, The Blue Caftan weaves together the nuanced tale of a couple's love story and history in an intricate, gentle, and profound way.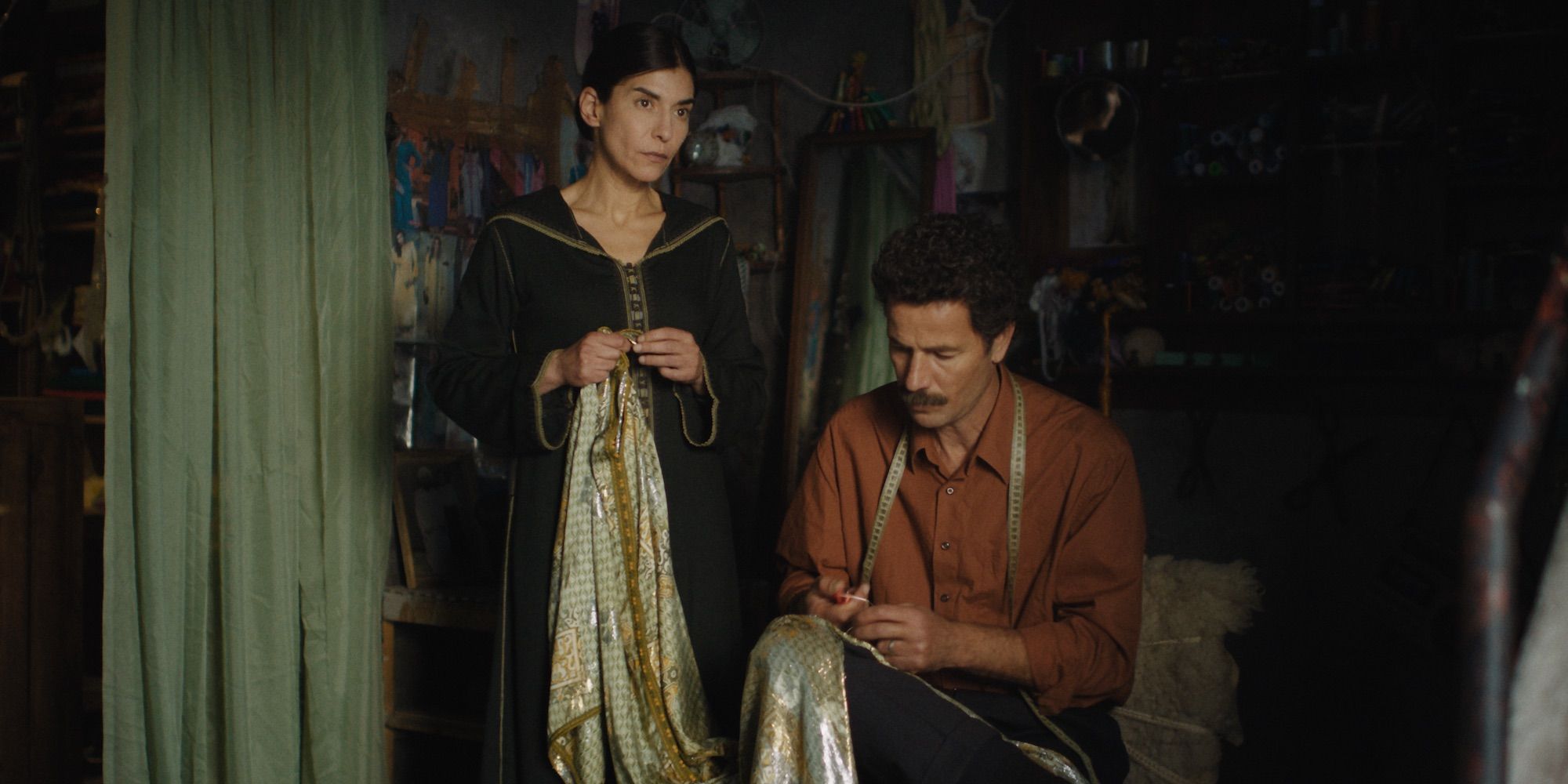 Written and directed by Maryam Touzani, The Blue Caftan, which debuted at the 2022 Cannes Film Festival, understands the depth of honesty and its effect on love. Two people who have shared their lives know better than most their secrets. For the couple at the center of the film, they are more than just each other's confidantes — they truly see one another, and offer compassion, support, and tenderness. Beautifully crafted, The Blue Caftan weaves together the nuanced tale of a couple's love story and history in an intricate, gentle, and profound way.
Halim (Saleh Bakri) and Mina (Lubna Azabal) run a caftan shop together. Halim does the sewing, while Mina handles the customers. The couple's shop has been struggling; Halim prefers to make the caftans by hand, but without proper help, he can only work on so many and customers become impatient, threatening to take their business elsewhere. Halim and Mina hire Youssef (Ayoub Missioui) as an apprentice, but his bond with Halim runs deep, and it doesn't go unnoticed by Mina.
Related: Your Place Or Mine Review: Lackluster Chemistry Doesn't Sink Sweet Rom-Com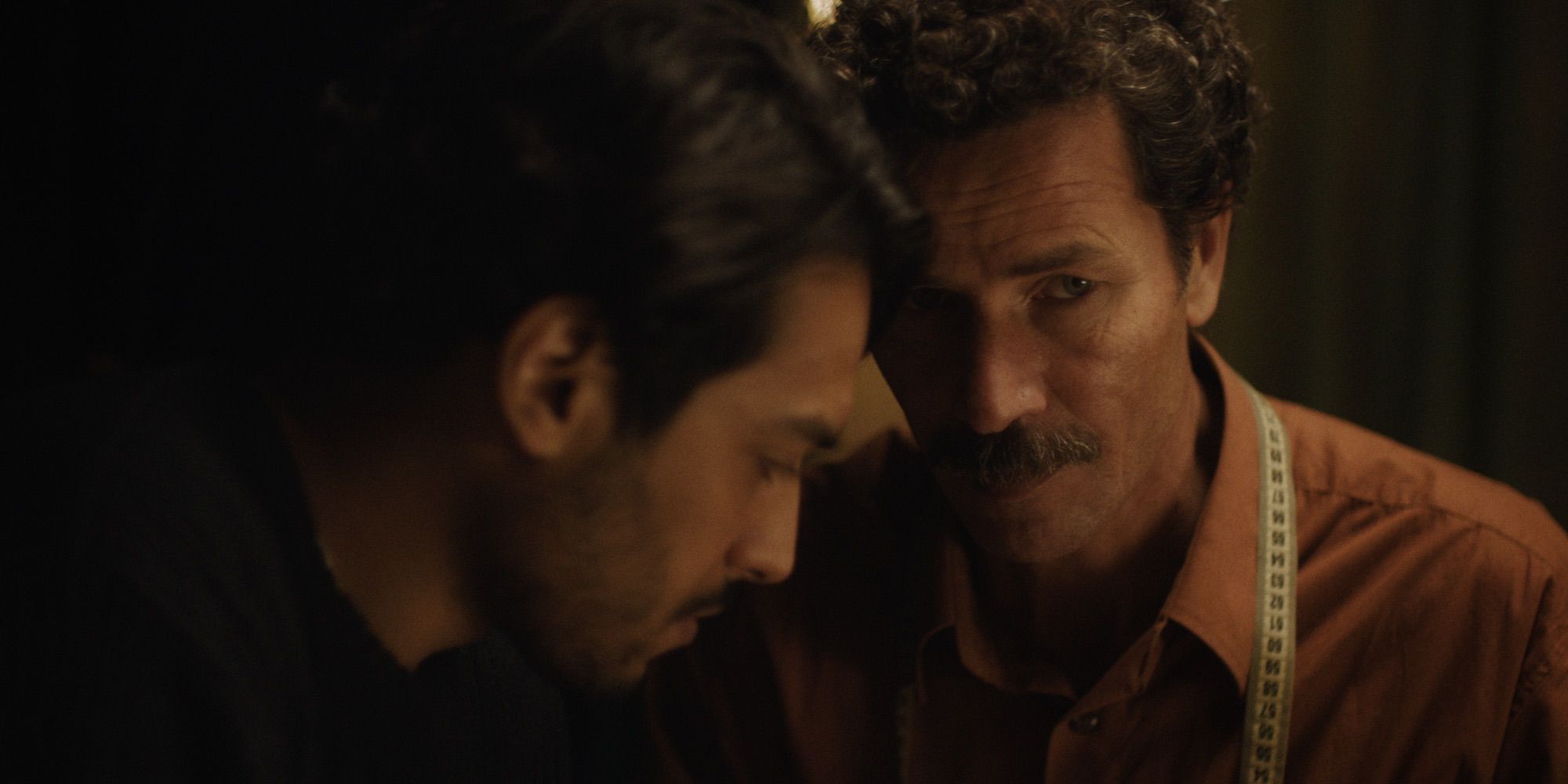 In her second directorial feature, Touzani crafts a meaningful story that explores the depth of love between two people through thick and thin. The writer-director treats the characters with the utmost dignity and care. The story itself takes some interesting and rather unique turns. The film is good at subverting a viewer's expectation, going in refreshing and unexpected directions that enhance the character dynamics and maintain engagement. It turns its focus on a topic that is not often given attention, but its handling of the story is nuanced and rooted in warmhearted understanding.
Touzani's film is incredibly detailed, and cinematographer Virginie Surdej elevates her vision with lingering close-ups on Halim's hands as he sews a golden embroidery onto the caftan, or on Mina as she knowingly watches Halim and Youssef interact. The Blue Caftan is, at its core, a story of a deep-rooted love. Mina and Halim have only each other, and the film portrays them as existing both within and on the outskirts of Moroccan society. They interact with customers and other people they know, but they are in their own world, tending to one another and trusting the other to catch them should they fall.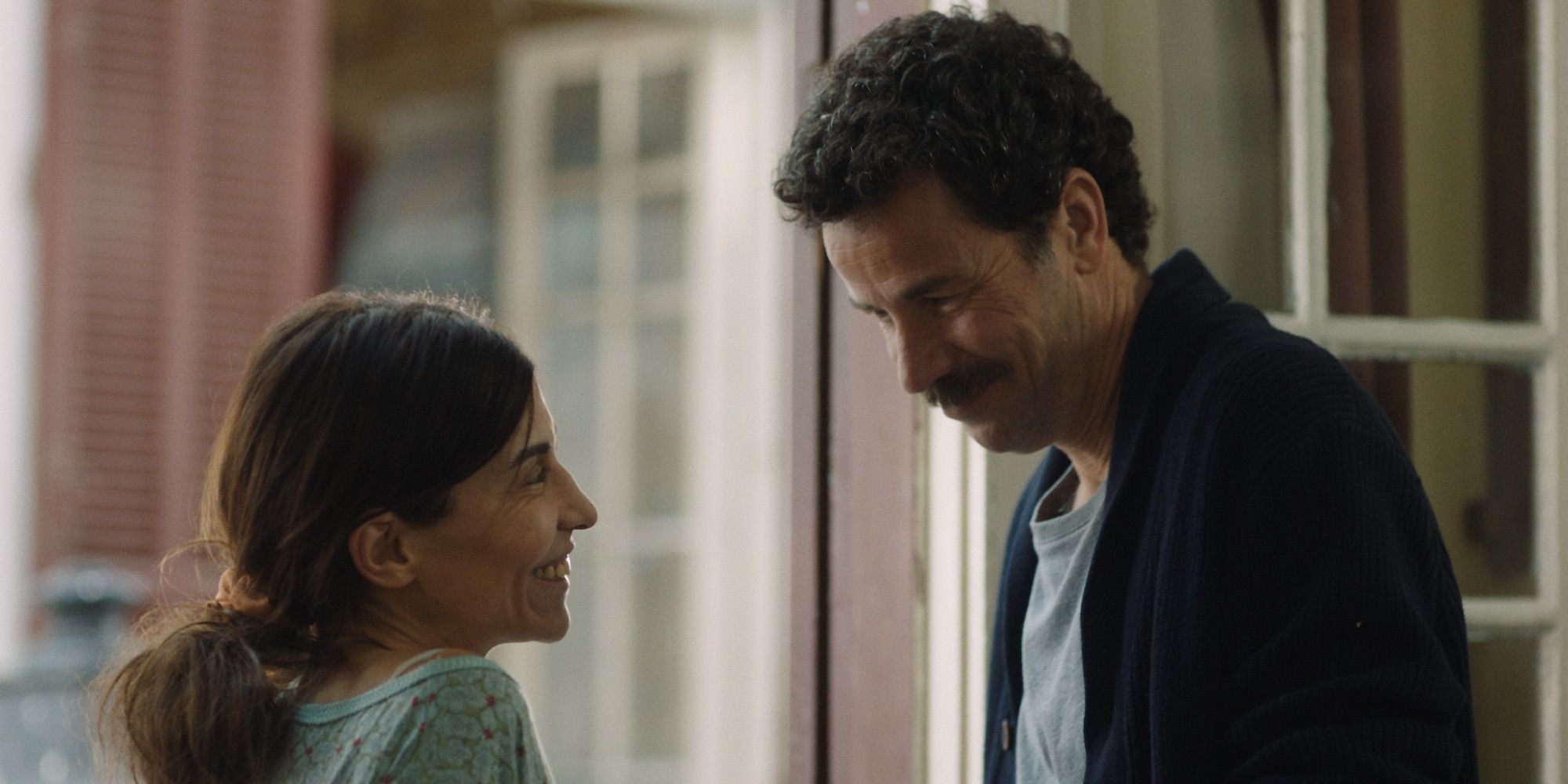 The most beautiful moments are found in the pregnant silences, the longing stolen glances, and the warmth in their respective caretaking. It speaks to their shared history and, by the end, it becomes clear they have never hidden anything from one another. It's this striking transparency that uplifts the story as Touzani meticulously chronicles Halim and Mina's days, finding the affection, comfort and stability in their relationship that makes way for realizations regarding why they are still together after so long despite everything.
The Blue Caftan is made all the more moving thanks to Bakri and Azabal's performances. Bakri has been delivering amazing performances for a long time, and his portrayal of Halim is no exception. He and Azabal bring an intimacy to their characters, an easygoing affection that is apparent from the start. Azabal's Mina comes off as stern, but her love runs deep, and her knowing eyes hold so much that Azabal conveys so clearly. Bakri's Halim is pained and often restrained, holding so much of the heavy emotions in the way he carries himself. When Halim lets his guard down around Youssef, Bakri is at his best, conveying a fierce sense of need and guilt all at once. Missioui has a much smaller role by comparison, but it's no less important. As Youssef, the actor is sensitive, exuding emotional strength and kindness.
The film may be a slow-burn, but the payoff and the emotion that come with it are well worth it. The story finds its deepest meaning in Halim and Mina's relationship, and Touzani steadily unfolds the layers of their marriage to reveal the touching beauty it holds, not unlike Halim's carefully tailored caftans. The Blue Caftan is poignant, showcasing a different kind of love, one that holds respect, genuine care, affection, and compassion, all while tackling a not-so-secret between them without creating unnecessary tension. Touzani's filmmaking is lovely and focused, filled with emotion and a respect for companionship.
More: Consecration Review: Jena Malone Anchors Compelling, Uneven Religious Horror
The Blue Caftan opened in select U.S. theaters on February 10. The film is 124 minutes long and not rated.