Are Brittan & James From Too Hot To Handle Season 4 Still Together?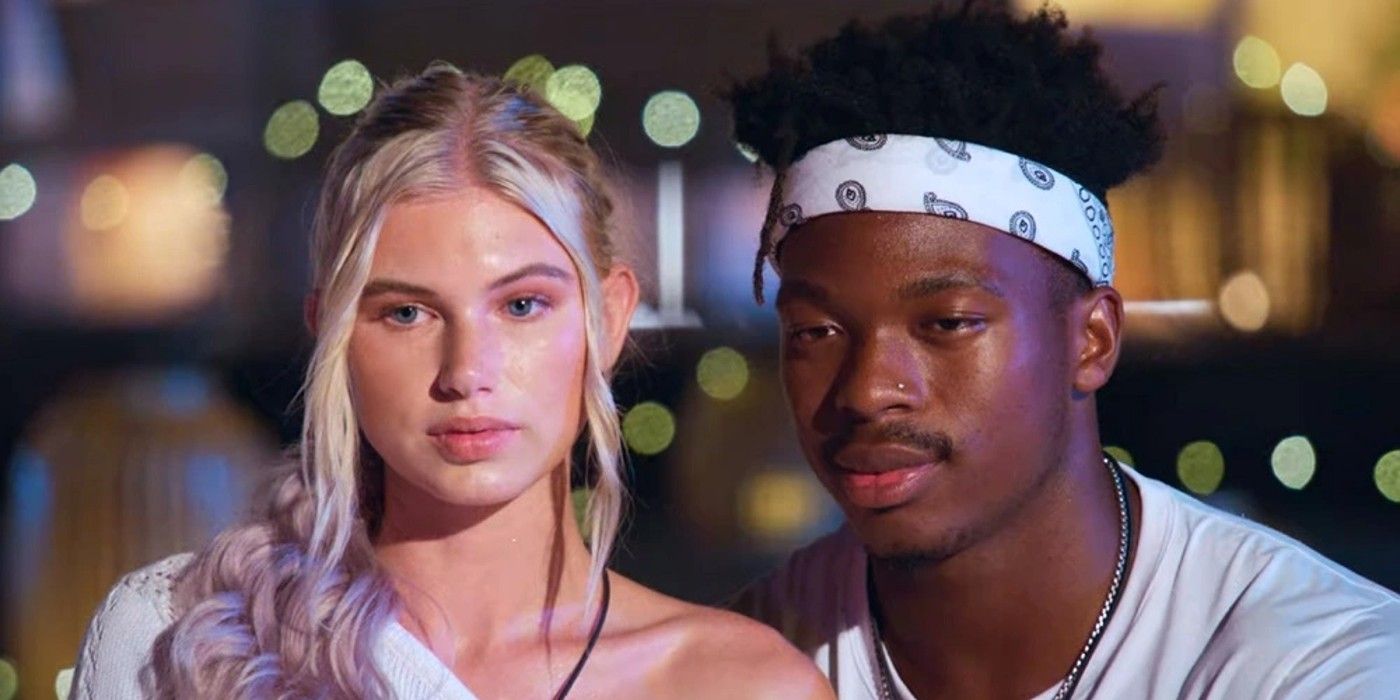 Brittan Byrd and James Pendergrass' genuine bond impressed Too Hot To Handle season 4 viewers from the start, but where does Brittan and James' relationship stand today? When the newest cast of Too Hot To Handle realized that they were at Lana's famous retreat and not on Mario Lopez's new series Wild Love, it didn't take long for the attractive singles to pair up. Although most of the Too Hot To Handle season 4 men had their sights set on Kayla Richart, Brittan and James quickly established a connection that carried them to the end of the retreat. In the end, it was Jawahir Khalifa and Nick Kici, who walked away with the $89,000 jackpot, while Kayla and Sebastian "Seb" Melrose finished as the runner-ups.
While the aforementioned couples committed the most rule breaks of Too Hot To Handle season 4, Hawaiian natives Brittan and James quickly won fans over with their resistance to temptation. Despite all their progress, Brittan and James' relationship almost ended on Too Hot To Handle after newcomer Ethan Smith attempted to sweep Brittan off her feet. Luckily, James was able to win Brittan back to the pleasure of Lana and their co-stars, and by the finale, the duo was finally able to share the kiss viewers had been waiting for. Many fans thought that James and Brittan should've walked away as the winners of Too Hot To Handle season 4 and are naturally dying to know where the couple stands now.
Related: Why James Pendergrass Is The MVP Of Too Hot To Handle Season 4
Brittan & James May Be Together After Too Hot To Handle
While nothing has been announced yet, there's a good chance that popular Too Hot To Handle Instagram users Brittan and James are either still together, or at least good friends, after the season. Brittan and James have notoriously left flirty messages on Netflix's official Too Hot To Handle Instagram account, such as James' declaration that he, "NEED[S] that girl on the last slide" in a compilation of the women. Like James, Brittan is equally unafraid to profess her attraction towards James, such as one recent comment left on James' Instagram, which read, "We do love him," with an accompanied eye-heart emoji. While plenty of Too Hot To Handle relationships have ended on bad terms since the series first aired in 2020, if their online interactions mean anything, James and Brittan haven't shared the same fate.
James & Brittan Constantly Make Too Hot To Handle TikToks
Since the premiere of Netflix's latest Too Hot To Handle retreat, James and Brittan have dominated TikTok with hilarious videos about their experience. Unlike Jawahir and Nick, who have rarely been spotted together since their win, James and Brittan have spent an enormous amount of time with each other; since they missed out on being nominated for the grand prize, it's possible that James and Brittan aren't under the same constraints as their Too Hot To Handle co-stars. James and Brittan have frequently discussed their refusal to break Lana's rules, or bond, on TikTok, and although they've yet to directly address their relationship, their social media activities continue to prove that they aren't on bad terms.
The Too Hot To Handle Season 4 Cast Are Together In London
While the series was filmed in sunny Turks and Caicos, the Too Hot To Handle season 4 cast have spent the past few weeks in chilly London, although Creed McKinnon's ex-flame Sophie Stonehouse hasn't appeared to be with them. To avoid spoilers, Brittan has been mostly pictured with Jawahir, Kayla, Flavia Laos Urbina, and Dominique Defo, while James has enjoyed London's sights and nightlife with the other men of Too Hot To Handle. Nonetheless, James and Brittan have been seen together in several Instagram Stories while they've been overseas, and while Too Hot To Handle season 4 fans must continue to wait for a definite confirmation, subtle signs point to James and Brittan's connection being stronger than ever.
More: Too Hot To Handle: Why Fans Feel Like Dominique Was Slept On
Source: Too Hot To Handle/Instagram, James Pendergrass/Instagram