Apple Music's Karaoke Mode Is Available On Android, Minus This One Feature
Apple Music's new karaoke mode, Apple Music Sing, is available on both Android and iPhone. However, it lacks a crucial feature on Android.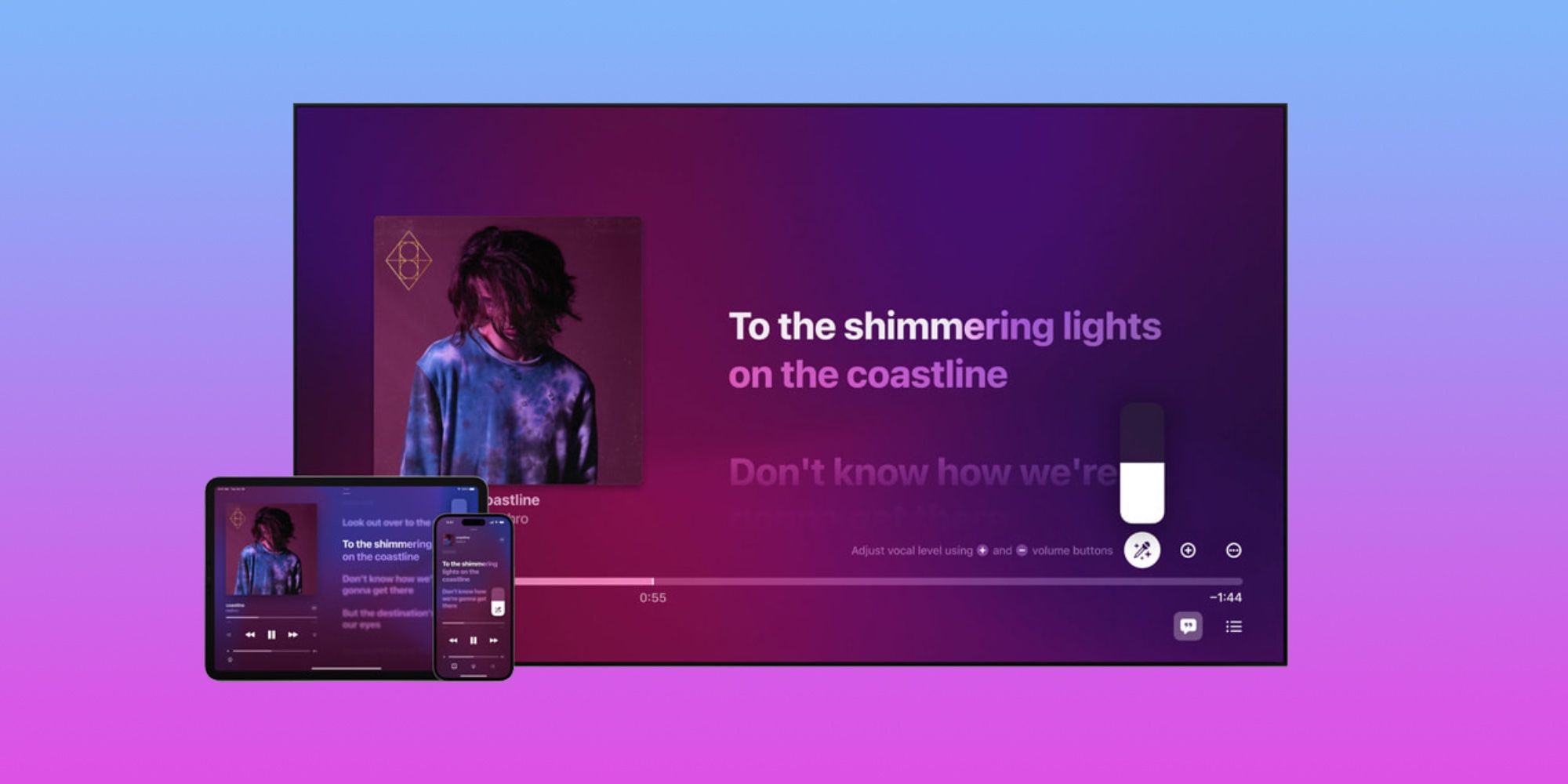 Apple Music's new karaoke mode, called Apple Music Sing, is also available on Android, but it lacks a crucial feature available on Apple devices. Apple recently announced its karaoke feature called Apple Music Sing with real-time lyrics and adjustable vocals. The new mode is available on iPhones, iPads, and Apple TVs. However, the only Apple TV model to support it is the latest Apple TV 4K, which was announced in October. Unfortunately, the feature will not be available for owners of older Apple TV models.
It is worth noting that Apple Music already offers real-time lyrics that can be used for a reasonable karaoke experience. However, the feature does have a few drawbacks. For starters, lyrics are grouped together instead of focusing on one word or sentence at a time, making it difficult to sing along for people who are not well-versed in a song already.
Related: Can You Listen To Apple Music On An Apple Watch?
Apple Music Sing is not only available on iPhones, iPads, and the latest Apple TV 4K but also on Android devices. However, as reported by Engadget, Android users will get the new real-time lyrics feature but not the vocal level slider to reduce the volume of the song vocals that will be available on Apple devices. This is a crucial feature for those wanting to use Apple Music Sing for karaoke, as adjusting the volume of the vocals while retaining the instrumental track is crucial for singalongs at parties and other social gatherings. However, while users can reduce the volume, they cannot turn off the vocals entirely.
Apple Music Sing Has Drawbacks On Android
As pointed out by the report, Apple Music Sing works differently from Spotify's Karaoke Mode, which was announced earlier this year. While the former is aimed at partygoers enjoying themselves, the latter has more of a gaming focus that allows users to test their singing skills, with the app scoring users based on their vocal ability. On the other hand, Apple says its karaoke mode does not record users or even use the microphone.
Apple Music Sing will initially only work with select tracks in the Apple Music catalog, with the company expected to focus only on some of the more popular songs to start. The feature will showcase more than 50 playlists of popular songs with the new karaoke mode before adding more options from the app's vast catalog in the future. Either way, Apple Music Sing promises to be a great experience for iPhone users and another reason to get a premium Apple Music subscription, although it leaves Android users asking for more.
Next: Apple Music Replay Not Working? Here's How To Fix It
Source: Engadget