Adam Sandler Threatened To Quit Movie If Brendan Fraser Wasn't Hired
Star Adam Sandler breaks down his fight against director Michael Lehmann to get Brendan Fraser cast in 1994's Airheads. The film tells the story of one band's attempts to make it big by holding a radio station hostage after the DJ refuses to play them on air. In addition to Fraser and Sandler, the film stars Steve Buscemi, Chris Farley, Michael McKean, Judd Nelson, and Ernie Hudson. Airheads was met with mostly negative critical reviews but has since become something of a cult classic.
Although Fraser is now well known for his charming leading man roles in The Mummy franchise, Bedazzled, and Journey to the Center of the Earth, Sandler reveals in a recent "Actors on Actors" interview with Variety that it was a fight to get Fraser cast in Airheads. Lehmann was apparently not convinced of Fraser's range as an actor after seeing 1992's Encino Man, leading Sandler to threaten to leave the project if he wasn't cast. Check out the exchange between the two former co-stars below:
Adam Sandler: Brendan, you were in a movie called "Airheads." Remember when I discovered you? You were just a kid. I stole you from Pauly and said, "Get over here."

Brendan Fraser: Is that how it shook out? Get out of here.

Sandler: I was like, this guy shouldn't just be a caveman — he should be in a band.

Fraser: And then what?

Sandler: The director, Michael Lehmann, was very against you. He was like, "I don't get it. I don't see the caveman being in the movie." And I just said, "He can do other s–t, man."

Fraser: Are you pulling my chain right now?

Sandler: I eventually went to his house at like 4 in the morning, woke him up, and I said, "Just know Adam Sandler ain't going to be in 'Airheads' unless old Fraser is in it." So he changed his little tune.

Fraser: He flew out to Chicago to meet me. He sang a different tune then.

Sandler: He's a filthy liar. He didn't want you. I did, and the rest is pretty good. You had a good life because of me.
Related: The Whale Is Just The Beginning Of Brendan Fraser's Comeback
Brendan Fraser's Airheads Role Explained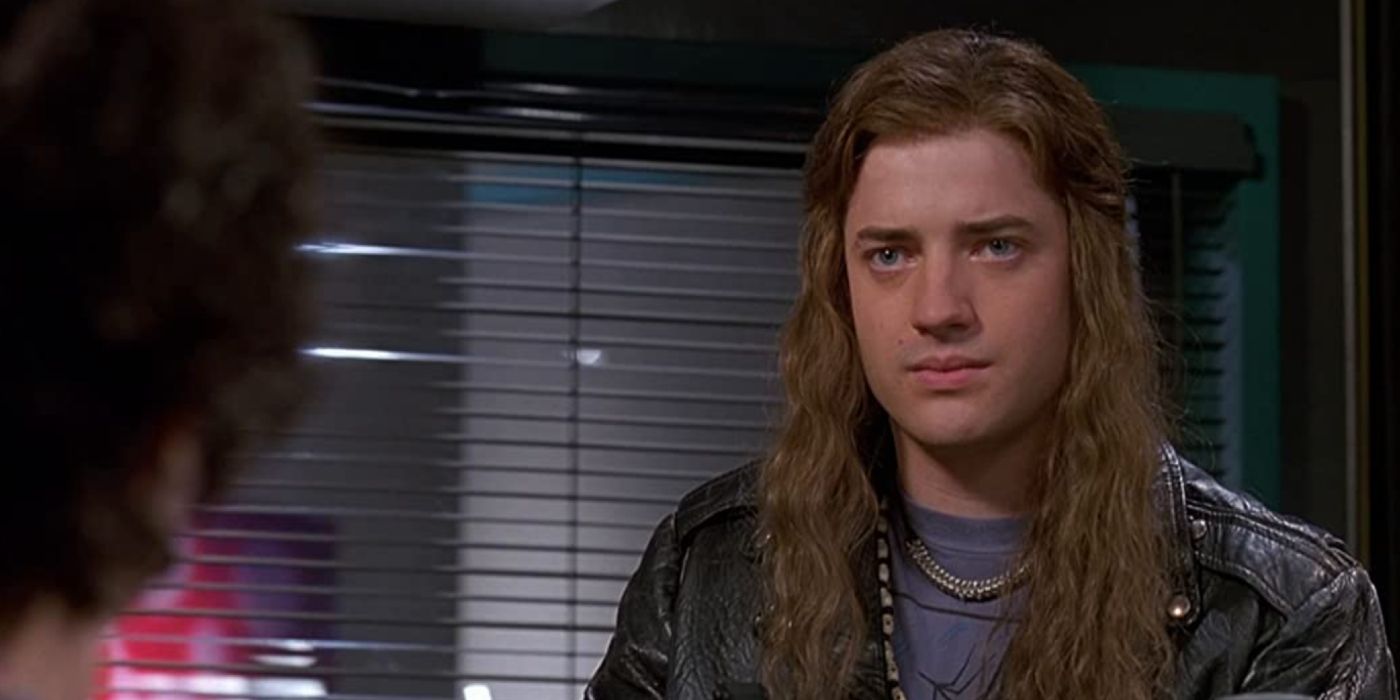 Fraser plays Chazz in Airheads, the frontman of The Lone Rangers band. As with all other Fraser roles, Chazz has a certain likability to him, something that the actor would continue to bring to his roles in the future, including The Mummy and George of the Jungle. Although the film wasn't received well at the time, it has since garnered a passionate fan base, much of which is due to Fraser's performance and his dynamic with Sandler. Both actors, of course, would go on to experience very different careers, with Fraser rising to fame as a leading man in the late 1990s and early 2000s with more action-oriented roles and Sandler continuing to pursue comedic projects.
While his role in Airheads, which was also a box office flop, likely didn't help Fraser's career at the time, in hindsight it speaks to the actor's clear comedic voice. In addition to becoming a leading man, most of Fraser's roles following AIrheads featured a specific brand of comedy that can be seen in his earlier works. Rick O'Connell in The Mummy, for example, has a certain goofiness to him that Chazz also has. The actor's inherent likability helps to quickly get audiences on board with a movie's story, selling The Lone Ranger's attempts to get their music on air in the same way that viewers root for the somewhat selfish and arrogant O'Connell to not be killed by ancient Egyptian mummies.
Playing Chazz in Airheads is unlikely to go down as one of Fraser's most iconic roles, but Sandler's story speaks to the actor's range and agreeable persona that obviously makes him a joy to work with. It's unclear if the two actors will collaborate on any projects in the future, but Sandler continues to partner with Netflix on a variety of movies and also makes no secret of his desire to work with his friends, meaning it's certainly possible that the former co-stars will work together once more. As Fraser enjoys a strong comeback with the upcoming release of The Whale, it's clear that many fans are rooting for him to succeed, and Sandler's story demonstrates that he was one of the first in Hollywood to embrace the actor in a big way.
More: No, Adam Sandler's Netflix Movies Aren't Bad – They Perfectly Fit His Career
Source: Variety