10 Most Popular Players, Ranked By Instagram Followers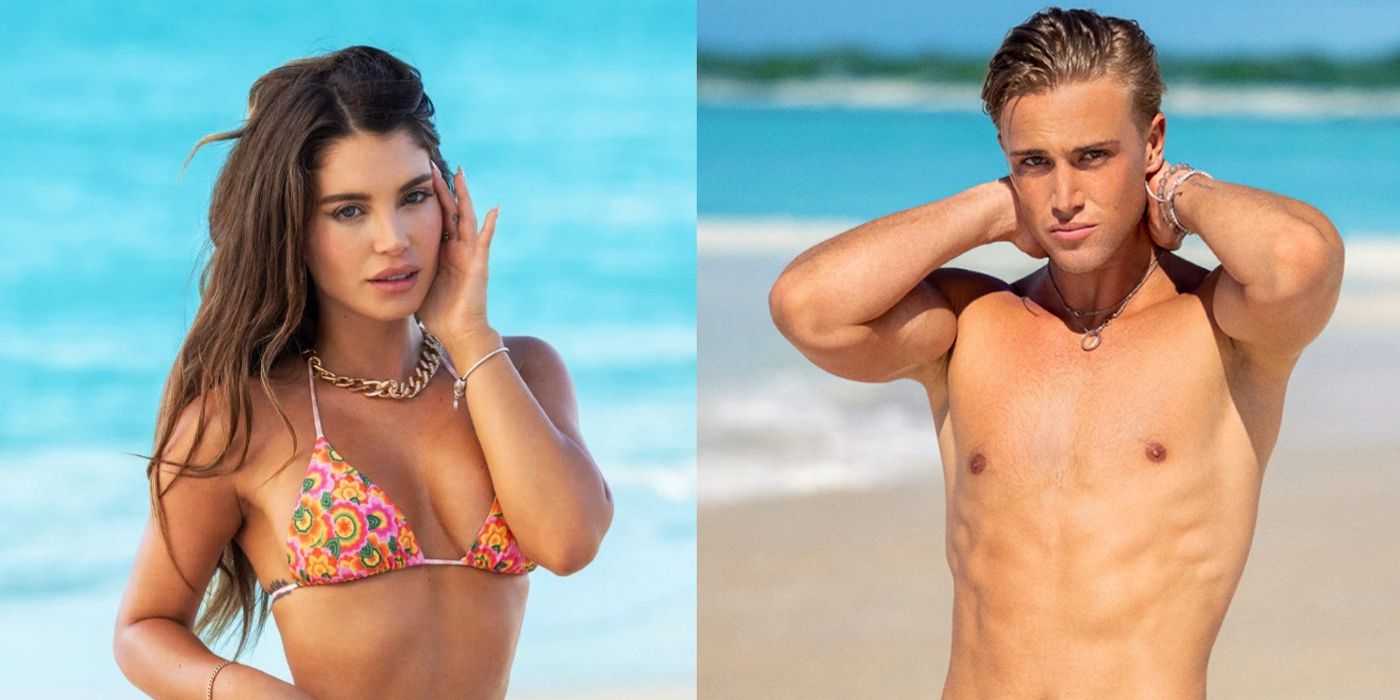 Season 4 of the hit Netflix reality dating show Too Hot To Handle debuted on Dec. 7, 2022, introducing the world to a new crop of contestants. As usual, these men and women were duped into thinking they were invited to an island getaway for steamy debauchery. Instead, they learn their every move will be monitored, and they'll be punished for each instance of physical contact with another sexy single.
Of course, no matter how successful the contestants are at finding true love instead of mere lust during season 4, one thing is for certain: Every participant will surely enjoy a massive spike in Instagram followers. While some were already social media influencers already, others will become instant overnight celebrities.
Dominique Defoe – 16.3K Followers
Dominique Defoe is a 23-year-old computer science student from Colorado who is sure to capture the hearts and minds of her housemates through her stunning mix of brains and beauty. When she isn't studying, Dominique can be found hanging out with friends, reading books, drinking tea, and giving tarot card readings. She currently has 16.3K Instagram followers and quickly rising.
RELATED: 10 Best Shows Like Dated And Related
With a stunning Instagram page full of gorgeous professional photos, sexy selfies, extravagant nights on the town, colorful nature pics, and relatable hangout snaps with her friends, Dominique clearly knows how to have a good time whether alone or with others. Hopefully, she can find a true match on the beloved reality dating show this winter.
Ethan Smith – 19.7K Followers
Despite making his debut in episode 4, 26-year-old Ethan Smith has already amassed 19.7K Instagram followers. The self-described British "bad boy by nature" is bound to shake up the dynamic in the household this winter, especially after Sophie denied his free kiss, and he began pursuing Brittan on the hit reality dating show.
When Ethan isn't running his personal blog, he works as a model and fitness trainer. His Instagram page is loaded with steamy workout photos, FOMO party vibes, sunny selfies, vacation pics, dirtbike outings, and a slew of professional photo spreads.
Sophie Stonehouse – 24.2K Followers
Sophie Stonehouse is a 22-year-old Event Manager from Bristol, England who looks to overcome her one long-term relationship that ended badly and become more committed in the future. A Digital Creator as well, Sophie's Instagram resembles a typical twentysomething influencer who lives a fun, enviable, and exhilarating lifestyle that she looks to bring to the acclaimed reality dating show. As such, she currently has 24.2K Instagram followers.
With a lot of time spent at exotic beaches and upscale resorts, as well as nights out in the city with friends, the gorgeously colorful layouts mixed with the artistic black-and-white photos are arrestingly hypnotic as can be. Whether decked out in full makeup and regalia or going fully natural, Sophie dazzles every time she posts.
Nigel Jones – 26.7K Followers
The elder statesman of the lot, Nigel Jones is a 29-year-old New Jersey native looking to learn from his past romances to find true love. The professional model and entrepreneur is a man of luxury, as seen on his Instagram page that currently has 26.7K followers.
RELATED: 10 Classic Reality Dating Shows: Are The Couples Still Together?
When Nigel isn't flashing his shredded abs on Instagram, he can be found posing in exotic sports cars, working out in the gym, chilling on the beach, traveling to Dubai and Jamaica, relaxing in the hot tub at pool parties, and generally leading an exciting lifestyle. Whether Nigel will be able to live by his mantra and "keep the fun rolling" in the villa is yet to be seen.
Sebastian Melrose – 32.3K Followers
Sebastian "Seb" Melrose is a 24-year-old professional race driver from Glasgow who knows how to keep the pedal to the metal when it comes to having fun. With 32.3K followers and rising, Seb's bio reads: "I live life in the fast lane…I hope Lana can keep up with me."
With a distinct European flare to his Instagram content, Seb spends his time wine-tasting at elegant vineyards, walking down ancient cobblestone streets, kayaking in the Spanish islands, and of course, sharing a slew of racing content sure to get every follower's engine revving.
Jawahir Khalifa – 34.2K Followers
Jawahir Khalifa is a 22-year-old fashion model from Amsterdam who looks to improve on her one true romantic relationship in the past. Unlike many conceited stuck-up models, Jawahir exudes grounded humility that only makes her more appealing. As such, she currently has 34.2K Instagram followers and counting.
RELATED: 10 VH1 Dating Shows You Forgot About
Few Instagram pages are as drop-dead gorgeous as Jawahir's, which has gained a massive following despite just 44 posts to date. Whether posing by jaw-dropping waterfalls, clear-water beaches, colorful art galleries, or bathroom lingerie shots, Jawahir has superstar written all over her page.
Creed McKinnon – 48.4K Followers
Creed McKinnon is a dashing 24-year-old Perth, Australia native who has made a reputation for being a playboy who often ghosts his romantic partners. Between his "Aussie flair and Prince Charming Hair," as his bio reads, Creed has accrued 48.4K Instagram followers so far.
When Creed isn't promoting his Versaware nutrition brand online, he can be found enjoying all sorts of fun activities from attending football events, snowboarding trips, red carpet walks, jungle vacations, and hanging out with friends. Some Instagrams feel fabricated, but Creed genuinely appears to know how to have a good time in real life as well as on the guilty-pleasure Netflix dating show.
Kayla Richart – 76.4K Followers
Kayla Richart is a 22-year-old professional model from Los Angeles whose Instagram bio claims her intuition is her biggest flex. Whether Kayla's sixth sense will lead to romantic success has yet to be seen, but at least she's willing to go after what she wants without hesitation. With 76.4K Instagram followers to date, it's easy to see why Kayla is so popular.
RELATED: 10 Reality Dating Shows You Totally Forgot Existed
Between her trips to London and Honolulu, adorable photos of her pet cat Jet, healthy plant-based food recipes, and of course, her ravishing modeling photos that are both professional and down-home at once, Kayla's Instagram page couldn't be more alluring.
Brittan Byrd – 139K Followers
Brittan Byrd is a 22-year-old professional model from Hawaii who, according to her Instagram bio, "is only defined by my own vision." A self-actuating go-getter currently has 139K Instagram followers, which is sure to spike dramatically in the coming days and weeks after participating in the drama-filled Netflix reality show.
With an angelic quality permeating her page, Brittan is sure to dazzle fans and followers with her exotic trips to Greece, sexy hiking photos, gorgeous waterfall photo spreads, sunset pictorials, bikini poses, candid makeup-free selfies, and a lot more.
Flavia Laos Urbina – 4.7 Million Followers
By far, 25-year-old Peruvian bombshell Flavia Laos Urbina is the most popular contestant on THTH 4, boasting a whopping 4.7 million Instagram followers to date. The true definition of a multitalented global social media influencer, Flavia's jet-setting lifestyle has taken her to Miami, Dubai, Bali, Thailand, Chile, Brazil, France, Italy, and a lot more.
The famous Peruvian singer, actress, TV host, and professional model entered the villa on episode 4, yet had already built such a giant online following that, when the dust settles, no other contestant will be able to compete with her popularity. With a verified blue checkmark cementing her authentic celebrity status, Flavia's fanbase is sure to give THTH 4 a large spike in ratings this wintertime.
MORE: 10 Best Too Hot To Handle Cast Members, According To Reddit